I wrote this short guide to some 'traditional' Scottish food and drink for people planning a TGO Challenge - a cross country walk across Scotland, which I've done a few times. However, I think it may be of more general interest so I've extended it a wee bit and put it in the more general food section rather than the TGOC pages.
I won't write here about the excellent 'high-end' Scottish food such as venison and langoustines, that you might get in restaurants. Rather, I'll focus on more humble fare that you might get in B&Bs, cafes or buy on the way.
Porridge.
Traditional Scottish porridge has only three ingredients - oatmeal, water and salt. In this respect it's rather like traditional German beer although this uses barley instead of oats and hops instead of salt. It is a million miles from the homogeneous baby food that is so-often presented as porridge, made with oat flakes and milk. I completely understand why people add flavourings such as sugar and honey to this gloop but, believe me, real porridge needs nothing. In the east of Scotland, it's normally eaten with cold milk to get the contrast between hot and cold. Sadly, real porridge is hard to get but if you find some, you have struck gold.
Black pudding.
The best Scottish black pudding is Stornoway black pudding. It is flavoured rather differently from the black pudding from Northern England and doesn't come peppered with lumps of fat. People tend to love or hate black pudding - I love it.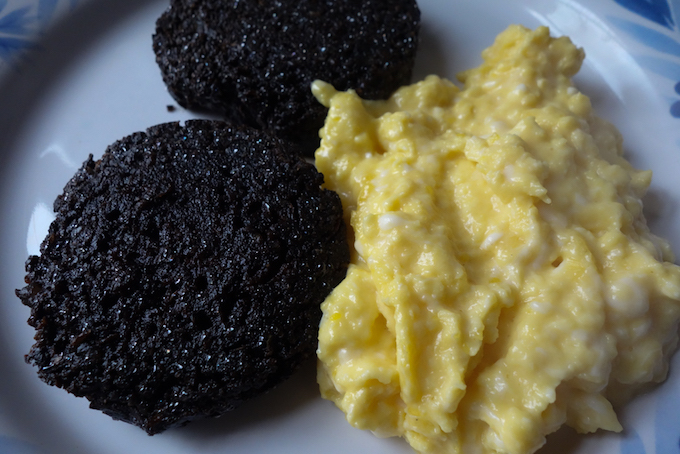 Fruit pudding.
This is a curious concoction of flour, fat sugar, currants and spices that is sometimes served fried with breakfast. Not unpleasant but I can take it or leave it. No obvious meat but if I was vegetarian, I wouldn't risk it.
Haggis.
This is a mix of oatmeal, onions, sheep's offal and spices. A good haggis should be neither too dry or too fatty and it is traditionally served with neeps (swedes) and bashit tatties (mashed potato). Haggis is superb - even the offal haters in my family like it - and I strongly recommend that you try it. Some places, unfortunately, poncify it up and charge accordingly as in the photo below of the haggis in the bar of the Invergarry Hotel in the Highlands, where I took this photo. Whisky sauce is for tourists - good haggis doesn't need it.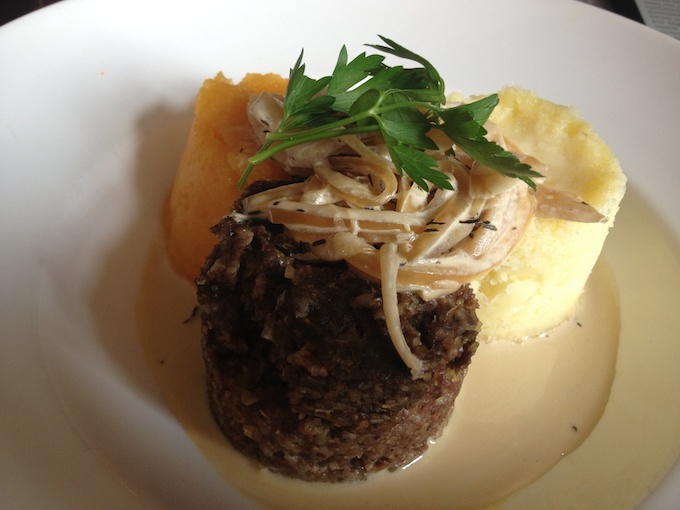 There is also so-called 'vegetarian' haggis. This is not unpleasant to eat but it doesn't actually taste anything like real haggis. If you're a veggie, it might make a change from standard vegetarian pub food.
Pies
Pies are a favourite food for many cross-country walkers. If you can, buy them in a local butchers rather than a supermarket. They are usually far better. I can recommend the pies from the butcher shops in Braemar, Ballater and Edzell.
Scotch pies.
Traditional Scotch pies are made with a hot water crust pastry and filled with spicy mutton. A good pie is excellent but the ones you get in supermarkets are usually pretty grim and are best avoided.
Macaroni pies.
I must admit that, until recently, I had never tasted a macaroni pie. This has the same pastry as a Scotch pie but is filled with macaroni in a 'cheese' sauce. My first experience of a macaroni pie will be my last - it's not vile but just bland and uninteresting. Perhaps edible if you have a hangover and need some carb loading.
Forfar bridies.
These are usually made with puff pastry and they look bit like Cornish pasties. They are much nicer in my opinion with a filling of minced beef, onions and spices. Definitely worth trying but often only available south-east of Ballater. The ones from the Edzell butchers shop are excellent.
You may also come across other kinds of pie such as venison pies. These can be very good. On my most recent day walk in Glen Dee, I had a venison and cranberry pie from Sheridan's, the butchers in Ballater.
Aberdeen butteries (rowies).
These are a kind of bread roll that are rather dense and quite salty. They have a relatively high fat content so keep well (they were originally devised for fishermen). Normally only available east of the Cairngorms. They are great backpacking food - light, lots of energy, tasty and they don't get squashed in your rucksack. Recommended.
Tablet.
This is a type of hard fudge made with sugar, condensed milk and butter. It's too sweet for me but ideal if you need immediate energy on the hill.
Fish and chips.
This is usually called a 'fish supper' and the fish is haddock rather than cod. Mushy peas are not widely available. The Bay in Stonehaven has won awards as UK's best fish and chip shop. There is a curious west-east divide in Scotland - in the west, you will be offered the traditional sald and vinegar; in the east 'salt and sauce', where the sauce is a brown sauce rather than a tomato sauce. I usually just have salt.
Drink
Irn-Bru.
This is Scotland's traditional soft drink and outsells Coca-Cola in Scotland. It is a strange browny-orange colour and the recipe is a secret so I don't know what's in it. It's available in sugary and sugar-free versions. I don't much like any sweet drinks but Irn-Bru is more acceptable to my taste than most others. Go on - risk it - it won't do you any harm.
Beer.
Traditional Scottish beer is malty rather than bitter - it's too cold in Scotland to grow hops. I prefer a hoppier beer but Belhaven 80 shilling is a widely available example of the traditional style. Like everywhere else, there has been an explosion of small breweries in Scotland, some producing excellent beer but others are a bit more dubious. Beers from the Cairngorm Brewery in Aviemore are widely available in the Highlands and I'd recommend any of them. The Black Isle Brewery beers are also pretty good but there are more and more small breweries springing up and most of them do pretty good beer.
I won't say anything about whisky as the 'best' whisky is really a matter of taste.
And finally, I have to mention the notorious Scottish delicacy, the deep-fried Mars bar. Contrary to scurrilous rumours, this is neither widely available nor widely eaten. It was reputedly invented in the Carron Fish Bar in Stonehaven. It tastes better than it looks (it looks like a deep-fried turd) with an interesting contrast between the crispy batter and the melting chocolate. I am glad that I tried it once, but will not be trying it again.