The TGO Challenge is a cross-Scotland walk, starting on the west coast between Ardrishaig and Torridon and ending on the East, between Arbroath and Fraserburgh.
Roger Smith has written an excellent "Essential Guide to Finishing Points" for the TGO Challenge but to slightly misquote Alice in Wonderland: "what is use is a book that has no pictures". As I've visited lots of the places on his list as I've wandered up and down the east coast, I thought I'd write a pictorial guide.
I'll focus on places between Aberdeen and Montrose as that's where most people finish and where I've mostly visited. I have tried to include all of the coastal villages or hamlets where you are likely to dip your toes in the North Sea.
Aberdeen | Portlethan | Downies Newtonhill | Muchalls | Cowie Stonehaven | Dunnotar | Crawton Catterline | Kinneff | Inverbervie Gourdon | Johnshaven | Tangle Ha' | St Cyrus | Nether Warbuton | Other places
Aberdeen
Not many challengers seem to finish in Aberdeen - perhaps because Roger's notes suggest a lot of road walking is involved. In fact, if you use the Deeside Way, you can get from Ballater right into the heart of the city with hardly any road walking. The Deeside Way finishes at Duthie Park, one of Aberdeen's main parks, and from there it's less than an hour's walk to the sea.  Two end-points are easily reached from Duthie Park - Fittie and Girdle Ness.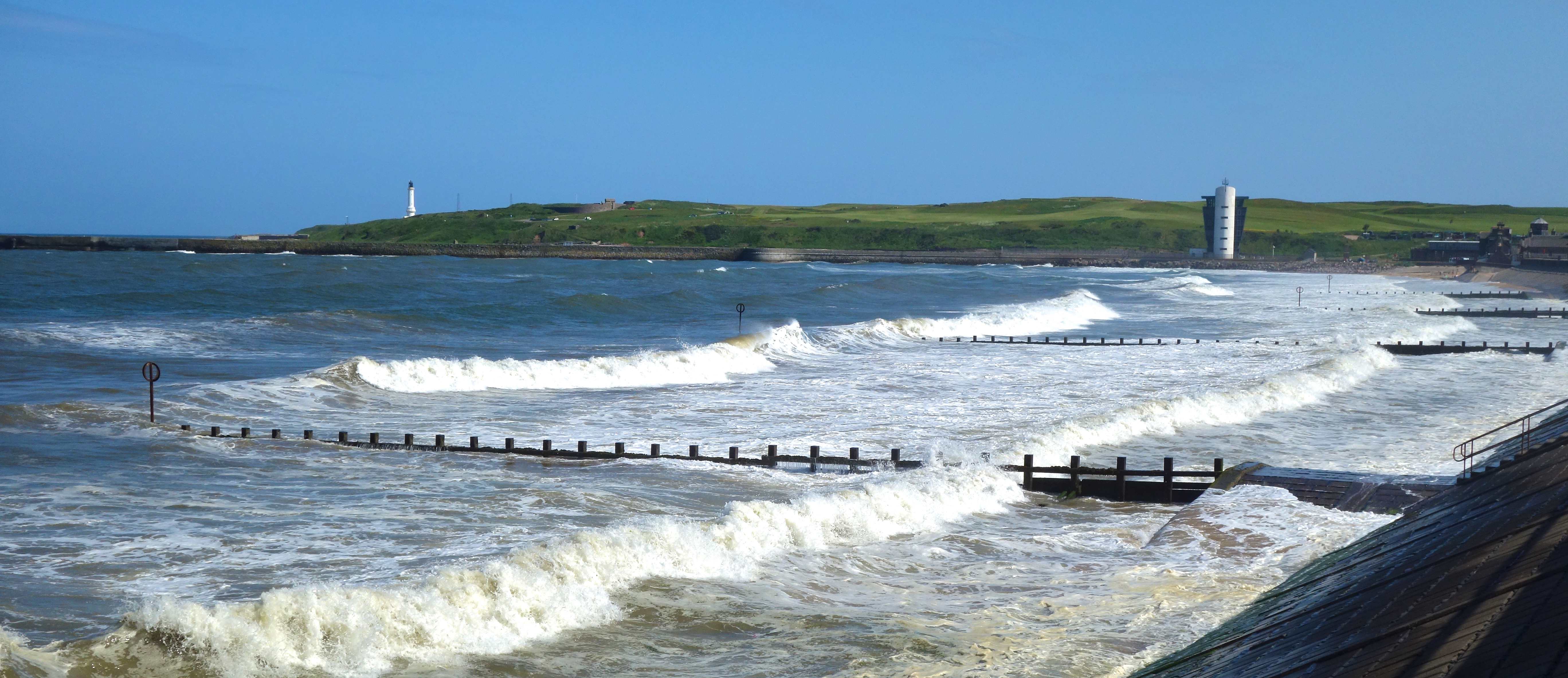 Fittie is an old fishing settlement right by the beach in Aberdeen. You get there by following the Dee then walking around the harbour, which isn't exactly a scenic walk. Aberdeen has a great beach and Fittie is a quirky community where the original sheds for nets are separate from the houses. Now these are often interestingly decorated. You won't find Fittie on an Aberdeen map but you will see Footdee. But if you ask anyone in Aberdeen how to get to Footdee, they will have no idea what you are talking about. It's always Fittie (Foot = Fit; Dee = ti).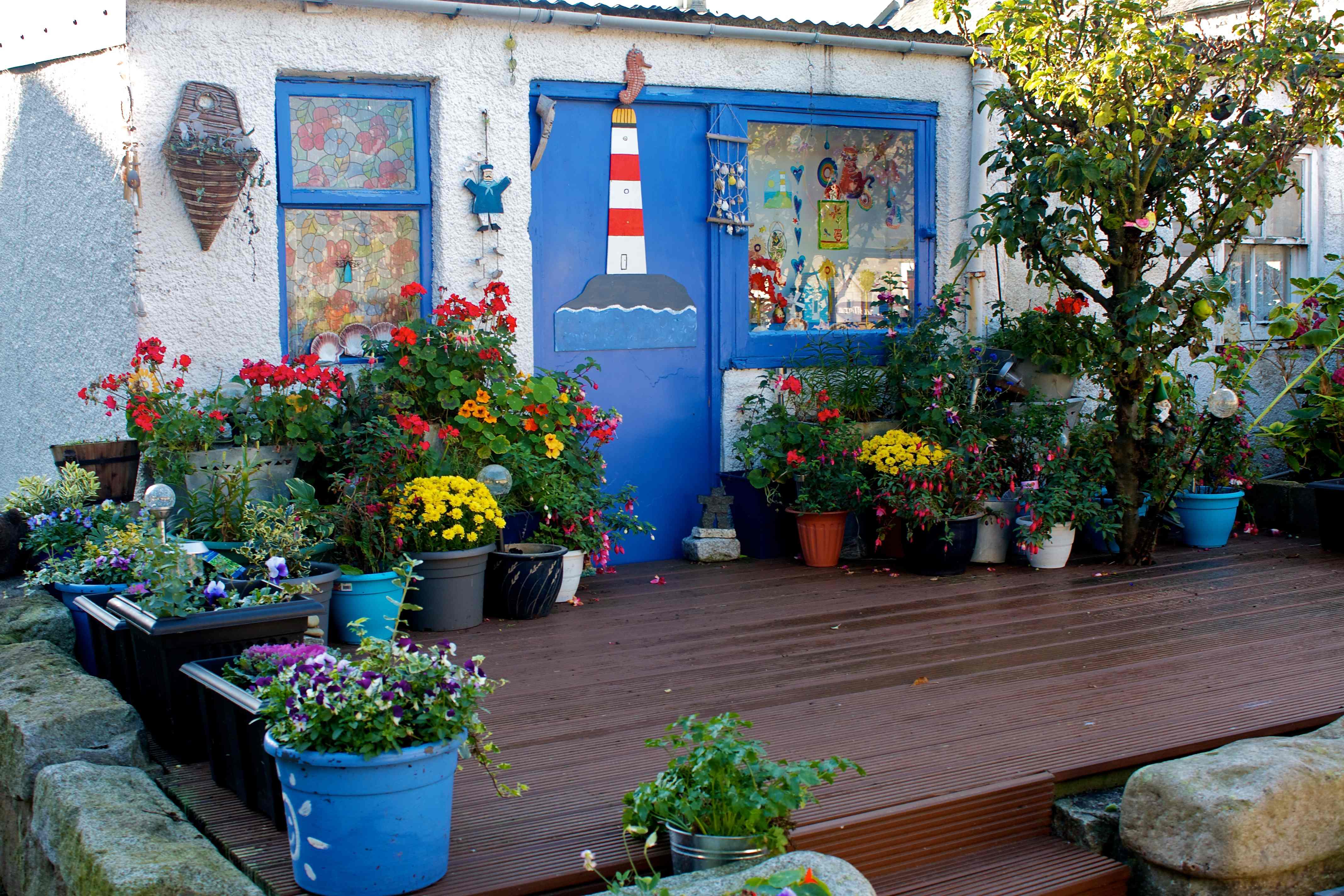 Girdle Ness is, I think, a better place to finish the Challenge than Fittie. From Duthie Park, you follow the Dee to the 2nd bridge, cross the bridge, take 2nd on left and keep walking. You pass the harbour with a pervasive smell of fish from fish processing factories then suddenly you are out of the city, walking above the river estuary, with great views back to the harbour. There's a great wee cove below the lighthouse where I finished my first Challenge.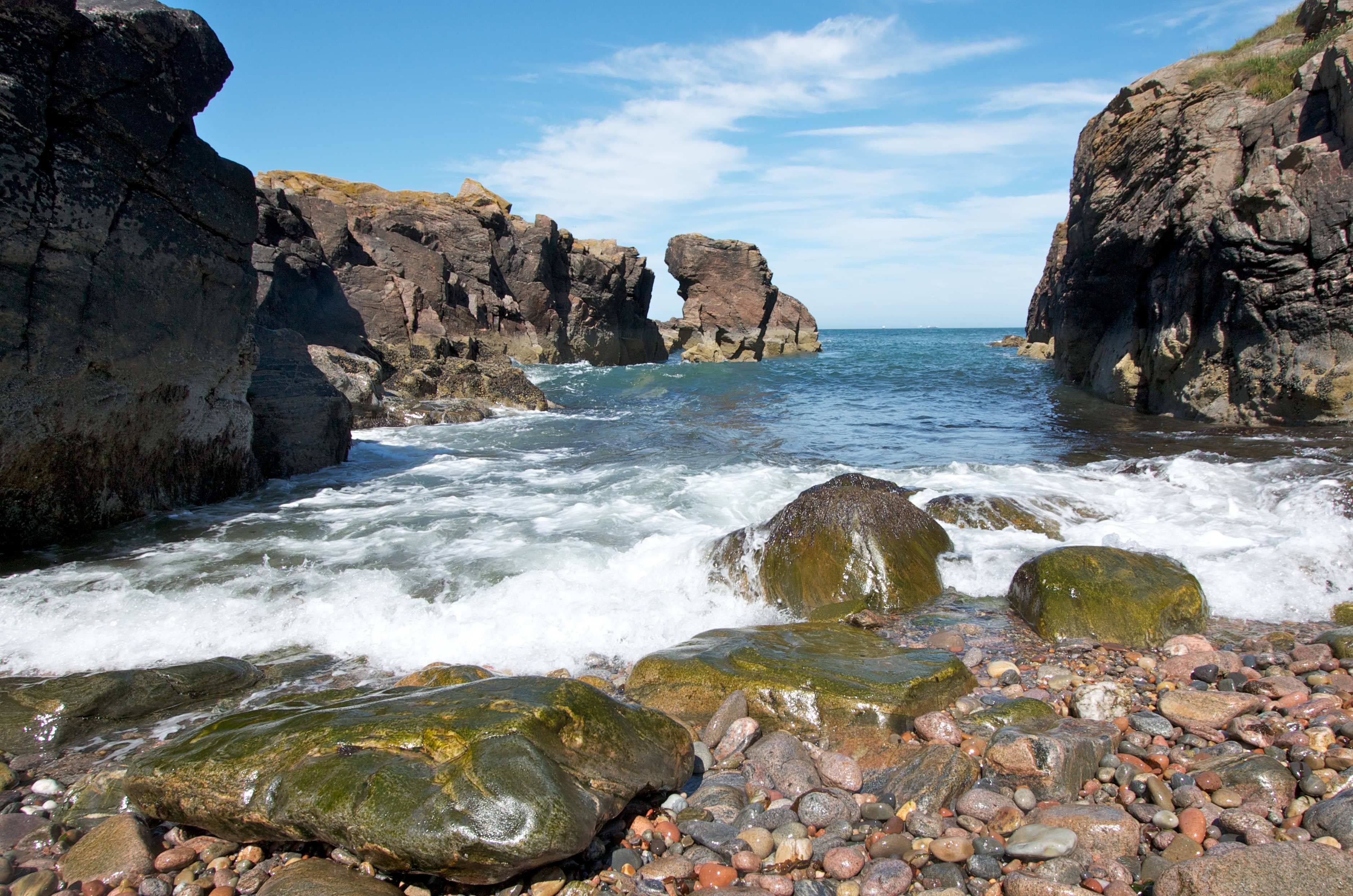 Portlethan
The coast from Aberdeen to Montrose is punctuated by what were fishing villages - Findon is the first of these but the first on Roger's list is Portlethan. Portlethan is a modern, bland suburb of Aberdeen which you have to walk through to get to the sea at the fishing village of Old Portlethan.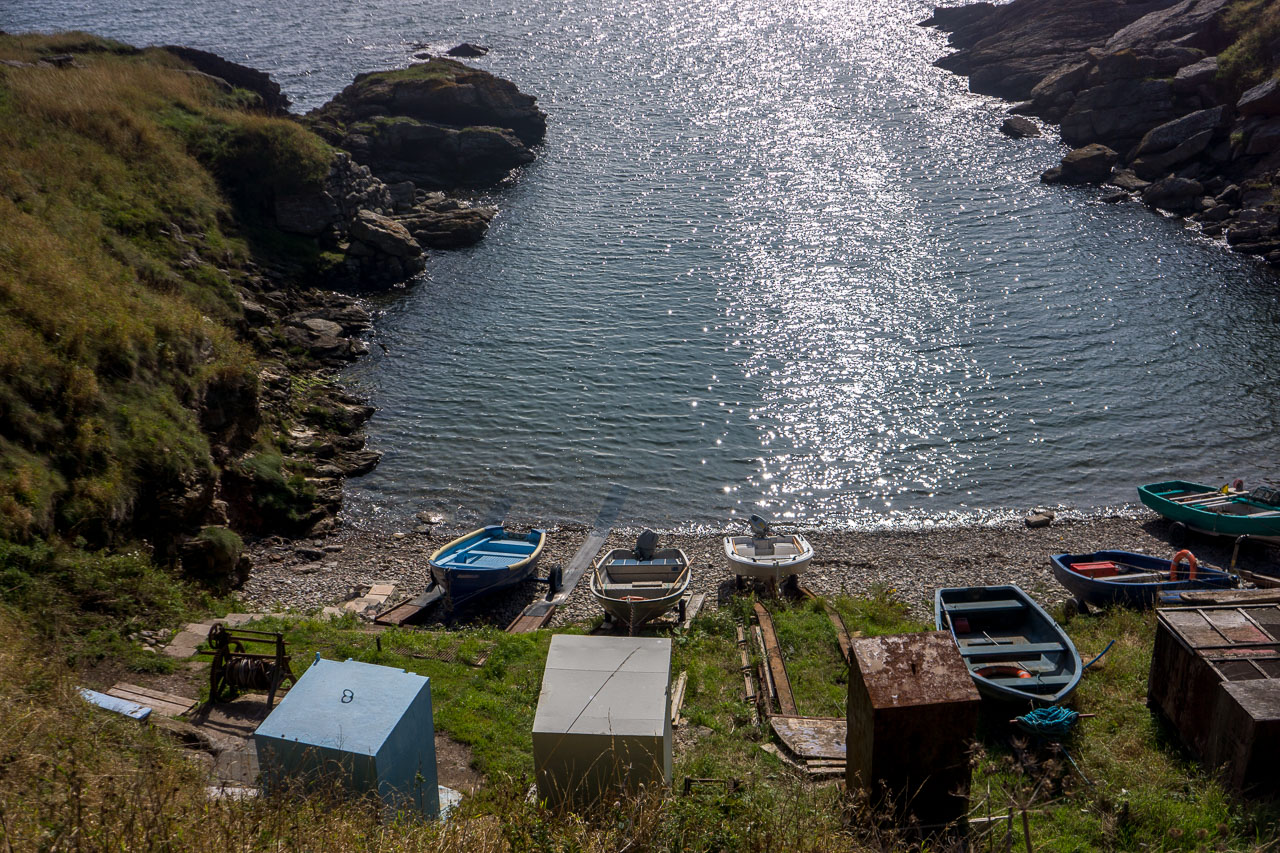 Old Portlethan is about a mile from Portlethan and has a lot more character. There's a nice wee harbour where you can reach the sea and a pub to have a drink or coffee afterwards. There's a village shop and supermarkets in Portlethan. However, don't try to take the train to Montrose as Roger suggests, many trains don't stop at Portlethan. Better to get the coastal bus.
Downies
Downies is the next village to Old Portlethan and you have to walk through Portlethan to get there.  No shop or pub. Nice coastal scenery but comparatively, there are better places. Probably only worth going there if you are collecting Challenge finish places. No pub or shop.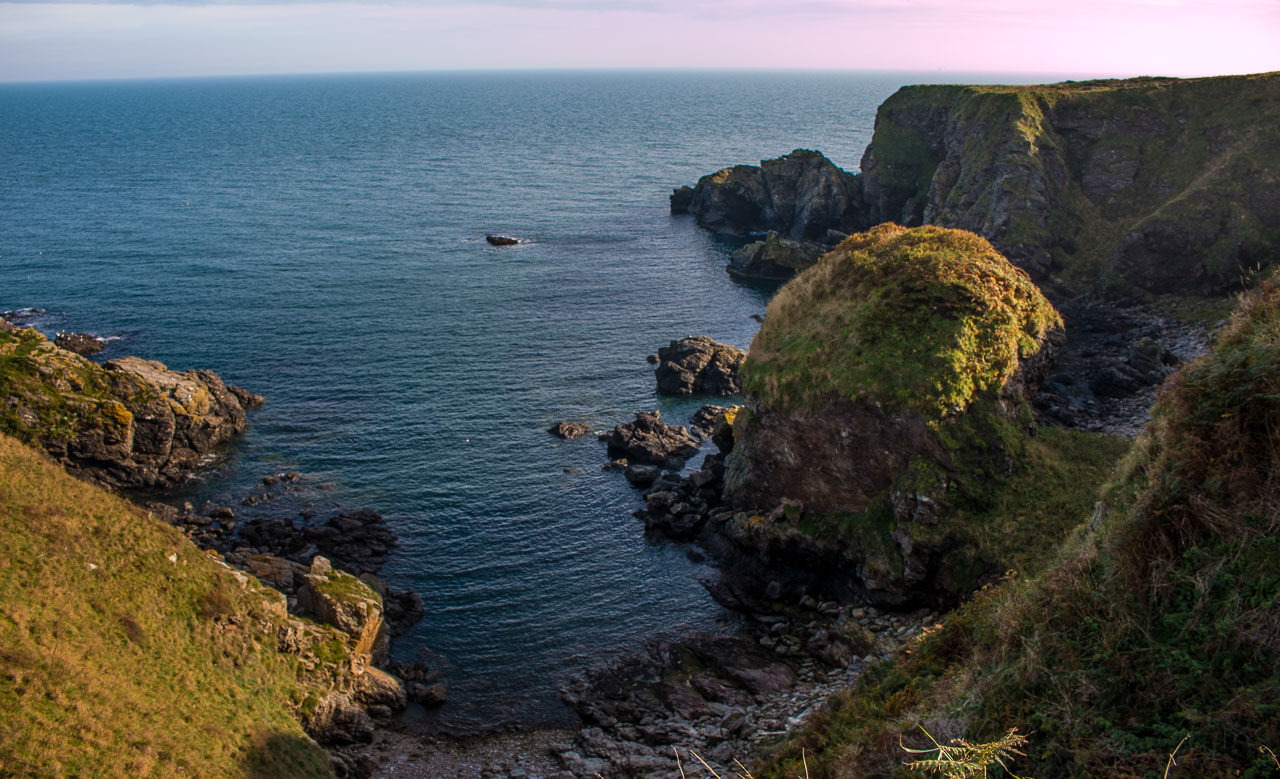 Newtonhill
Newtonhill is another old fishing village that has become an Aberdeen suburb, although its not as big as Portlethan.  This means that there isn't the same urban walk as at Portlethan or Downies and it's a pleasant stroll through the filed down to the old village. A pleasant enough beach that you reach by an easy path down the cliffs.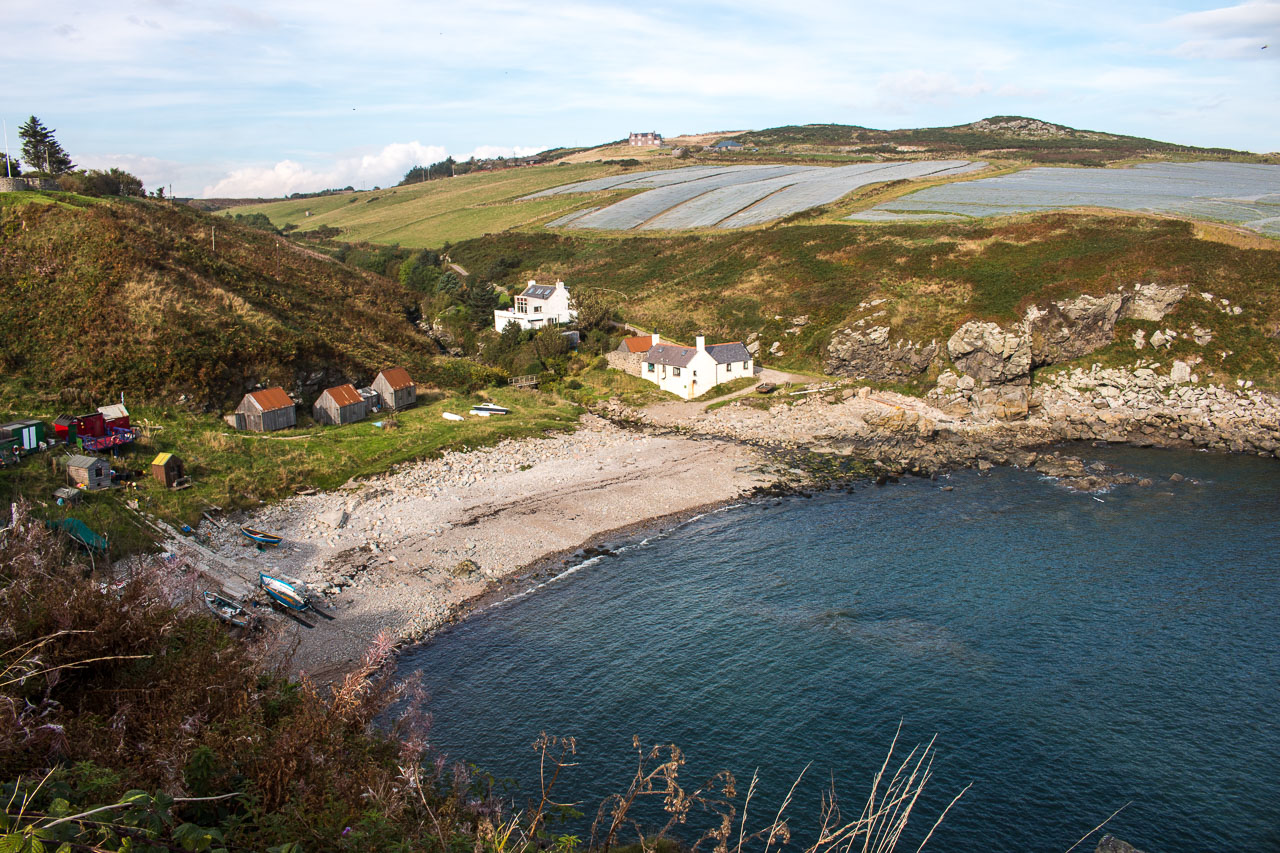 There's a shop and pub in Newtonhill - I haven't been in either.
Muchalls
Muchalls is magnificent!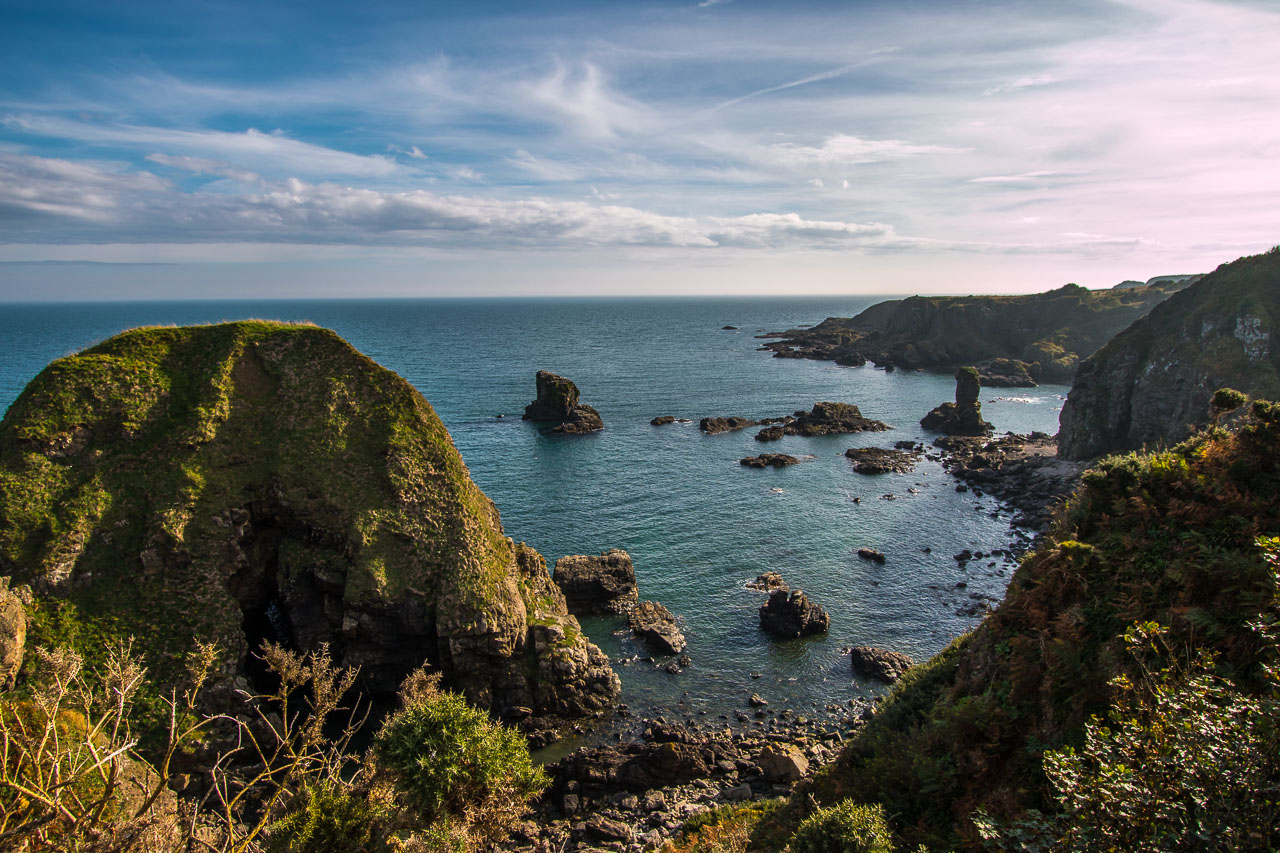 Muchalls village is on the edge of Aberdeen's creeping sprawl which means there's some gentrification but, as yet, no large new housing estates. You walk through the village to the road end then follow the path under the railway to the sea.
At this stage, you have no idea what is going to hit you. When you reach the sea, it's a fantastic surprise. The views north and south are superb. Certainly, for cliff scenery, this is the best place south of Aberdeen (the Bullers of Buchan to the north are pretty good but that'll be in a different post).
There's a pub/restaurant in Muchalls called The Stack. I haven't been there so I don't kow it's open for drinks and coffee or not.  It used to be the Muchalls Bistro which did pretty good food. Buses to Aberdeen and Stonehaven.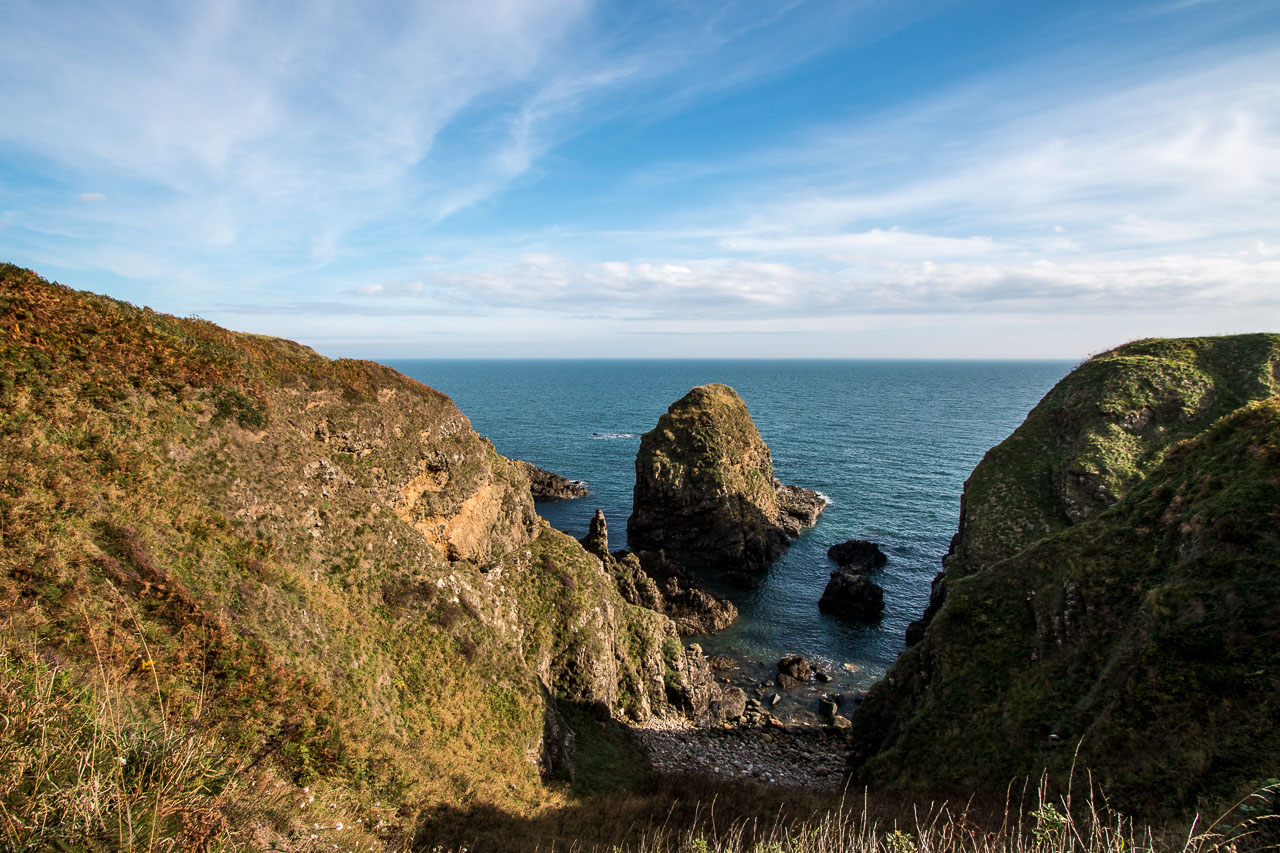 Unfortunately, it's not easy to get to Muchalls without a fair bit of tarmac pounding so that's always going to limit its popularity.
Cowie
Cowie is a hamlet at the north end of Stonehaven. Its principal claim to fame (if you are a geo-geek) is that it's where the Highland Boundary Fault meets the North Sea. The Highland Boundary fault, which starts in Helensburgh, is the geological boundary between the Lowlands and the Highlands.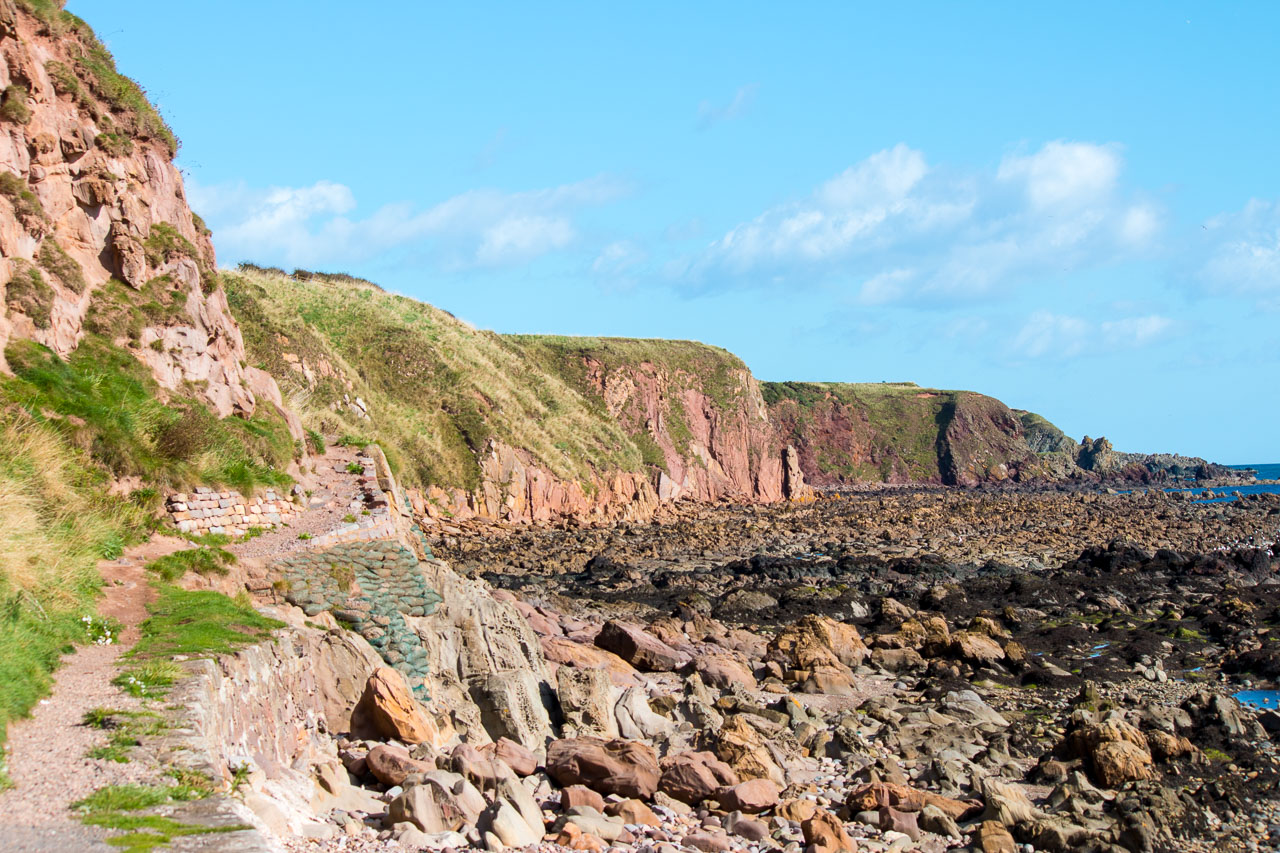 It's a pleasant enough wee place but it doesn't have any grand cliff scenery like the places further north. It's a short walk to Stonehaven cafes on the promenade - Molly's is quite good and fish and chips from the Bay are excellent. Quite easy to get to from the Feteresso forest.
Stonehaven
Stonehaven is a small town south of Aberdeen that is a popular finishing point for Challengers. You can get there without too much tarmac pounding by going through the Fetteresso forest, which gets you to 2-3 km from the town. Unfortunately, there's a big wind farm there now  (33 turbines) which is now fully operational.  The forest is not great for camping and some of the pitches near water are very close to the wind turbines (see this post for a picture)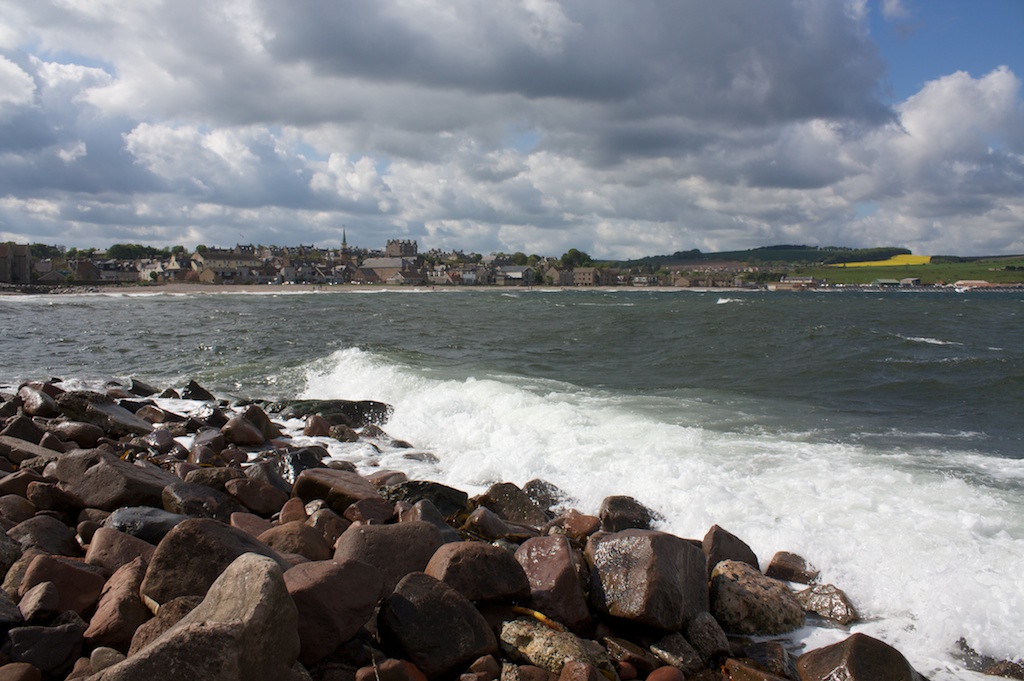 Stonehaven proudly boasts that it is the home of the inventor of the pneumatic tyre (Robert Thomson) but keeps quiet about a more recent invention of a famous Scottish delicacy – the deep-fried Mars Bar (see my article on Scottish delicacies for a picture).  If you come into the town from Kirktown of Fetteresso through the back streets, you come out near the Carron Fish Bar - birthplace of the deep fried Mars Bar.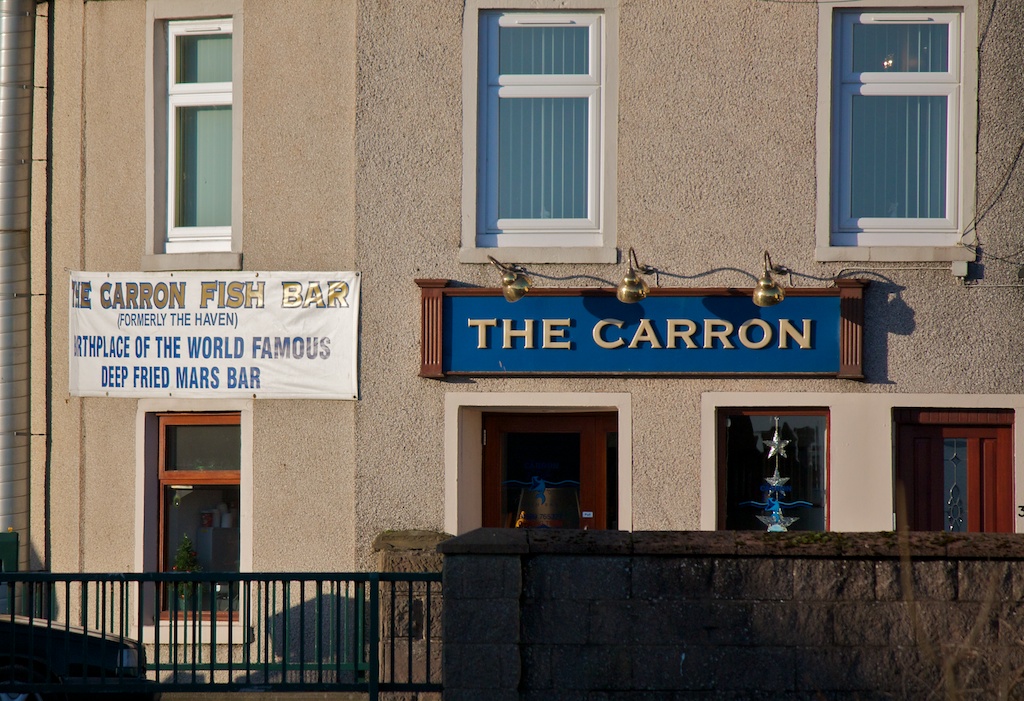 I have only tried this delicacy once. They don't look too appetising (a deep-fried turd comes to mind) but actually they don't taste too bad. Soft and chocolately with a crispy coating. I'm not sure I'd want to eat a whole one but if there's a few of you, you may like to experiment.  Profits from DFMBs are donated to charity.
If you want fish and chips, however, best to go to The Bay fish bar at the other end of the promenade. It has won several awards for the quality and sustainability of its fish suppers.
Beer lovers and those with more refined culinary tastes should head for the harbour where there are two excellent restaurants - the Ship (good for Cullen Skink) and the Marine Hotel. The Marine has more unusual food, a great atmosphere and a superb range of beer – both real ale and bottled. They have their own brewery (6 North) so it is worth timing your arrival for a pint. I recommend the Hopocrisy or Wanderlust Wheat.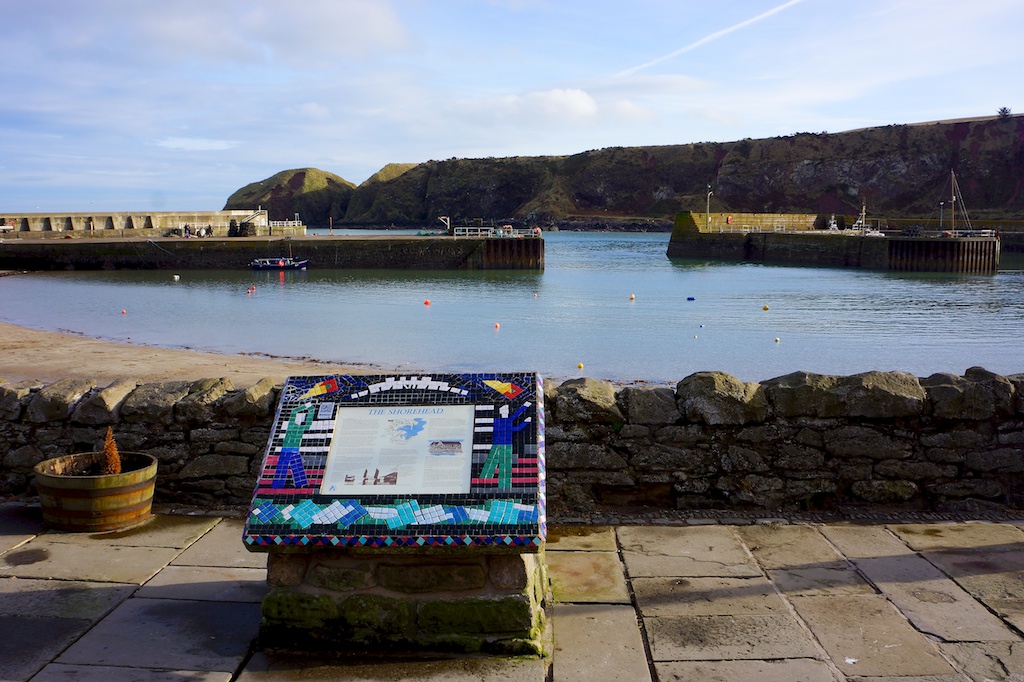 There are good transport links from Stonehaven to Montrose - there's an hourly bus service and a couple of trains per hour although taking the train means a walk up the hill for about a mile and you may have done enough walking by the time you get there. But make sure you go to the stop in Allardice Street near the square to catch the bus - it's an express bus and doesn't stop at the one closest to the Marine.
Dunnotar Castle
Just to the south of Stonehaven is Dunnotar Castle, another popular Challenge finishing point. I think this is maybe the most dramatic place to end your walk with the ruined castle on a headland with cliffs plunging into the sea. There's lots about Dunnotar on Wikipedia so I won't say more here.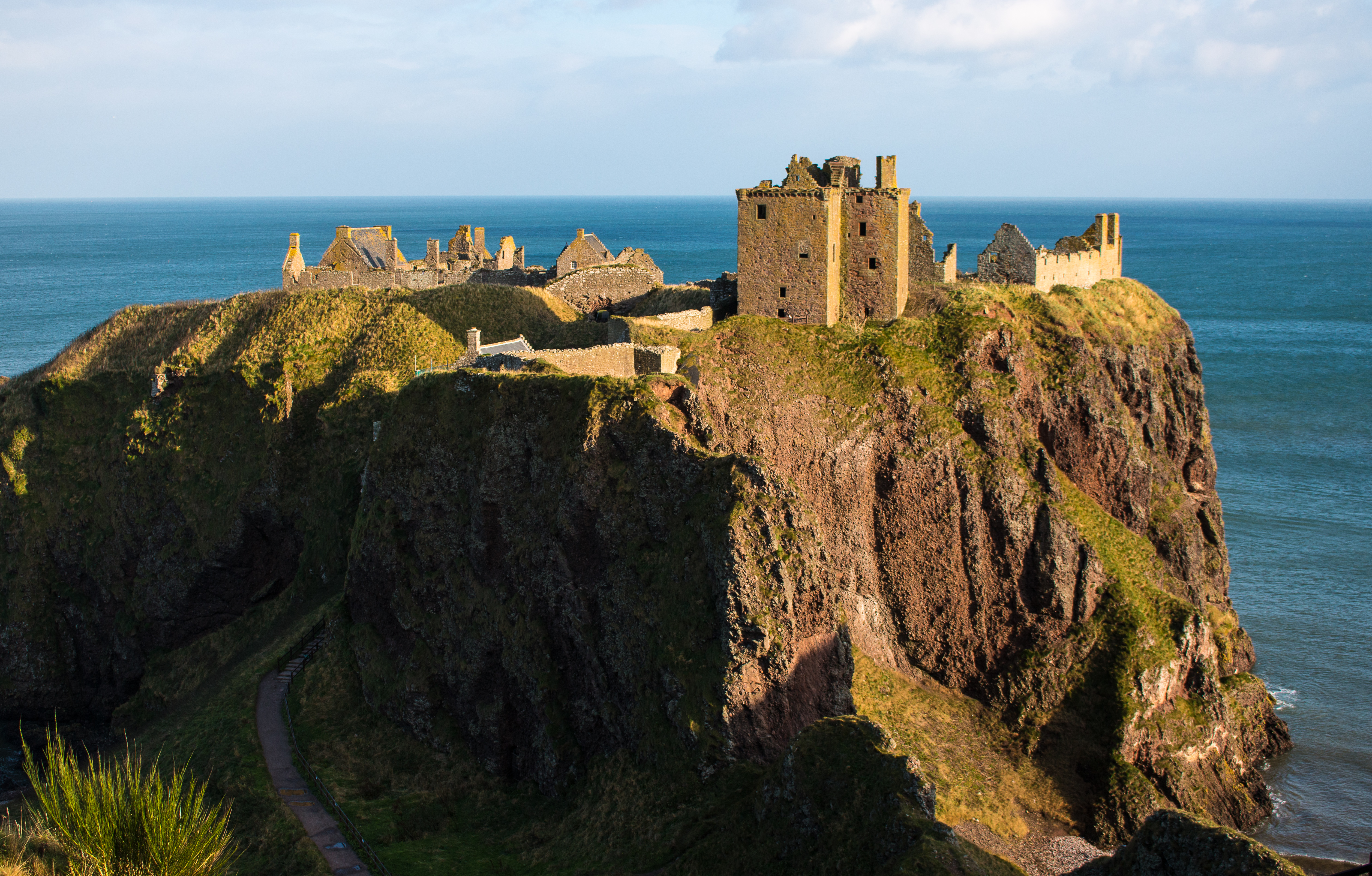 As you approach the castle, you can get down to the beach on either side. Ignore the Danger - No Access notices - it isn't dangerous at all for people who have walked across Scotland.  You can also get down to the beach at the adjacent bay.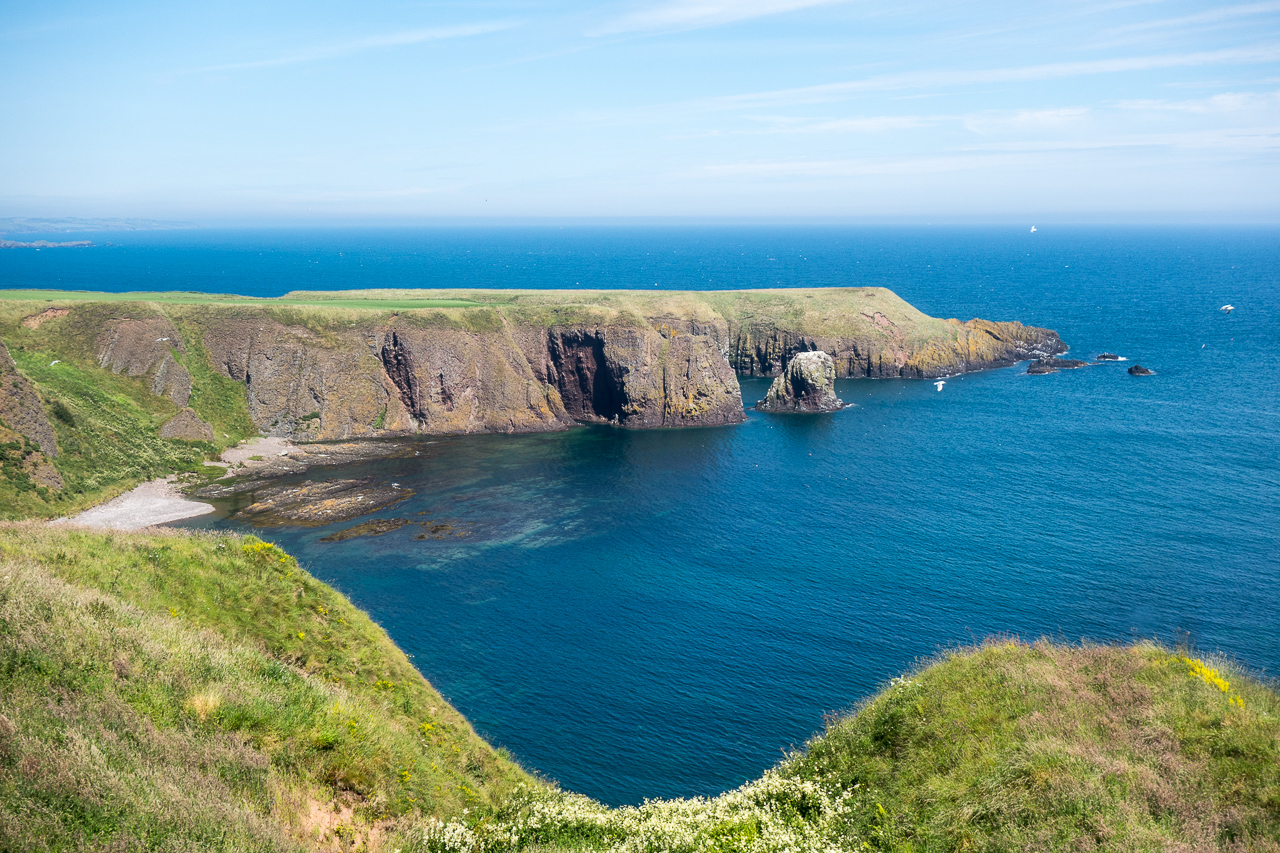 There's no cafe at the Castle - there is an ice cream van in summer but I don't think it'll be there on a weekday in May. You need to walk back to the main road to catch the bus.
Crawton
There's supposedly a cliff path from Dunnotar to Crawton through the bird reserve. I've walked to the bird reserve at Crawton where there's a good path but it peters out and I think you'd have to stick to the field boundaries from Dunnnotar. Not much at Crawton itself but great views to the south. You need to walk back to the main road to get the bus.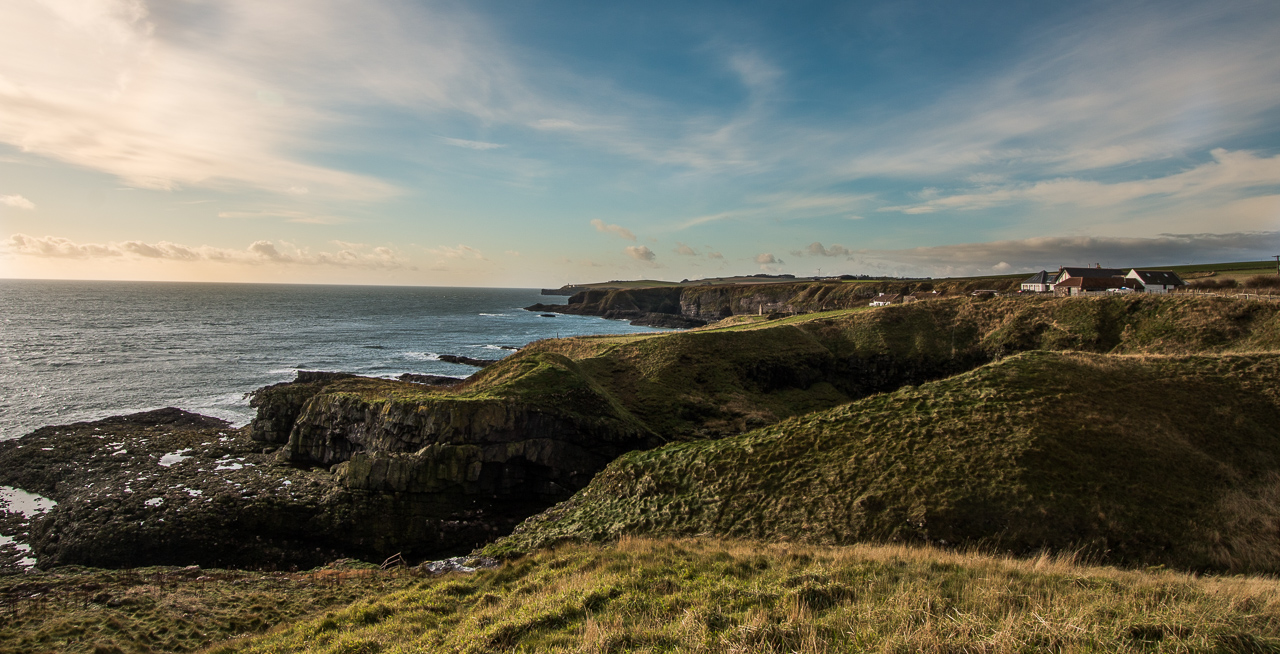 Catterline
Catterline is the next village down the coast, with a good path from Crawton. The village itself is now a commuter village at the top of the cliffs with a sharp drop to the sea. It has a good pub (the Creel Inn) that specialises in fish dishes but I don't think there's a shop. The food in the Creel is very good but I find the bar a bit dark. Unfortunately there's no outside seating with sea views.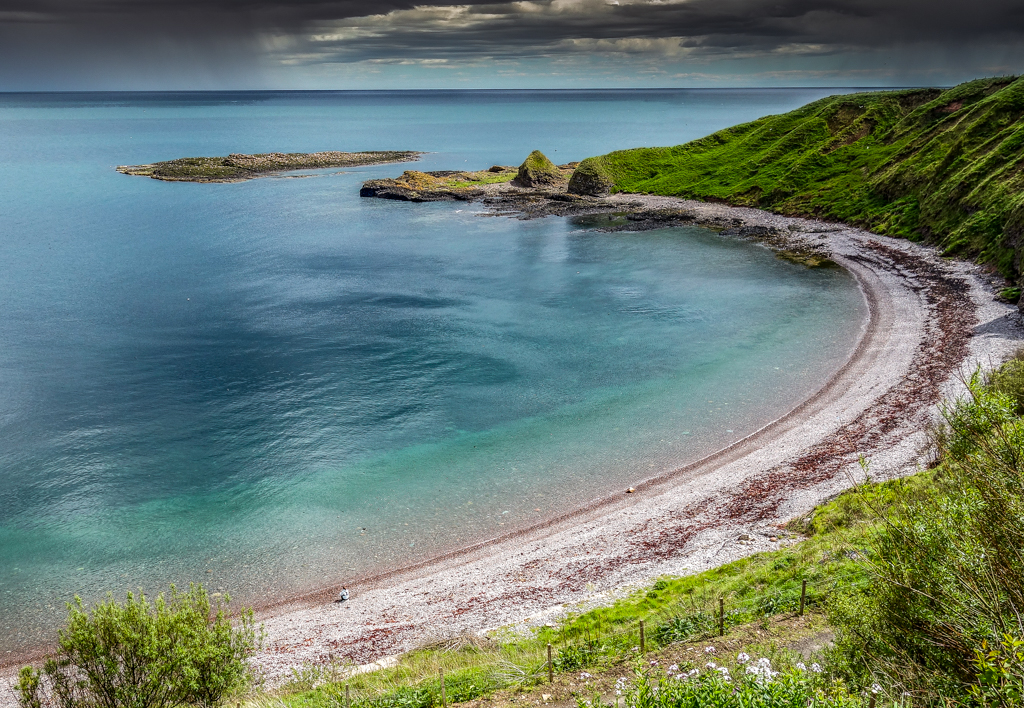 It's a short walk down to the beach. For geology buffs, Catterline has some of the best examples of conglomerate rock I've ever seen.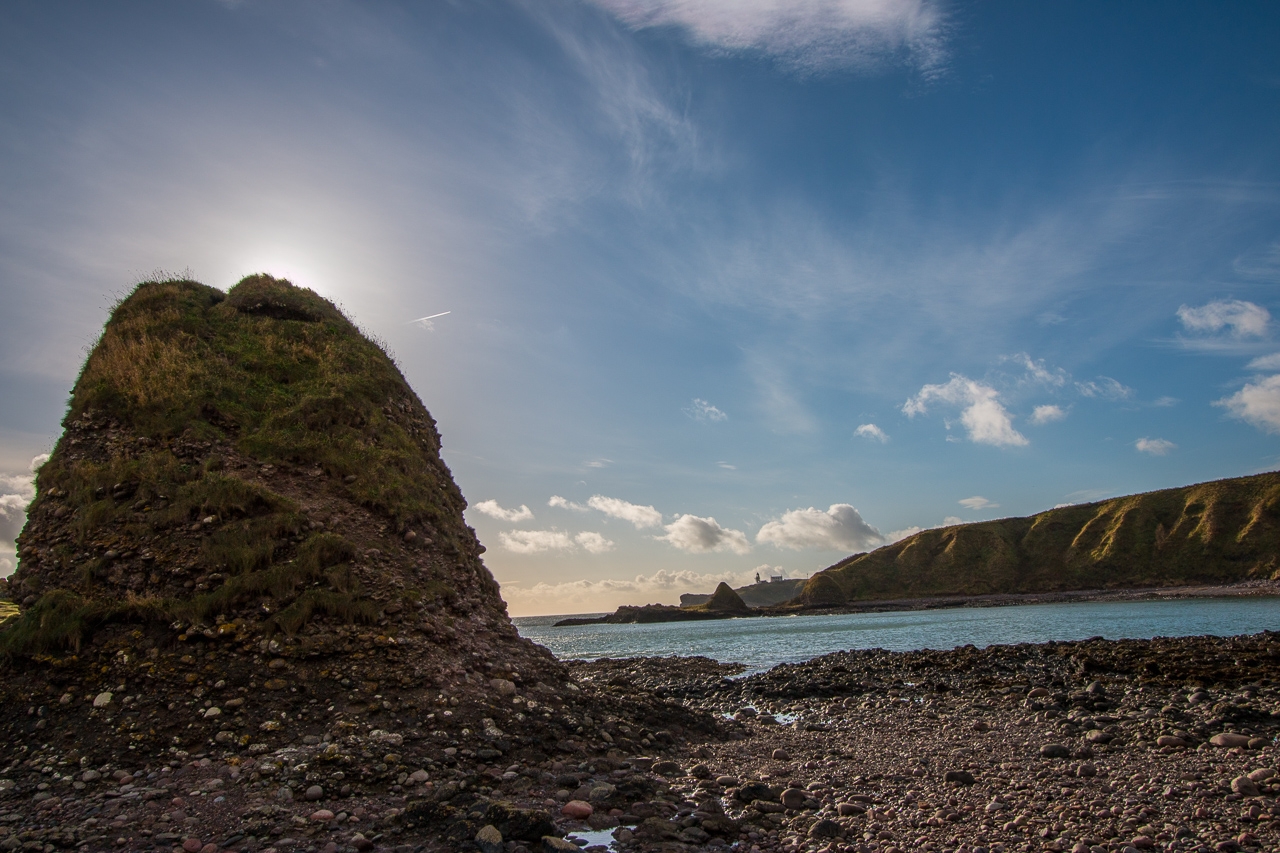 Kinneff
I went to Kinneff specially before I wrote this as I'd been there. Roger says 'no easy access'. This is an understatement - I couldn't find any way down although I have to admit I didn't spend too long trying. As Roger says, the church is perhaps the most interesting feature of Kinneff. there is a road down to the lighthouse, whichyou can see from Catterline. This would also be a possible finishing place.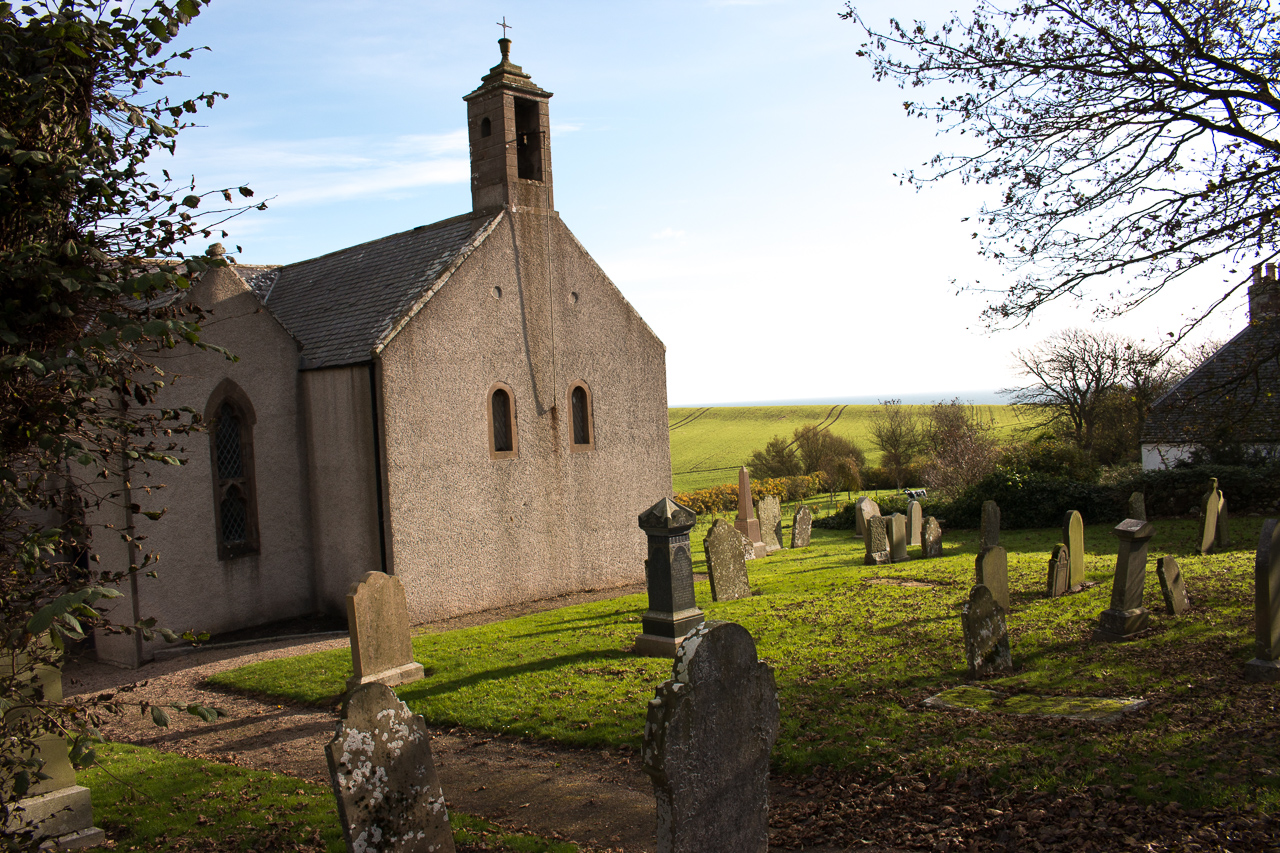 Inverbervie
Inverbervie is the largest town between Stonehaven and Montrose with a full range of shops. It was a fishing village but I don't think there's any fishing there now. But there's still the old boat winches on the beach.
I've been there a couple of times but my view is jaundiced by the fact that when we went there on a cold Sunday afternoon after walking along the coast, nothing was open. So I can't say anything about my eating and drinking experiences. The Bervie Chipper, as Roger says, has won awards but rumour has it that it has gone downhill recently.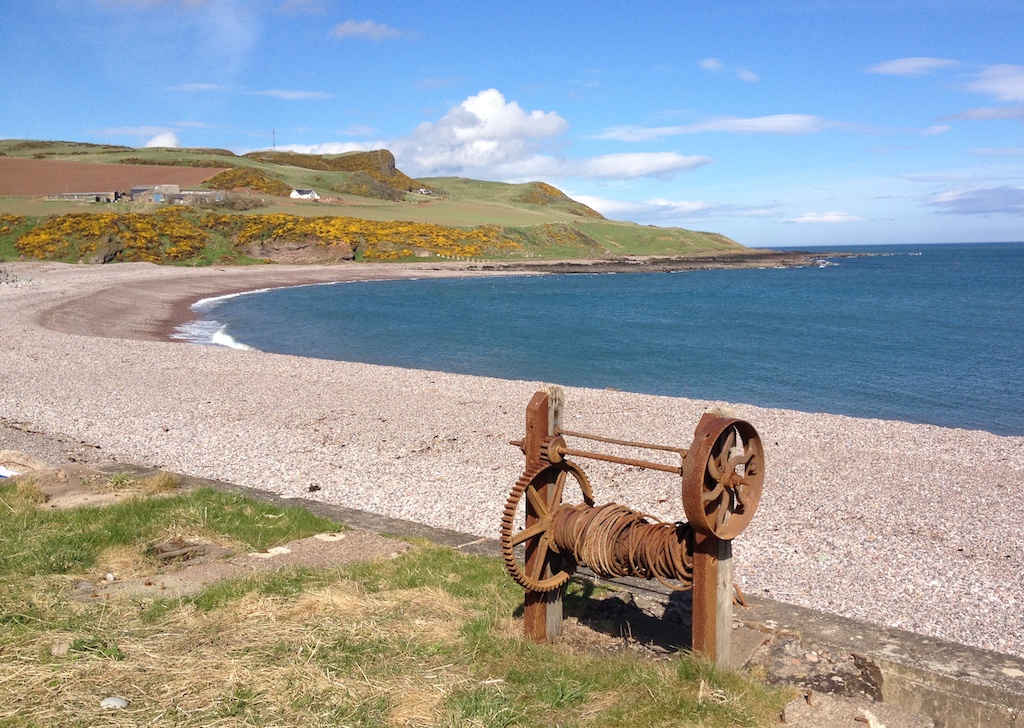 Gourdon
Gourdon is still a working fishing village with a few fishing boats in the harbour. The Harbour Bar is a good pub but, sadly, Hornblower, which was an outstanding fish and chip shop is no more. It has been renamed the Quayside Restaurant and I don't think the menu was as interesting as Hornblower. However, after a shaky start, the food is now pretty good and the views over the harbour are great.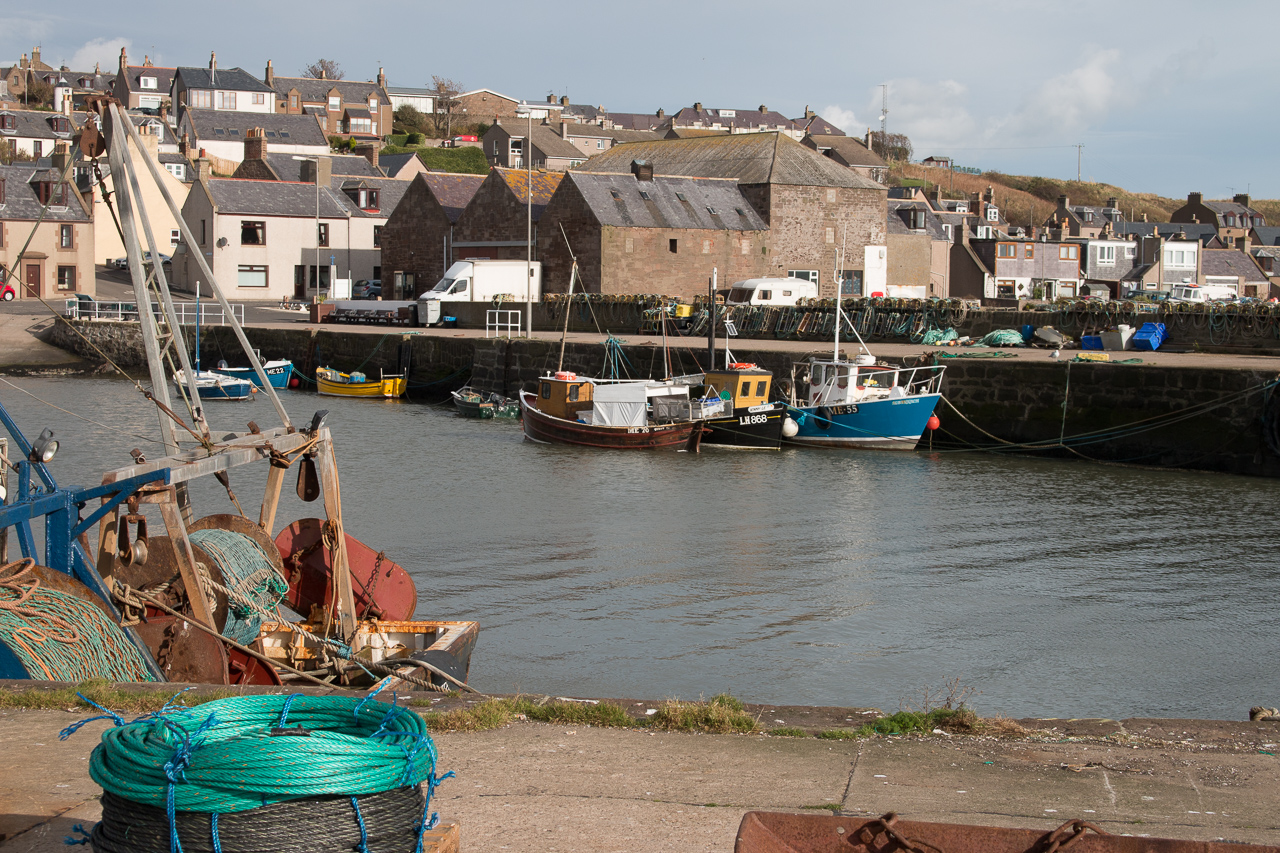 Johnshaven
Johnshaven is a large village just south of Gourdon. It's a bit more developed than some of the other possible finishing places but has a very attractive, working harbour.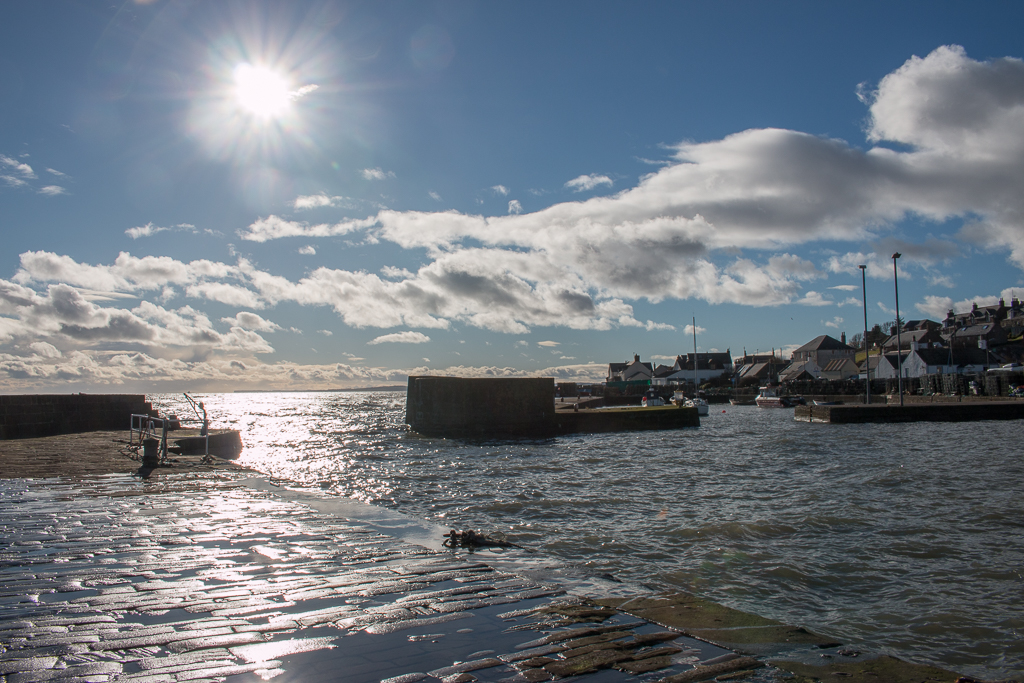 Like Gourdon, it's still a working fishing village although I suspect that most residents are commuters, south to Montrose or north to Aberdeen. There's a pub (the Anchor Hotel), a shop and you can get the bus outside the pub to Montrose.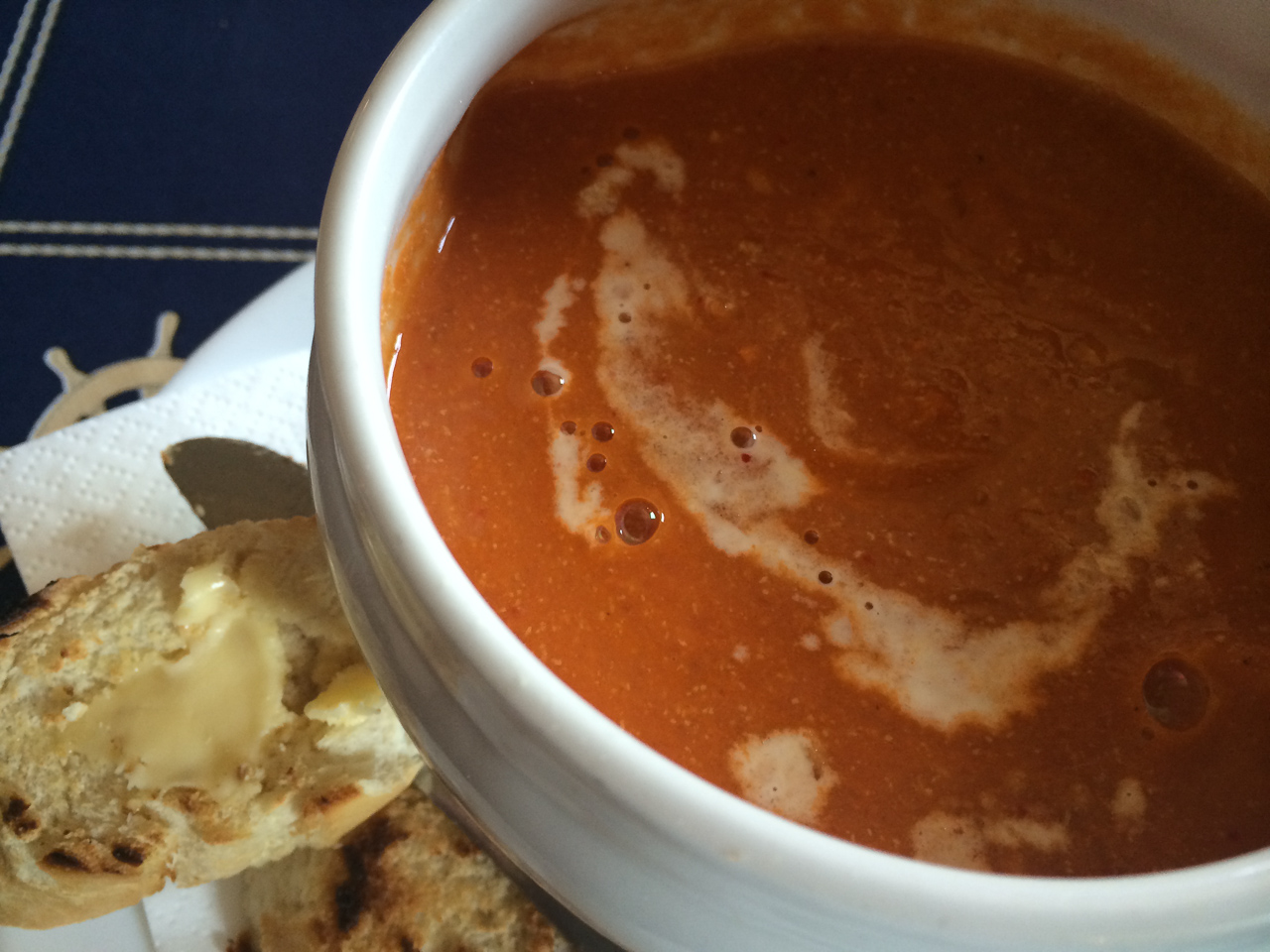 I strongly recommend planning your arrival in Johnshaven for lunchtime and then going to the Anchor Hotel. It's a great wee bar with friendly owners and excellent food. The lobster soup is simply the best fish soup that I've ever had. Sadly, it's not always available but the rest of the food is pretty good too.
Tangle Ha'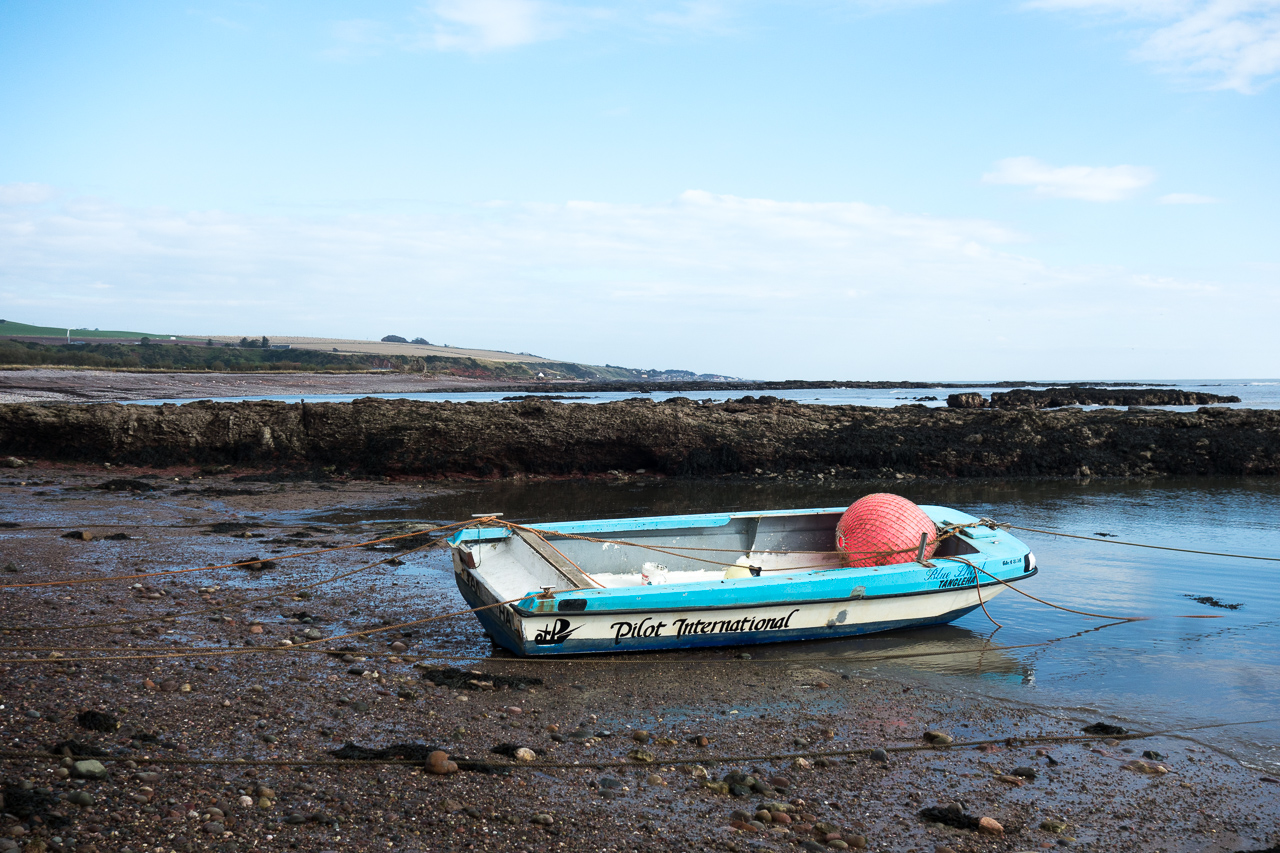 Tangle Ha' is a great name but I think it is a rather unprepossessing place. Stony beach, dull harbour and no cliffs.
St Cyrus
St Cyrus is perhaps the most popular Challenge finishing place and rightly so. The views from the cliffs are absolutely superb and Wednesday and Thursday sees lots of people on the beach taking pictures of each other.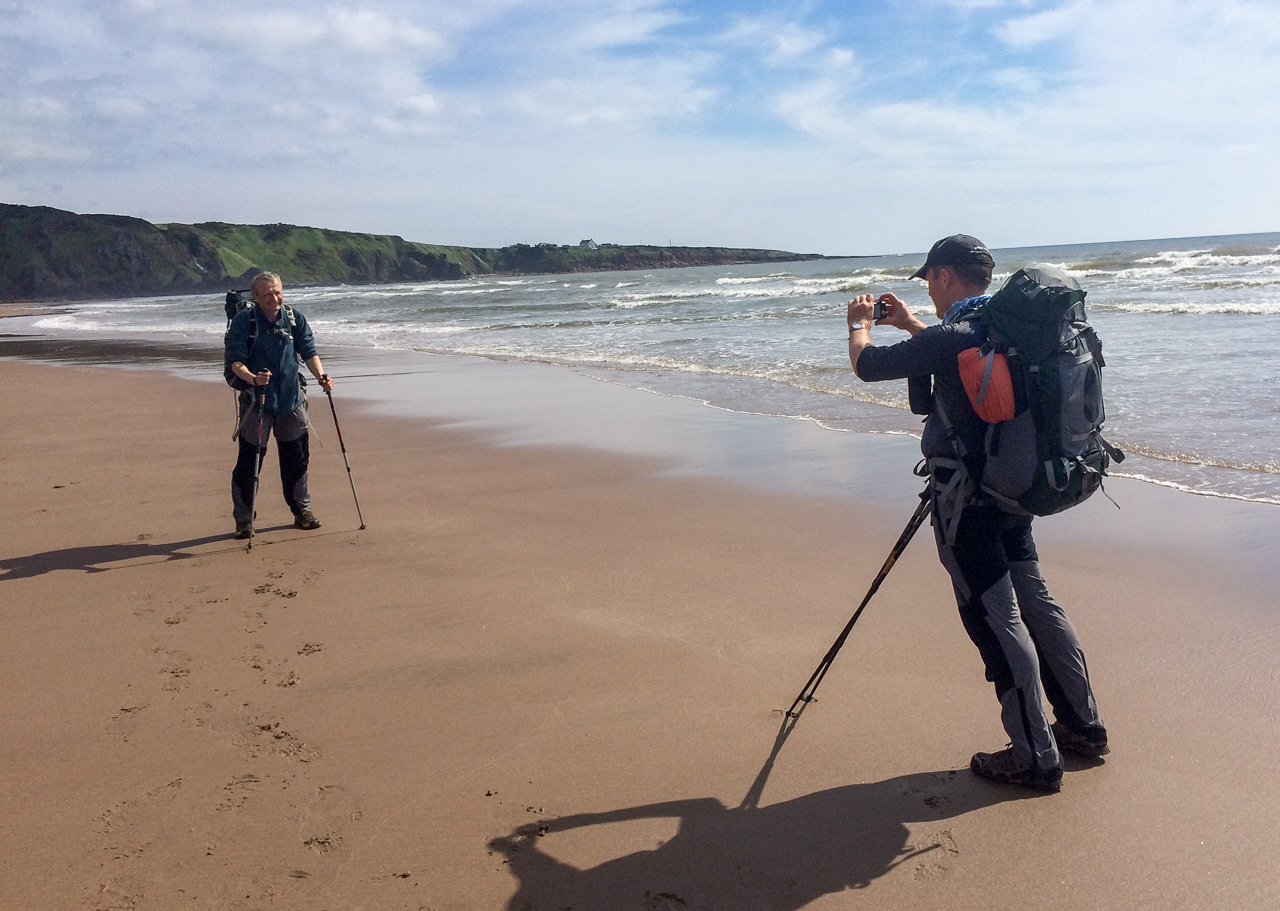 The beach stretches to the River North Esk and you can walk along to Nether Warbuton (and probably to Montrose but I'm not sure about that - you need to cross the river).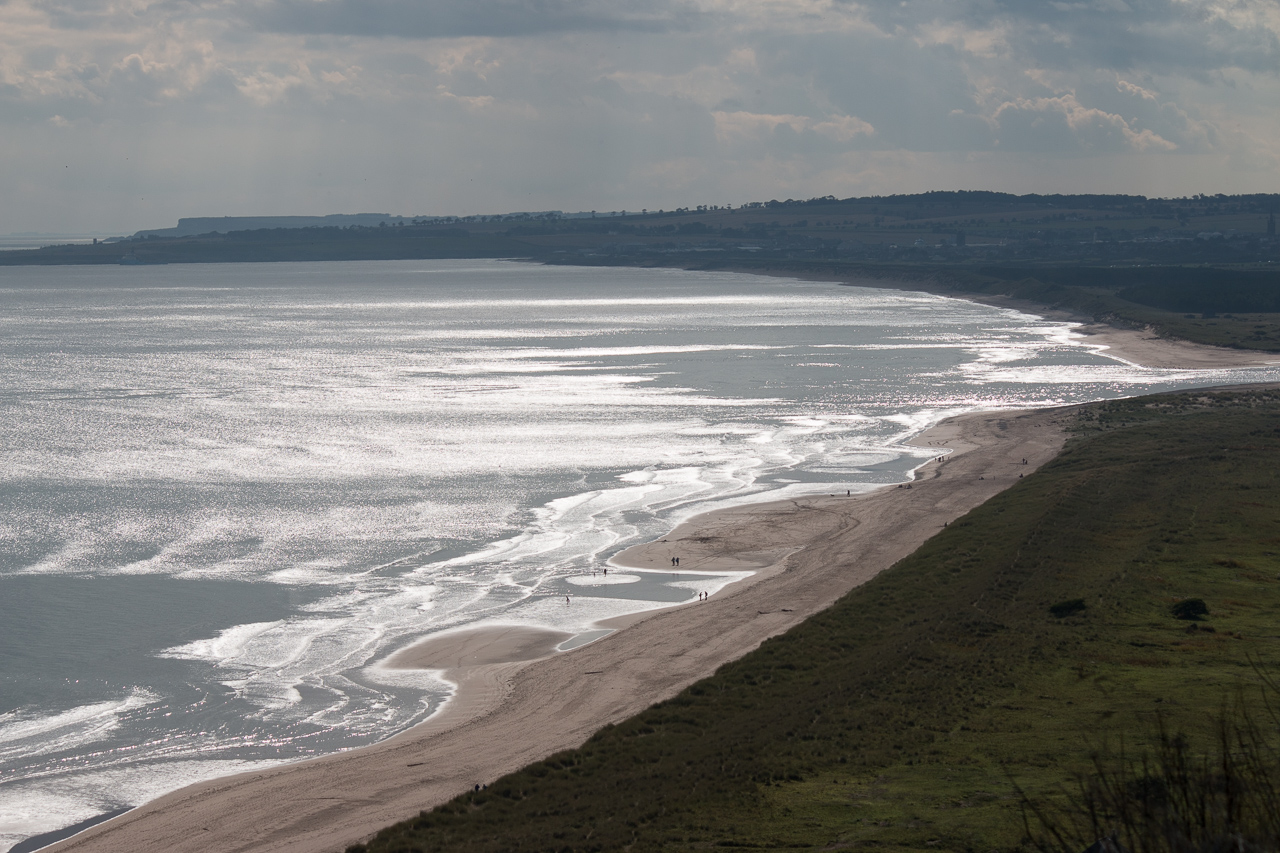 There's a coffee shop on the way to the beach and a pub across the road which I haven't been in. Advice from an experienced Challenger was that if there are 3 or 4 of you, it's not much more expensive to take a taxi to Montrose rather than wait for the bus.
Nether Warbuton
I'm not sure that Nether Warbuton is really that different from St Cyrus - basically, it's just along the beach but it does not require a traipse down the cliffs. There's a visitor centre for the nature reserve there and a junkyard which has the biggest collection of absolute crap that I have ever seen (my daughter loves going there). It's a nice beach.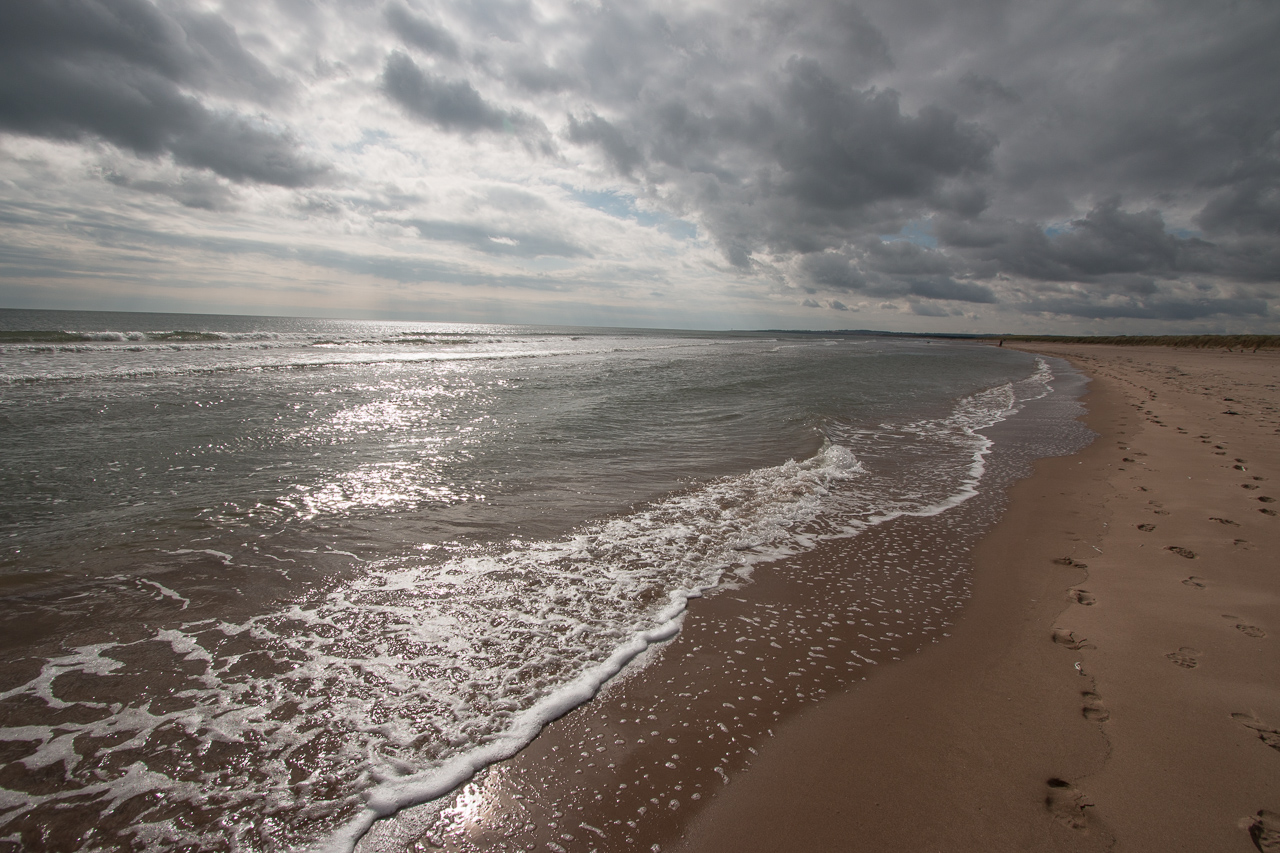 Nowhere to eat but if you go back to the bridge over the River North Esk then walk a bit down the road towards Montrose, the Charleton Fruit Farm has a cafe that does very good and reasonable meals.
Other places
Kinnebar Links are on the south side of the River North Esk - I've never been there but some people finish there. You can see it on the St Cyrus picture - the bit across the river.
I haven't really ventured much south of Montrose so I can't illustrate these places yet. I have been to Lunan Bay, which is a fabulous beach.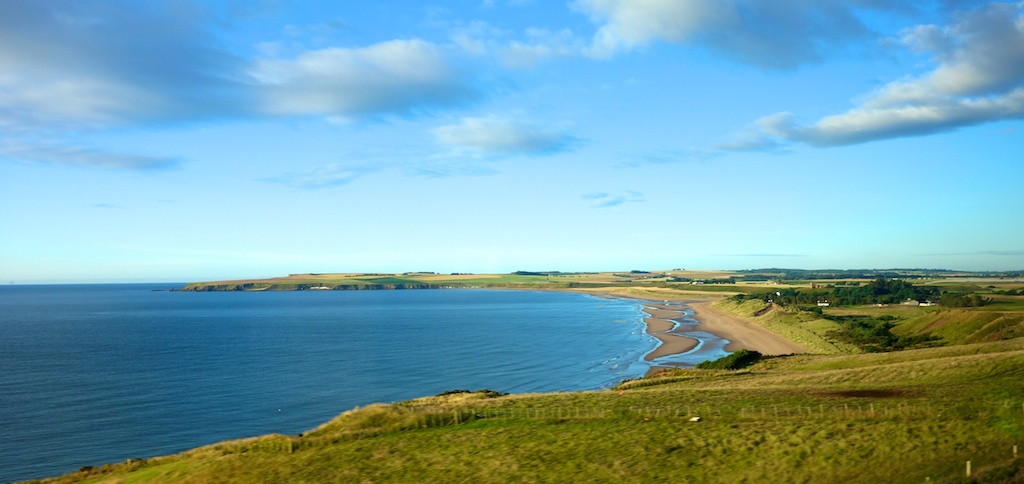 North of Aberdeen, Balmedie has fabulous sand dunes and Collieston is a lovely clifftop village.