My first Challenge did not start well.
As a newbie, I decided that the most sociable way to start was to catch the 'Challenger Special' from Glasgow to Mallaig and this meant taking a fairly early train from Stonehaven. On our way to the station, I mentally ran through the list of what I should have with me when I realised with horror that I'd been messing around with my compass the evening before and had left it on the window ledge. "Turn back now" I said. We turned back but by then it was obvious that I'd miss the train from Stonehaven and then the train to Mallaig. I (with compass) eventually got the 5.30 train, arriving in Mallaig about 11pm.
There was a hint of blue in the sky as I headed to the pier to catch Bruce Watt's boat to Inverie. As we boarded, I started chatting to a delightful lady called Lyndsey who had her rucksack on a wheeled contraption and who was heading for Barrisdale. It turned out she'd had major abdominal surgery a few weeks before but, determined to come on the TGOC, she planned to drag her rucksack on a trolley across Scotland. I hadn't been in Knoydart for many years and I thought to myself that the paths must have improved a lot in that time. (they hadn't - more on this later).
The blue had gone and the sky was uniformly grey as we reached Inverie.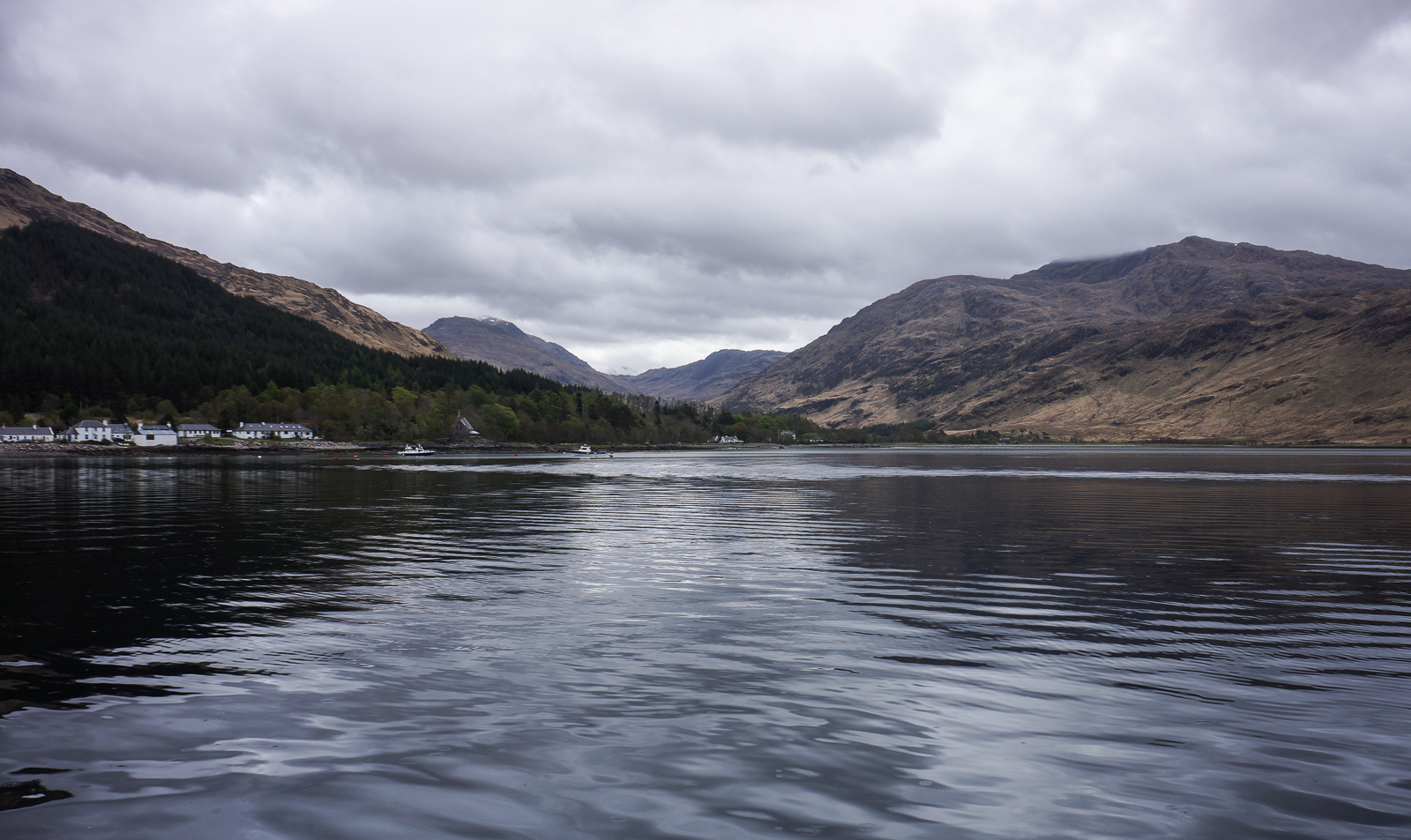 In those days (2013), the pub opened earlier so about half the boat headed to the Old Forge whilst the other half set of on their trek. I couldn't resist the lure of a beer but decided just to have one. Whilst others caroused, I set off alone for Sourlies about 11.45. It was still dry but there was a definite hint of rain in the air.
The first part of the path is easy and passes the Brocket Memorial on a hill. Brocket was a Knoydart landowner in the 1930s and 40s and altogether a nasty piece of work. He was a Nazi sympathiser and, when local veterans returning from the war tried to claim some land for crofting, he fought them bitterly and, sadly, the Scottish legal establishment took his side. Fortunately, Knoydart is now owned by the John Muir Trust and managed for the good of the environment rather than he shooting fraternity.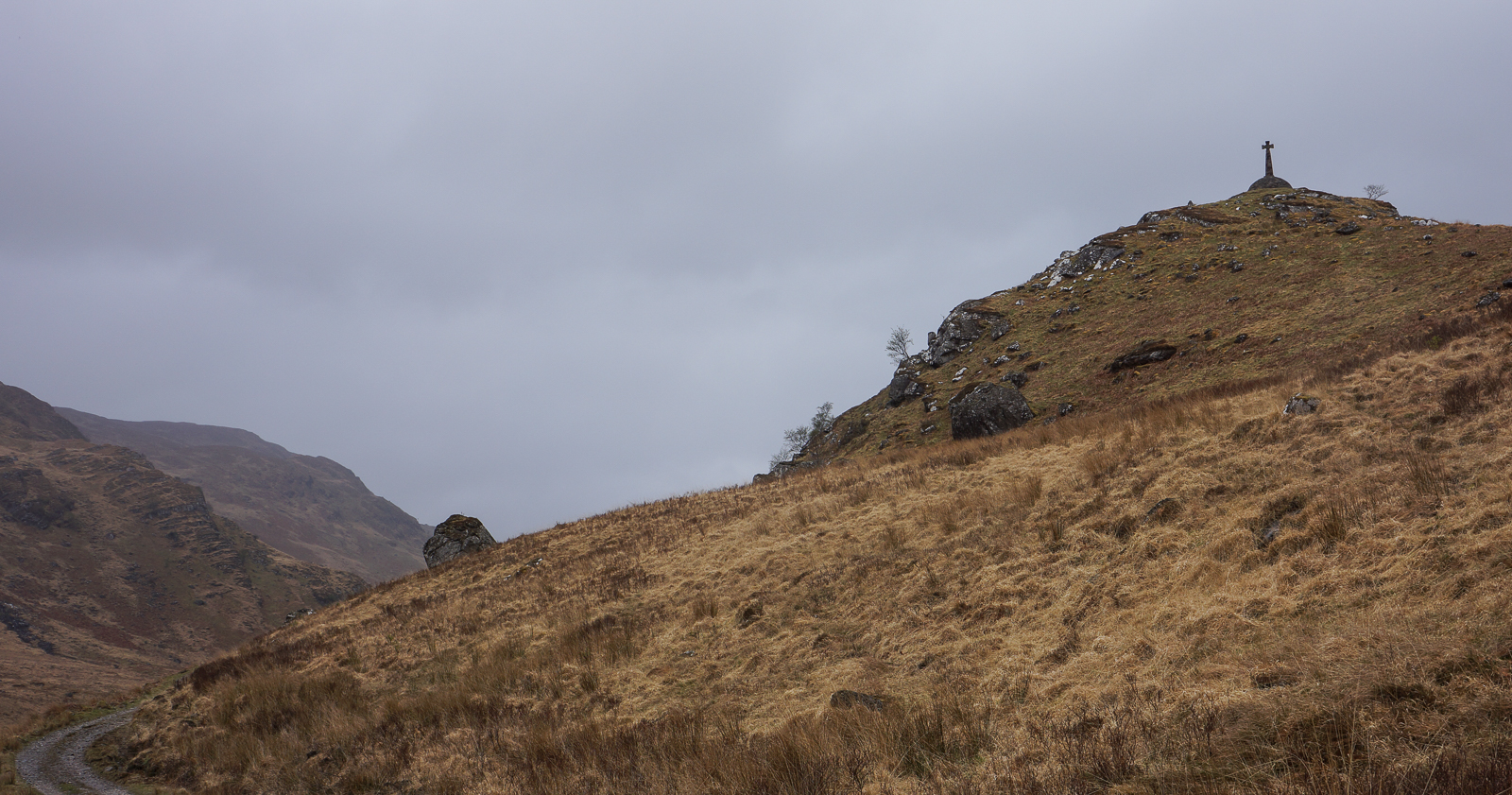 As I reached the turn off through Glen Meadail to Sourlies, the rain got heavier and it was overtrouser time. Lunch was eaten on the hoof and I started catching up with Challengers who had set off earlier from the boat. By now, it was continuous heavy rain so it was head down and trudge up to the bealach and down the steep path to the bridge at Carnoch.
The bridge was not in a good state and one Challenger, who clearly hadn't seen a lot of Highland bridges, was very nervous about crossing it. We looked at the river and concluded it was either the bridge or turn back so the bridge it was.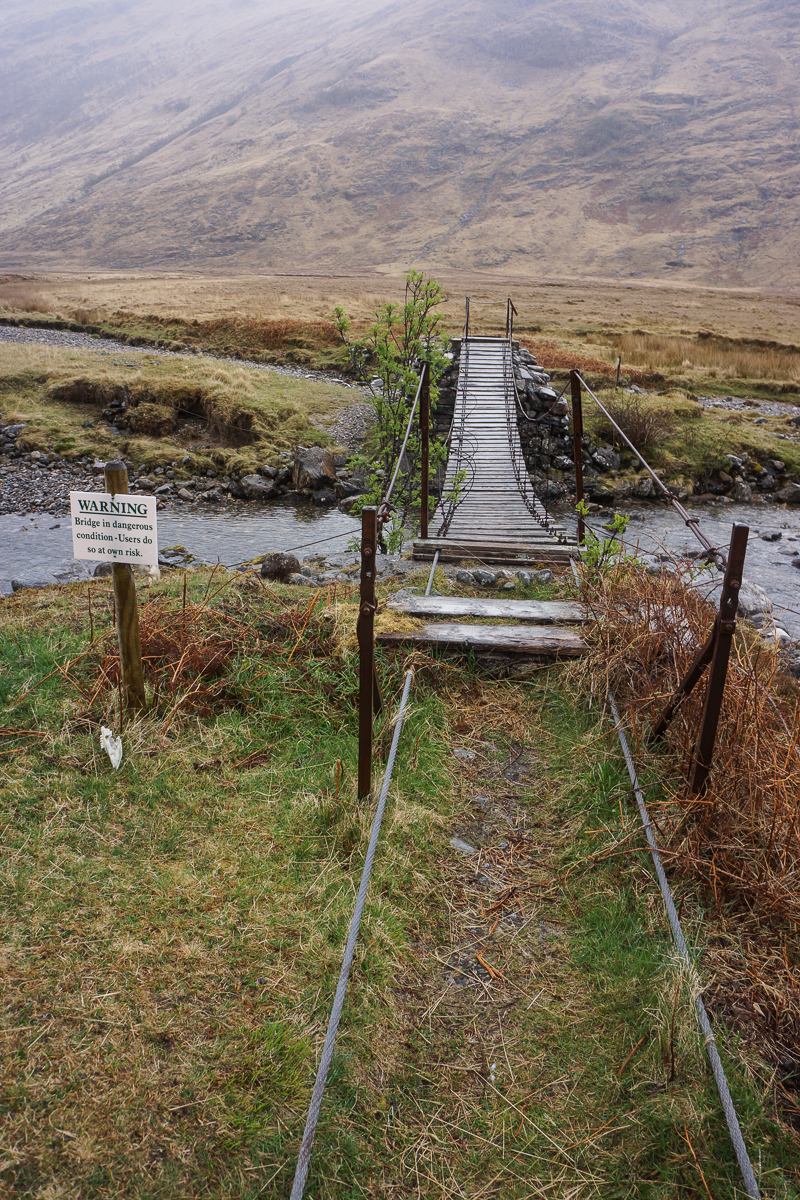 After crossing the bridge I met with David Williams and Matt Something who were also first-time challengers. I made the mistake of mentioning I had been in this area before so they immediately and unwisely decided that they would follow me through the bogs. However, more by good luck than good judgement (thankfully the tide was out), we got to Sourlies by the late afternoon.
Sourlies is a wee bothy with a maximum capacity of maybe six people. I guess there were probably about 6 people when we arrived and it was already pretty squalid. They offered to make space but we preferred to camp. There's a fair bit of grass outside Sourlies so we each found a spot and retired. After hot chocolate and food, I went into the bothy to be sociable and stayed there until it was almost dark.
Wen I came out, it was not good. It was still raining and a small puddle situated what I thought was a fair way from my tent was now a mini-lochan, lapping at the flysheet. There was no option but to move the tent, in the dark and pouring rain. The last time I'd done something like that was many years ago in Arran and I hadn't enjoyed the experience. Time had made no difference - I didn't enjoy the experience. I ended up with a shambles of gear strewn around the inner tent.
To my surprise, however, I slept well. The rain stopped about 3am and I woke to a dry day. Things could only get better. And they did.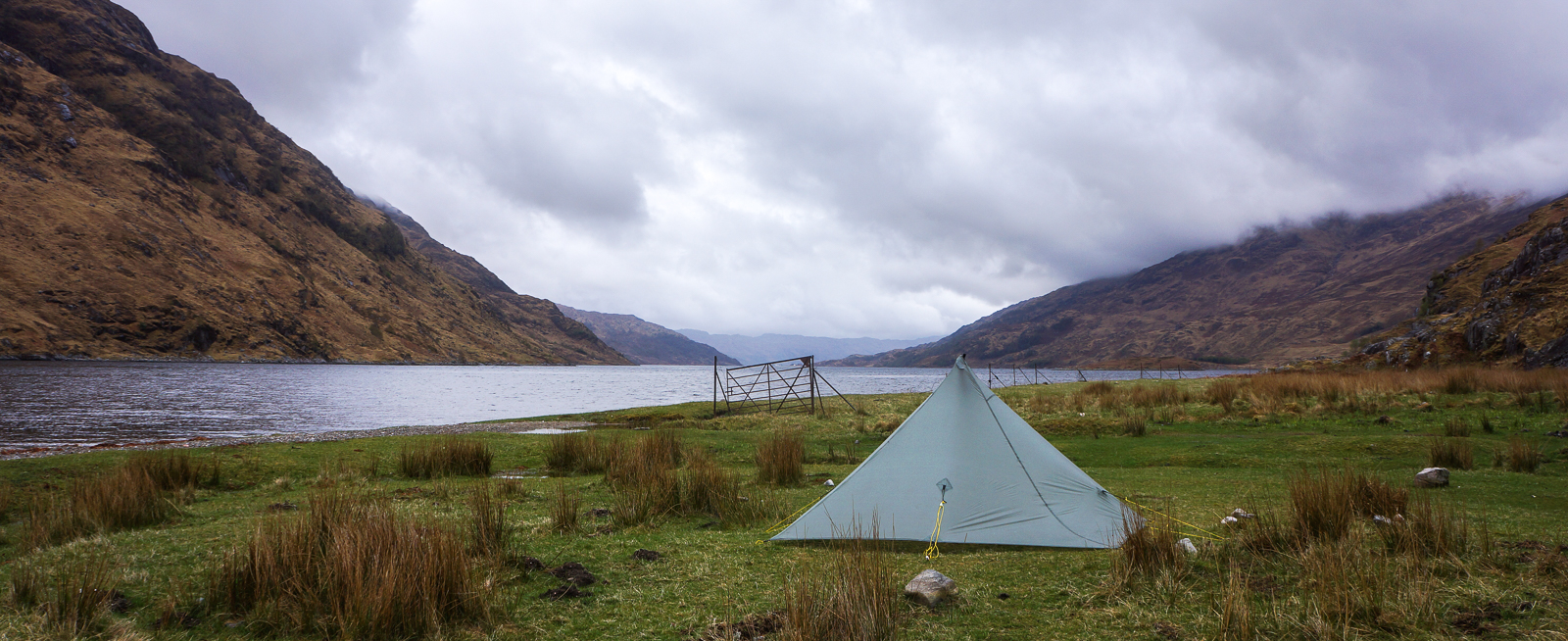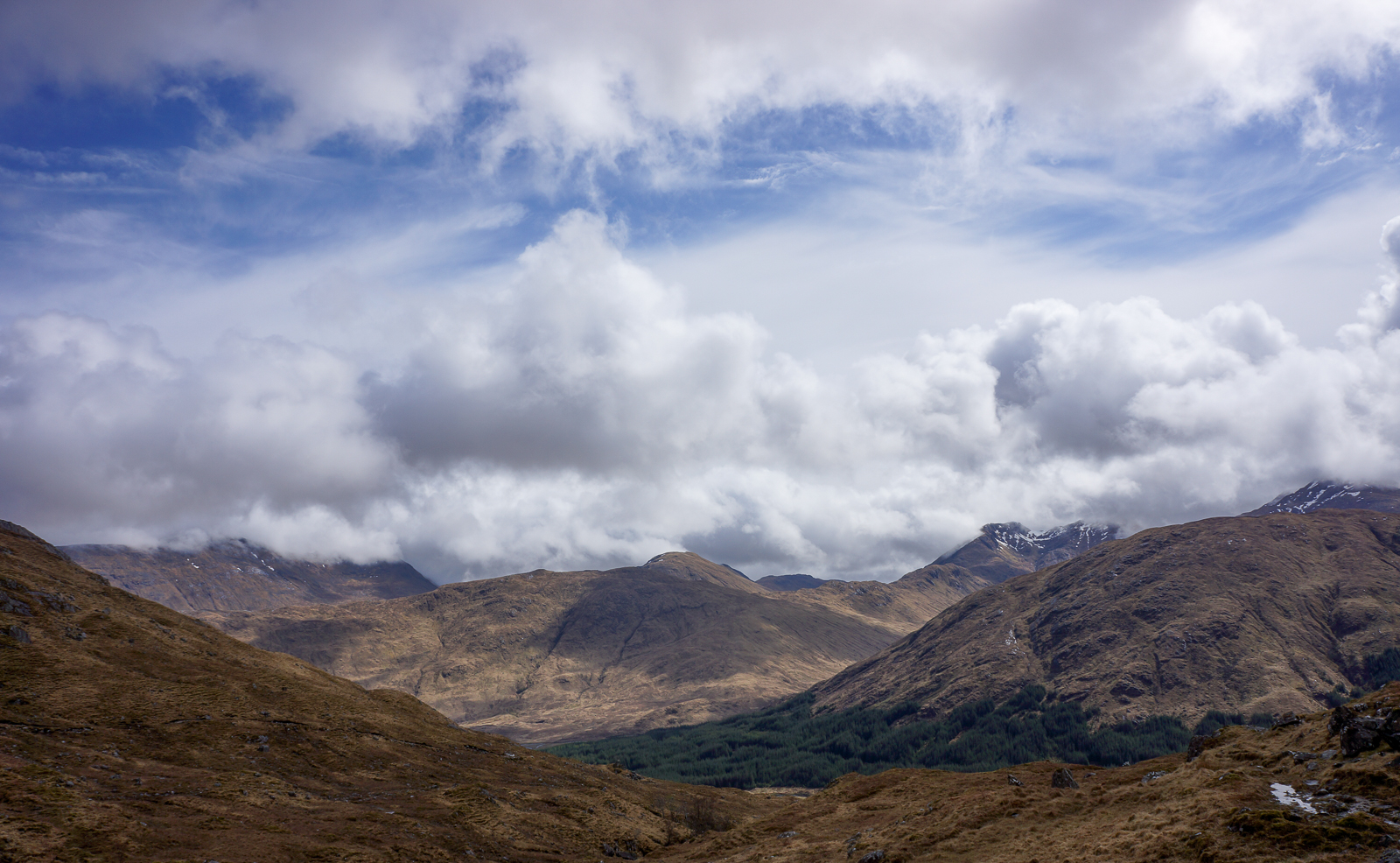 Finally, what happened to Lyndsey. I understand that she managed to drag her rucksack about a quarter of a mile up the Barrisdale path before starting to feel unwell. She pitched her tent but her condition deteriorated - she had burst her stitches. She was airlifted to Broadford Hospital in Skye to be repaired. I gather that neither the hospital nor Challenge Control were impressed. But she continued by bus - I met her again in Invergarry and in Braemar.