Day 1: Mallaig to Sourlies
About 30-odd Challengers set off for Knoydart. Experienced Challengers were chatting; newbies like myself were quieter and a bit apprehensive about what they had let themselves in for. On the ferry, I met Lindsay - a wonderful lady who had her rucksack on what looked like a golf trolley. She told me she'd recently had an operation and couldn't carry her rucksack so she had rigged up this trolley to drag it across Scotland. I really admired her spirit but I did think she was ever so slightly bonkers.
After a pint at the Old Forge, I walked through the woods with birdsong and primroses and even a distant cuckoo. At the Brocket monument (the Brockets were English landowners who didn't do much for Knoydart), I turned off the main track and headed through Gleann Meadail for Sourlies.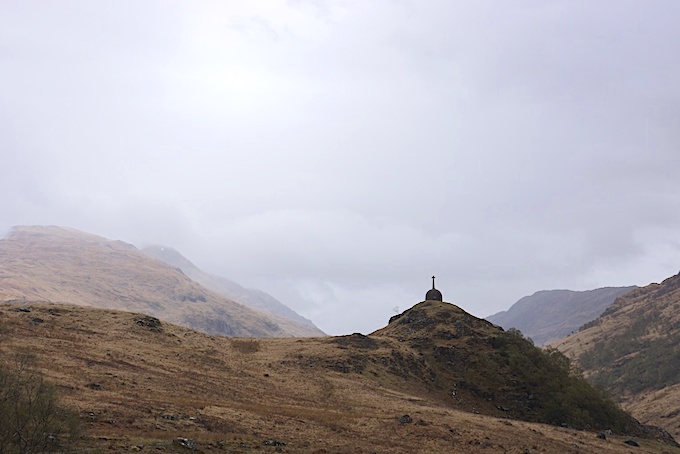 Then the rain started.  Real relentless Highland rain. The kind of rain that means 'waterproof clothing' is an aspiration rather than a description. I met with two other first-timers, Matt and David, and we waded through the bogs together to Sourlies.
Sourlies is a small bothy and, as I don't sleep well in busy bothies, I decided to camp. After I'd eaten I noticed that a small puddle had formed under the outer tent. David said he was concerned about the ground conditions and was moving his tent. I decided that the puddle was nothing and headed for the bothy for a chat and a dram.
It was almost dark when I got back to my tent. The small puddle had turned into a small loch so there was nothing for it but to move the tent. It was still raining.
Day 2: Sourlies to Kinbreak bothy
Today's walk was wet. Water everywhere, but especially on the path up the hill from Sourlies, which was more of a burn than a path. Low cloud and intermittent heavy showers as I followed the River Finiskaig to the Lochan a Mhaim.
In spite of this, it was great to be out in this wild landscape and I was thoroughly enjoying the walk. As the path started to drop down to Glen Dessary, the weather started to improve. The sun appeared so I stopped for lunch by a burn. Then a slightly challenging crossing of another fast-flowing burn (there was a bridge but it did not look at all safe) and eventually I arrived in Glen Dessary, four and a bit hours after leaving Sourlies.
The next stage was the walk over the bealach to Glen Kingie. By now the weather was looking up with great views to the hills to the south.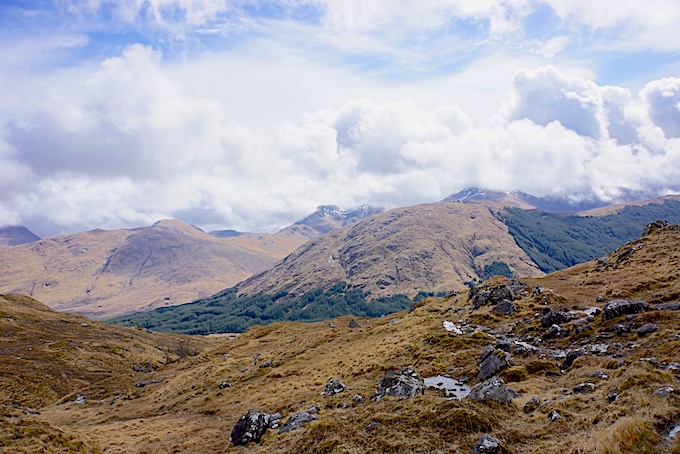 Eventually, after a bit of a bog-flog down Glen Kingie I arrived at the bothy to meet other Challengers who arrived before me - Colin, who vetted my route and provided some really helpful comments, his friend John, Vicky and Matt. The fire was going and as I approached I was met with a cry of 'try some of this' as a jam jar was thrust in front of me.
'This' was a welcome dram and I was astonished to see woodcarver Ian, the only man I know who has made his own spork. Ian and I go way back but he isn't the world's best communicator and I had no idea he was going to be there. It was great to see him and catch up - fire, food, conversation and Glenmorangie.
Day 3: Kinbreak to Glen Garry
Another cloudy day and again I was the last to leave.  The River Kingie can be very difficult to cross after rain but it wasn't bad at all today - about mid-calf depth. My feet were already wet so it made no difference. I looked back at the bothy which seemed very isolated in the landscape.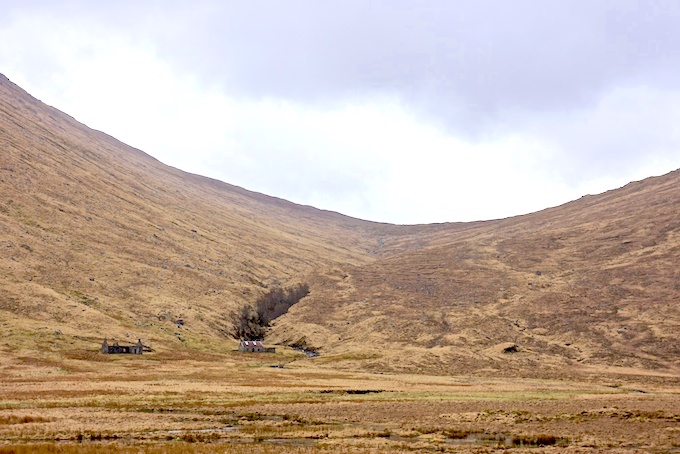 I had wondered about climbing Gairich on the way - it was coming in and out of the mist and I wondered for a while what to do. But my shoulders were aching with the unaccustomed weight of my pack and I decided to skip it. Walking on, I met Colin and Matt who had been over the hill and we walked together for a while. We walked along forest roads to Glen Garry.
A recently-retired colleague had designed and built a house in Glen Garry and had invited me to visit them. Roy and Cecilia had a fabulous house with great views through the woods towards the loch. They were very hospitable with particularly memorable fruit cake and I had a very enjoyable few hours with them.
It was a sunny evening but getting colder and the loch looked autumnal in the evening light.  After passing the farm at Greenfields, I met Vicky camping in the forest, being watched by three Highland cows. There weren't many pitches but I found a reasonable flat spot about 8.30 just  by the road and close to a small burn for water. The cows decided to come and take a look at me  but I shooed them away and they were no trouble.
Day 4: Glen Garry to South Laggan
It was getting colder as I camped but I didn't expect snow - a light covering the next morning with more on the hills. The low-level snow disappeared quickly but it stuck on the tops. It was good to start in the sunshine and it was easy walking on forest roads to Invergarry.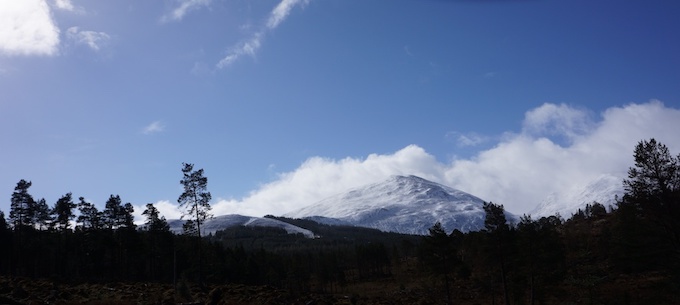 After a pint and lunch in the Invergarry Hotel, I headed south on the Great Glen Way to Laggan Locks. An easy walk and I met with Colin and John again on the canal towpath as we headed to the Loch Lochy Hostel. It was good to have a shower and get some clothes washed.
Food at the Eagle Barge had been recommended so I called them from Invergarry to book a table. I went for the Hot Shellfish special. It was fabulous - lobster, crab, mussels, spoots (razor clams), prawns, squid, whitebait (I didn't know they had a shell)  and maybe other stuff that I'd forgotten. Interesting conversations and entertainment from the boat staff.
Day 5: South Laggan to Garva Bridge
For once an early (ish) start and I left the hostel just before 8. I'd resupplied the previous day at the Well of Heads store so my rucksack was heavy again for the walk up through the forest and over the hill to Glen Turret. The forest roads are confusing and the hostel had helpfully left some instructions on how to get to the top. Good views of Loch Lochy on the way.
At the top of the forest, it was up the trackless hillside then across about half a mile of peat hags before the drop down to Glen Turret. By now, the early good weather had closed in and it was misty as I approached the top of the hill. And there was a deer fence. I walked up and down a wee bit to look for a fence or a gate so there was nothing for it but to climb over - not the easiest with a heavy pack but I made it.
A bog flog through the peat hags then a steep descent following the Allt Teanga Bheag. I made a mistake and crossed to the left bank of the burn which meant that I had a slightly hairy crossing of a fast flowing tributory but eventually I reached the track in Glen Turret about 10.30 in improving weather. From there, it's an easy walk to Glen Roy with a good track almost to the bothy at Luib Chonal.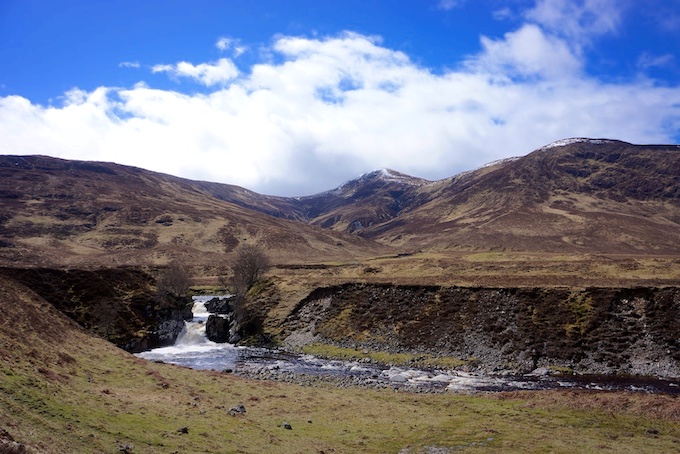 The river at the bothy can be difficult but today it was wide but not too deep. I marched through without any problems. The path was pretty boggy but I passed an important milestone today - I crossed the watershed. From now on, the rivers flowed east.
Next stop was Melgarve - a bothy on the Corrieyairack and I called in for a few minutes rest and a snack. There were a few Challengers there, planning to spend the night. I was tempted by the fire but decided to push on to Garva Bridge.
Road walking is not the best ending for the day and when I arrived at Garva bridge, there was lots of tents and few good pitches left. So I found a sheltered pitch a bit further on in the woods. It had been quite a long day.
Day 6: Garva Bridge to Kingussie
I was off by 8.15 - not the last to get going this morning (for a change) but by no means the first Challenger to hit the road to Laggan. A cold night but a clear morning for the long road walk.  I didn't know this area and was surprised to see a canal leading to a reservoir for the aluminium smelter in Fort William and a Wade bridge - obviously the route of an old Wade road.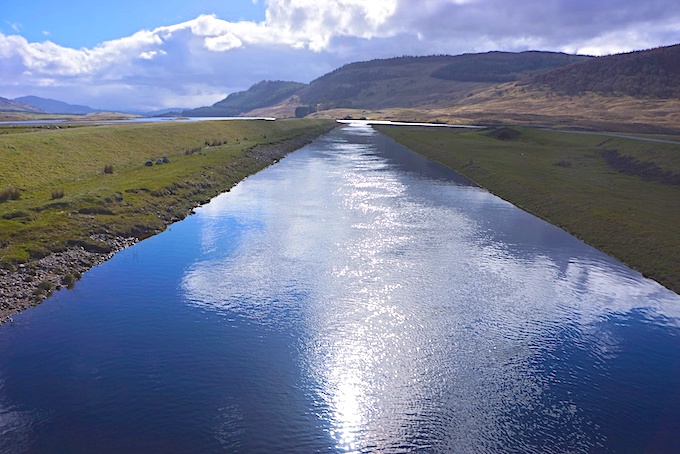 I met Matt at the Pottery bunkhouse cafe and, refuelled with excellent cake and sandwiches, headed for the Wade road at Phones. We were a bit surprised at the difficulty of getting on to this after crossing the A9 and struggled up through the heather to find it - I wonder if we missed something.
Then it was a delightful walk on a good track - so much better than walking on the road. Open landscape and good views to the Monadhliaths. It was good to have a walking partner - great chat and, as we were both tired, we kept each other going.
Feeling pretty tired after a second long day, I eventually arrived at Kingussie. I'd booked into the Silverfjord Hotel,which was on the way in and it looked a bit seedy and run down. However, this initial impression was wrong - it was reasonably priced, I had a nice room, good beer from the Cairngorm brewery and excellent food.
Day 7: Kingussie to Glen Feshie
This was a fabulous day. After two long days I decided I would take it easy - not rush off in the morning, walk a bit more slowly than my normal pace (which I discovered is a bit faster than most Challengers), spend time talking to people and stop when I felt like it rather than be driven by my planned route.
My first stop was the barracks at Ruthven then forest tracks into Glen Feshie. I met and chatted with various Challengers as we walked up the glen in the spring sunshine, stopped for lunch with Jean and Tony by the Allt Fhearnasdail, crossed the river at Stonetroper and then into the open sun-dappled woodland. I think that I really got  into the spirit of the Challenge today, enjoying interesting conversations as well as the landscape.
Arrived at the Ruigh-aiteachain bothy about 3.30 - it's looking pretty good - with several Challengers already in residence and camped around the bothy. After a coffee and biscuits, I wondered about staying in the bothy but the weather was so nice that I decided to go on a bit and stop when I came to a good pitch. Primroses in the banking and cuckoos in the distance. After negotiating the landslips, I found a wonderful west-facing pitch by the river, under an old Scots pine tree.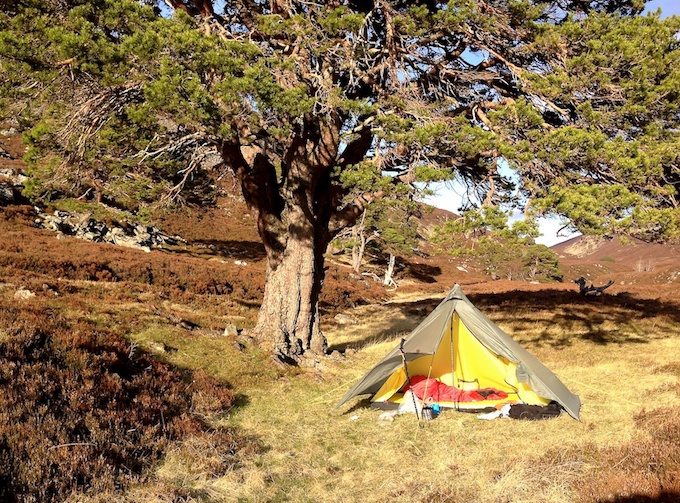 I lay in my tent with the doors open, sheltered from the wind and enjoyed the evening sunshine. Life was good.