Day 8: Glen Feshie to Mar Lodge
I woke up to cloud but the weather looked set to improve as I set off - as ever, I was not early and a few Challengers had already passed me although they had stayed at the bothy or camped further down the glen. The upper part of the Glen is not as attractive as the more wooded lower Glen Feshie and, after crossing the watershed, the path was pretty boggy and a wee bit dull. Before too long it was lunchtime and I was at White Bridge. Great views towards Glen Tilt and Bienn a'Ghlo.
At White Bridge I took a short diversion and walked about 400 metres up Glen Dee to the Chest of Dee. This is an absolutely beautiful spot with waterfalls and deep pools - perfect for lunch and, on a hot day (not today) a swim. Most walkers through Glen Feshie and Glen Tilt don't know about this - it is well worth the diversion. I spend an hour there eating and enjoying the sun.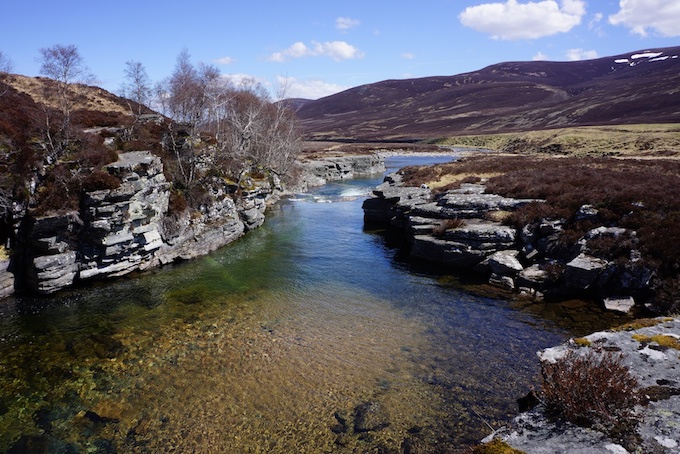 After lunch, it was back to White Bridge and a road walk to Mar Lodge. I met David again here and we walked together to Mar Lodge. The Challenger's dinner was great value at a tenner - venison stew with baked tatties followed by rhubarb crumble and unlimited coffee. The staff at the Lodge had done a booze run to Braemar so we we had wine to drink at dinner then a convivial evening around the fire in the Gun Room.
Day 9: Mar Lodge to Braemar
This was planned as my rest day - 4 miles from Mar Lodge then the rest of the day in the fleshpots of Braemar. The weather forecast was not great so I left quite early in the hope of missing the rain. As I walked along the road, the weather was clearly deteriorating.  Black clouds over the Dee.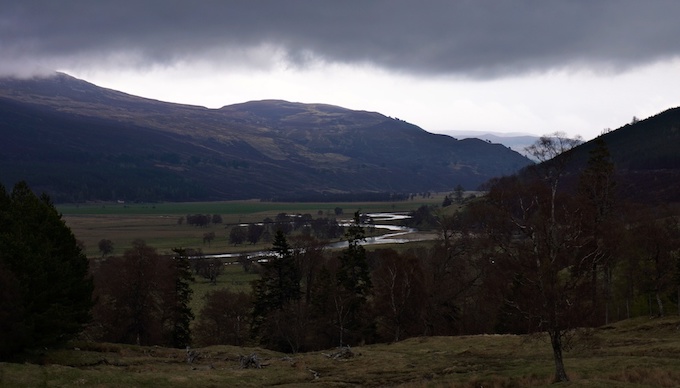 You can do the last couple of miles on forest roads - but they are a navigational nightmare as there are about twice as many roads in the forest than on the map. This was the first time on the walk where I used the GPS on my phone to check my position.
I arrived at Braemar about 11.30 and dropped off my sack at the B & B where I was staying. I did a bit of shopping (excellent pork pies from the Braemar butcher) and headed for the Old Bakery where I had a second breakfast (bacon roll) followed immediately by their TGOC lunch special (Spaghetti and meatballs).
I decided to have a beer so went along to the Fife Arms, which was getting busier and busier with Challengers. After waiting about 10 minutes with no sign of service, I gave up. It was now raining heavily but I decided to try the Moorfield. I trudged up the hill in the rain in the hope of getting a decent pint but, when I arrived, I found that it was shut. So it was back to the Fife for a pint of very mediocre Guinness.  I remembered previous times there in the 1970s where it was full of climbers and locals - it was absolutely jumping - but that was before it was taken over by a tour company.
In the evening, I tried to get a meal in the Moorfield. I arrived and was told that they were fully booked. Luckily Trevor, another Challenger took pity on me and invited me to join him and we had a reasonable although not a memorable meal. Chat and a few pints - I met Lindsay again on her trolley tour of Scotland.
Day 10: Braemar to Glen Muick
I had expected the worst after yesterday's rain but the weather was cloudy and misty rather than wet when I left my B & B on Sunday morning. I decided to take my FWA rather than go over Lochnagar - I've been up there several times - so I headed out on the path to Invercauld Bridge. Then it was through the woods, over the shoulder of Lochnagar past the Gelder Shiell bothy and down to Glen Muick.
There was a steady stream of Challengers heading to Ballater past the Lion's Face and the lichens on the trees looked ethereal in the mist.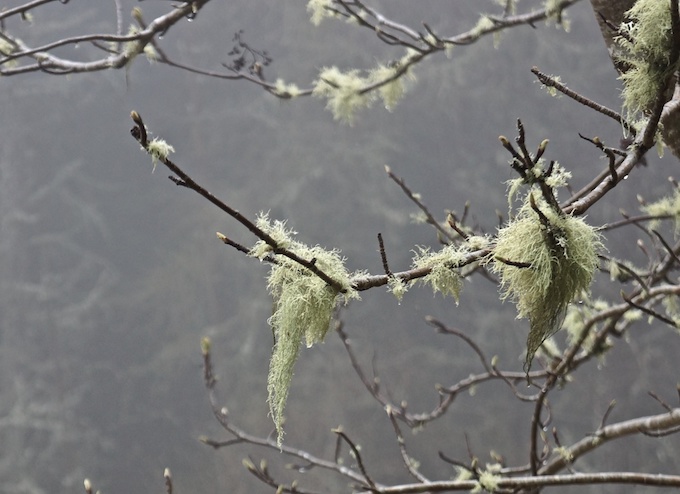 Then - another navigational mistake. I took the path before rather than after the bridge at Connachat Cottage and ended up in the middle of nowhere. Should I go back or simply flog through the forest to the main track. In those circumstances, it is nearly always best to stick on the track and go back so naturally I decided against this. I ended up spending 20 minutes in the bogs and climbing over trees before I got onto the main track to Gelder Shiel.
I arrived at the Queen's Bothy at Gelder Shield - the bothy for us plebs is a dark cheerless place at the back - some Challengers were lunching there but I preferred the bench outside the main building - perhaps it has also been graced with a royal bottom?
There were lots of Challengers around on the trade route over the the Spittal of Glen Muick and it was a social walk in improving weather. I walked with Paul from Ellon for a while and we enjoyed the spectacle of the mist clearing on Lochnagar.
My original route plan for today was to stop at the bothy at Glas Allt-Shiell but I decided to head down Glen Muick, camp there then go over the hills to Glen Tanar on Monday. I understand that the Royal Estate don't want hordes of Challengers camping around the picnic tables at the Spittal but, as a Scot, I fiercely defend our rights to wild camp anywhere in a responsible way. I walked down the Glen and found an excellent pitch at the foot of Drum Cholzie, by the Allt an-t- Sneachda.
Day 11: Glen Muick to Potarch
Unfortunately, yesterday's sunshine didn't continue and it was misty as I set off this morning. The bit up to the plateau was easy on an estate road with views down Glen Muick.
The mist was still down as I came to the end of the road to be faced with a featureless landscape. I'd never been up here before but my vetter Colin had warned me about the bogs and peat hags. I should have paid more attention to this. The mist was clearing but everything looked the same and there was no way to navigate without a map and compass. I headed east for the estate road on Hare Cairn - it wasn't far, about 3.5k, but it took more than 2 hours ploughing through bogs and peat hags. I don't think I'll be back.
Eventually, I reached the estate road then it was pretty quick down to the head of Glen Tanar where I had lunch on the bridge looking down the glen.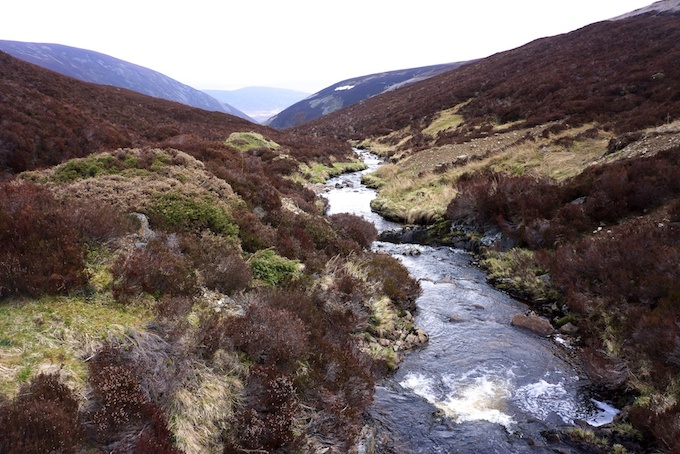 While I wouldn't recommend the plateau, I do recommend Glen Tanar which changes in character from a highland to wooded lowland glen. There were lots of Butterwort - insect-eating plants - at the head of the glen. I met Peter from Holland who had come over from Ballater (a far more sensible route) and we walked together for a while and checked out the unusually but accurately named Halfway Hut before he headed off for the Forest of Birse.
I had originally planned to camp in the glen but my new plan meant that I needed to get to the Bridge of Ess then to Potarch. The path by the river to the Bridge of Ess was delightful but the road walk to Potarch was awful. I was fed up with tarmac, tired, hungry, it was getting late and I really wanted just to get there. Thankfully, the last mile or so is through the forest rather than on the road and at 7.45 I eventually arrived at Potarch.
This was my chosen destination as it had a pub and I had fantasised about fish and chips and Guinness for most of the long road walk. The portions in the Potarch are Challenger-sized and it was fantastic after such a long day. Three other Challengers came in - Roger, Peter and David, who I had met on the train to Mallaig. We chatted for a while and then I set up my tent with theirs on the green just outside the pub.
Day 12: Potarch to Bieldside
For once I had an early start and packed up and left the Green at Potarch at 6.45, before the other Challengers were stirring. Food was running out so all I had left for breakfast was a couple of boring cereal bars with my tea.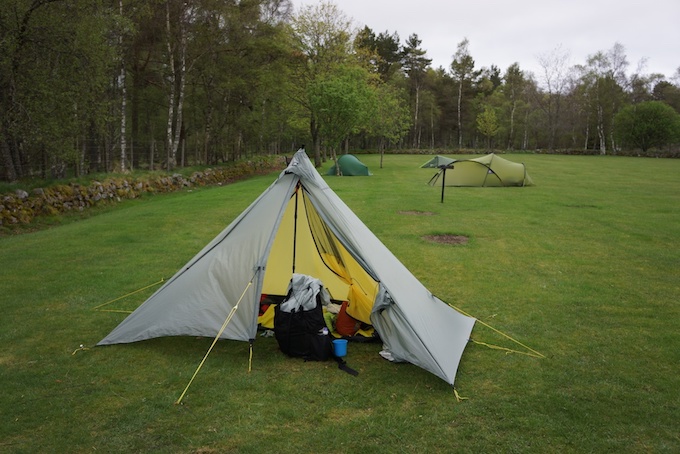 I know the route to Aberdeen well - all on the Deeside Way and through forest tracks. The first bit is a bit of a slog up the hill for about and hour then you turn into the Blackhall Forest and follow forest tracks to Banchory.
Banchory is a douce, respectable place  and Banchory folks are the kind who go out for coffees so there are lots of cafes but, thankfully, no Starbucks yet. I was anticipating a 2nd breakfast of bacon rolls but obviously Banchory folks don't get out early in the morning - at 9.40, none of the cafes were open. So, frustrated and hungry, I abandoned the idea and set off along the Deeside Way.
Milton of Crathes is the next village where there is a very active railway preservation society - there are always people working on old engines. Just over a mile of track has been rebuilt and there are all sorts of old rail vehicles around.
I headed for the cafe at Milton of Crathes and, to my surprise, met 3 other Challengers who were also heading for the same end point as me at Girdle Ness, south of Aberdeen. They had come from Banchory and were a little surprised I had made it from Potarch by 10.45. I lingered for a while after they left and then I got my head down and bashed off the next 9 miles to arrive at our house in the early afternoon.
Day 13: Bieldside to Girdle Ness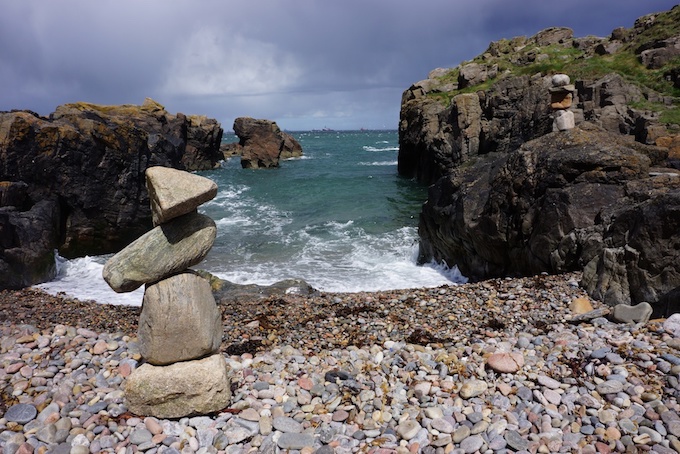 This was an easy day along the Deeside Way to the heart of Aberdeen, through Torry past the harbour with the final bit on the coastal path to Girdle Ness. The Deeside Way is an old railway line, built for Queen Victoria to get to Balmoral (I doubt that it ever broke even). Although a bit more urbanised than I would like, it is a great corridor into the city with lots of wild flowers and birds.
The Deeside Way ends at a park in Aberdeen, then you follow the river to the harbour - where I had my first glimpse of the North Sea. Torry is an old fishing area and there are still fish processing factories there although landings are all now at Peterhead and Fraserburgh. The smell of fish lingers though as you walk through and onto the coastal path to Girdle Ness. It was a beautiful sunny day as I approached the lighthouse.
Then, down to a very attractive little cove where I celebrated by eating my last caramel wafer. I tried to gingerly dip my toe in the sea but totally misjudged the waves and ended up with soaking wet feet. A fitting end to the Challenge - wet feet on day 1, day 13 and every day in between!
So, that was it. No one else around so I made my way home, getting soaked in the process by a sudden rain squall.
Day 14: The Challenge dinner at Montrose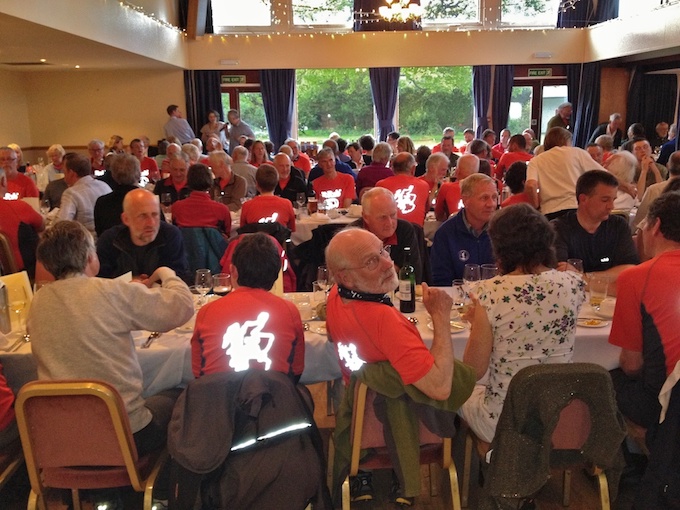 I decided not to go to Montrose on the Wednesday. Montrose is not exactly one of Scotland's urban jewels and spending an extra night there didn't really appeal. So I went on the train on Thursday, signed out, camped and enjoyed the company and the dinner, which was much better than I had been warned to expect - lentil soup, haggis-stuffed chicken and cranachan. The sea of orange T-shirts was a wee bit overwhelming but I guess Rab must have had some stock in an unpopular colour to get rid of.