It is now 2 weeks since I got back from the 2015 TGO Challenge, when I walked from Lochailort to Stonehaven. I blogged about my route when I planned it and, more or less, stuck to the planned route. I didn't do a hill on Day 3 as it was chucking it down so I road-bashed along Loch Arkaig; I took to the forest roads to the south of Loch Rannoch - a longer but less tiring route, and, in spite of a snowstorm, stayed high when travelling east from Mount Keen.
The walk from Lochailort to Glen Pean via Loch Beoraid and Loch Morar is, I think, one of the finest walks in Scotland and I would strongly recommend it to any Challenger. Wonderful scenery, challenging terrain and a real sense of remoteness. My vetter warned me that it was tough and that I might not make it in a day. I was tough - one of the hardest days I've had without any major tops - and I only made it in a day because the weather was so good.  Had it been bad weather, I'd have stopped at Oban bothy then gone through Glen Pean the following day.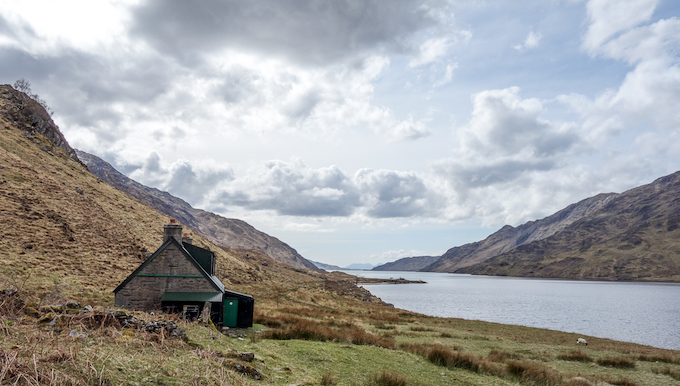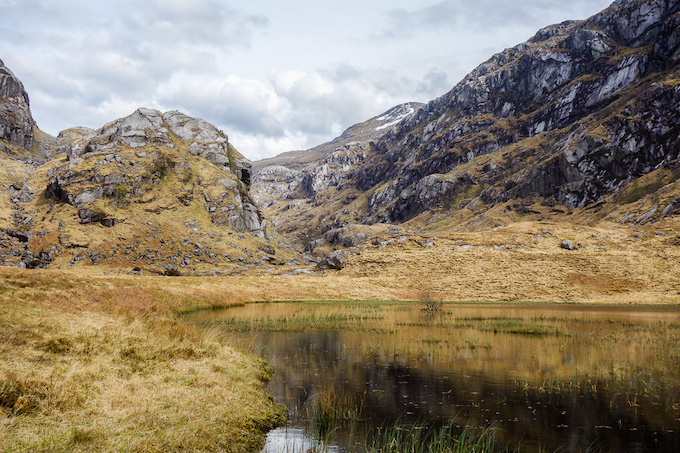 The major disappointment of my route was the walk from Spean Bridge to Bridge of Gaur. Partly this was because the weather was wet for a good part of the time (although it eventually cleared, with great views over the moor) but mostly it was because of the horrible desecration of the 'Road to the Isles' with a new road to support hydro-electric developments in the Corrour Estate (I've blogged about this here). This made the walking quite horrible. I eventually got off the road by taking a diversion up Sron Smeur (a fine viewpoint) but the road is mostly unavoidable. Maybe once the development and the road is finished, things will be better but I'd avoid this area till then.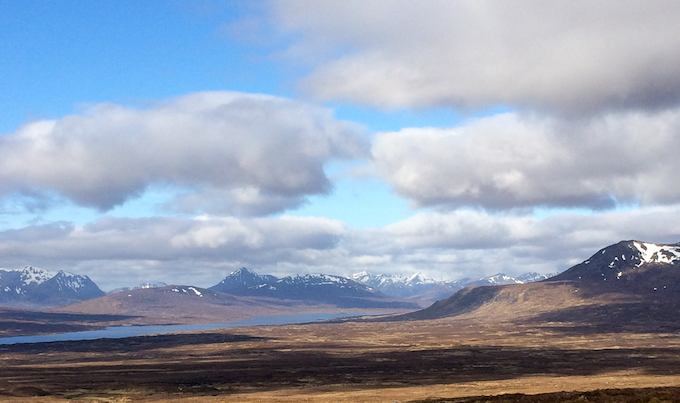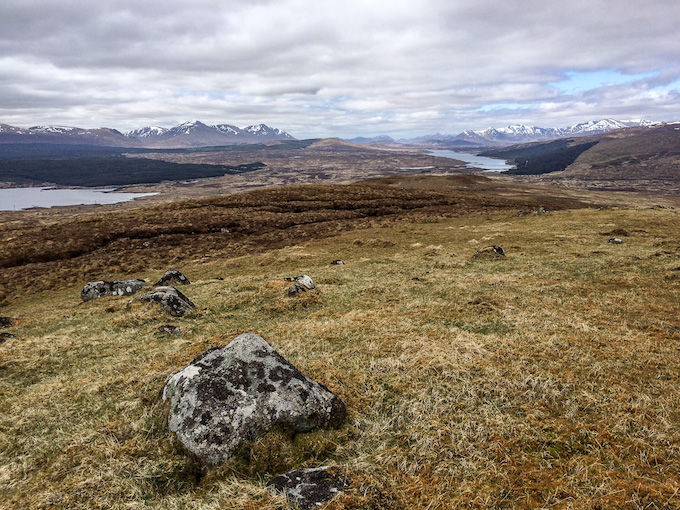 I'm a bit ambivalent about the forest walk south of Loch Rannoch. To get onto them, involves a fair trek from Bridge of Gaur around a wee hill called Leagag. It certainly avoided the road but it is a very quiet road and the diversion took  longer than expected. I combined it with what was quite a long day anyway and I was pretty knackered by the time I got back to the loch shore and camped at the first spot I could find. I'd definitely stick to the road if the weather was bad if I'm around there in future. But the track from Loch Bhac to Blair Atholl was a delight - I expected bog but it was a dry moorland walk with views of the Glen Tilt hills.
There are 3 major passes through the Cairngorms - the Lairig Ghru, Glen Feshie and Glen Tilt. I've done the Lairig and Feshie in previous years and this year I wanted to go through Glen Tilt - a place I hadn't been back to for many years. It's a fine walk, the easiest of the 3 passes but with an LRT almost all the way to the Falls of Tarf. Of the three passes, Glen Feshie is definitely my favourite.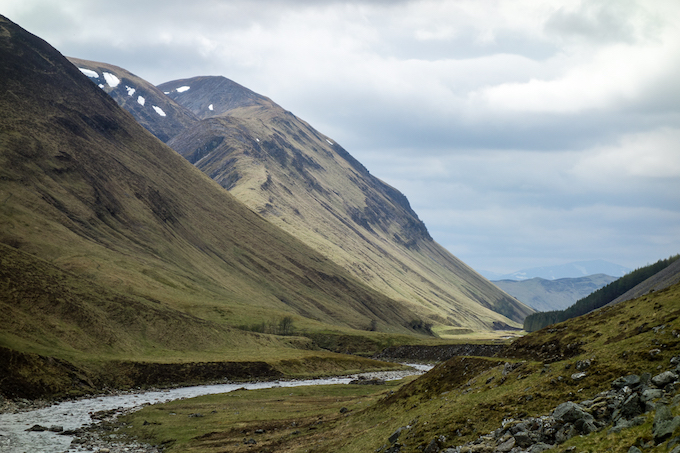 The route from the Ballater camp site to Mount Keen started well. Then it rained and, as we approached the summit of Mount Keen, it snowed. David Williams (who, against his better judgement, I 'encouraged' to the summit by lying about how far it was) wisely suggested that I abandon my plan to stay high and come to Tarfside. I imagined the weather was improving and decided to press on. The weather deteriorated and I had a 4 hour struggle in wet snow along the tops to Tampie, where I camped. In good weather, this is a fine high-level moorland walk. In bad weather, it was pretty grim.
David was right - if you plan on going this way and it's misty, rainy or (worst) snowy, you should head for the fleshpots of Tarfside.  But Mount Battock and Clachnaben and then on to the Fetteresso the following day was a good day, when I walked with Gordon Green, who I met on the summit of Mount Battock.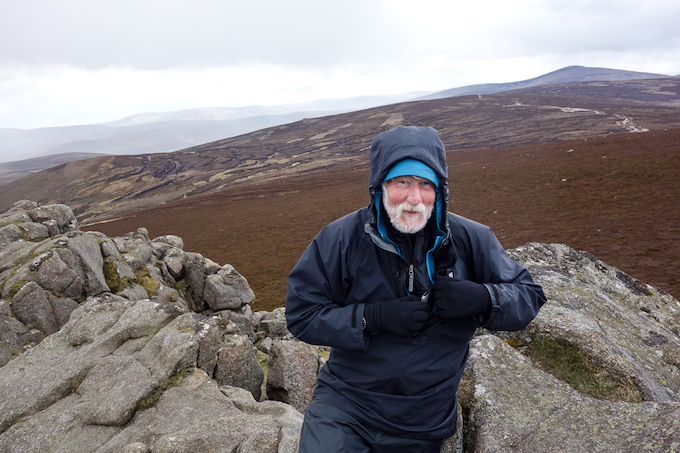 We camped by the wind farm at Mid Hill then I walked with Gordon through the forest to finish at the wonderful Marine Hotel in Stonehaven- superb food and beer.   I didn't really like the Fetteresso forest the first time I went there but it is growing on me and it does mean less road walking than finishing places further south. As always in forests, navigation can be challenging and GPS is very handy for route finding.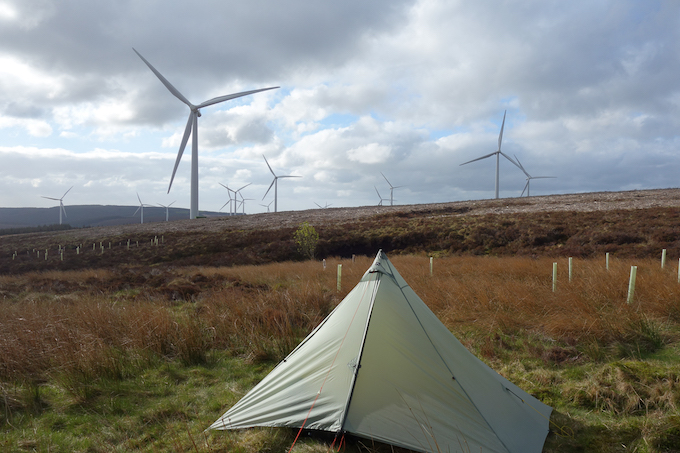 I'm really glad I did this route as it allowed me to revisit places such as Loch Beoraid, Oban bothy, Loch Ossian and Glen Tilt that I hadn't been back to for many years. But I think I really prefer more northerly routes - even with the wind farms, the Monadliath hills still have a sense of remoteness and next time I think I'll go to the Northern Cairngorms. And, if the weather is iffy, I'll focus on socialising from Braemar to the coast.
First: Lochailort to Stonehaven