I walked the West Highland Way in the first week of May in 2012 as my first long-distance walk after many years where I only had time for day walks. I was concerned about both my fitness and over-crowding on the path. It turned out that I was still fit enough and there were fewer people than I expected. I think starting on a week-day rather than a week-end helped here.
Day 1: Milngavie to Drymen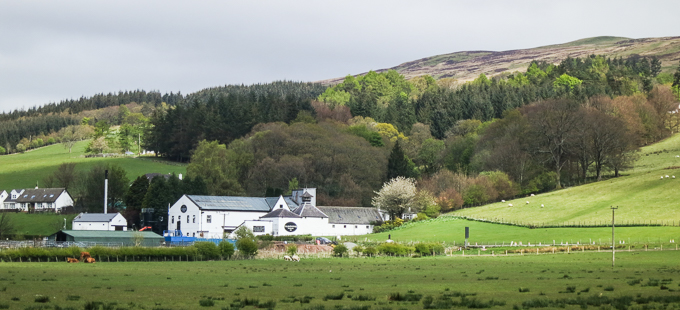 I woke up to a wet morning in Edinburgh so didn't feel inclined to rush off. Leisurely breakfast and then made my way to Haymarket station where I looked a bit incongrous amongst the commuter with poles, Paramo and pack. As we travelled west, the weather improved and by the time I arrived in Milngavie, the start of the way the rain had gone off. The WHW starts in a rather down at heel shopping centre in Milngavie - the start is marked by an obelisk.
Some people say that the first day of the WHW is not really worth doing - a lowland walk - but I enjoyed it.  It starts through Mugdock woods and eventually you get to Craigallian Loch - the site of the Craigallian fire.
This is a bit of social history - in the 1930's unemployed men from Glasgow who loved the outdoors gathered here to get away from the grime and poverty of the city. They did some epic walks and climbs with what is, by today's standards, primitive gear.
A great book about these times is 'Always a Little Further' by Alastair Borthwick. Unfortunately, it's pretty hard to find.
Shortly after this, there's another bit of social history - the Carbeth huts. These were set up between the first and second world wars when an enlightened landlord allowed people the opportunity to get out of Glasgow and establish a simple holiday hut in the country. They are still a vibrant community.
Dumgoyne, the hill at the end of the Campsies was ahead and the weather was still pretty dull there was a blink of sun on the distillery. However, by the time I got to the Beech Tree Inn at Dumgoyne village, the weather was looking up.  After a pint and a burger in the pub, I left about half-past two to make my way to Drymen.
Just as I was crossing the car park, a white van pulled in and nearly ran me down. There was a cry of 'I don't f…ing believe it' - the driver was my old pal Woodcarver Ian - the only man I know who has made his own toilet seat. I'd said to Ian I was doing the walk and he had suggested we might meet up somewhere but nothing had been arranged. But meeting here was a complete fluke  - if either of us had been a couple of minutes later or earlier, we would have missed each other.
We arranged to meet up again in Drymen and I walked the path beside the pipeline taking Glasgow's water supply from the Trossachs. Now I was looking back at Dumgoyne and the sun was shining. Drymen was rather sleepy but we had a beer in the Clachan - reputedly the oldest pub in Scotland.
I then made my way up to Garadhban Forest, where Ian had parked and set up his cooking tarp - we had spicy vegetable stew and a dram. I set up my tent under a tree.
The first leg of the Way is easy walking. If camping, there is a camp site just before Drymen at Easter Drumquhassie Farm but if you start in the morning, I think this makes it too short a day.
I camped under the trees in the car park in the Garadhban Forest - reasonably level site or you can go on to the end of the forest where there are some sites before Conic Hill.  (In 2012, this was outside the retricted camping area - I don't know if this is still the case)
Day 2: Drymen to Inversnaid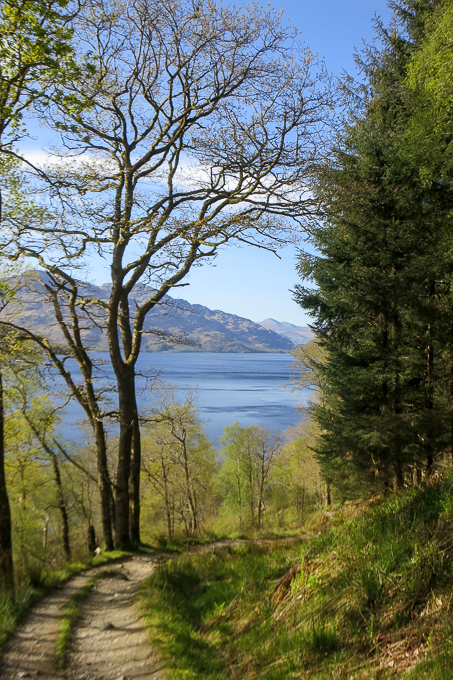 After a cold night, woke up to bright sunshine in Garadhban Forest. We only had muesli for breakfast and it was just as bad as I had anticipated.  There was quite a lot of logging going on in the forest which had the upside that there were more open views; the downside was that some parts looked as if a bomb had hit it. Great views of Conic Hill.  Woodcarver Ian walked with me to the summit - a freezing cold wind but fantastic views over Loch Lomond.
Ian is into geographing - a little known activity which involves taking one or more photographs in every OS 1 km grid square in the UK. Ian is a top geograph'er who likes nothing better than visiting obscure grid squares - he headed off to photograph a bog and I made my way down to Balmaha. Arrived at the Oak Tree Inn anticipating a bacon roll and coffee - but they didn't serve cooked food till 12 so had to settle for a coffee and a muffin in the sunshine.
From Balmaha to Rowardennan is only 7 miles but it seemed a long way. I really liked this part of the Way - boats at Balmaha, open woodland paths, primroses everywhere, cuckoos cuckooing and I spotted a red squirrel in the woods.
I walked for a while with an interesting Australian lady who was an ethno-biologist, working with Aborigines in central Australia. I was pleased she was seeing Scotland at its best. Late lunch in the pub at Rowardennan - beer and a sandwich.
By this time, I felt quite tired but still had another 7 miles to go to Inversnaid. Again, walking through open woodland with great views of the loch. It was a simply a question of getting on with it - and I finally got to Inversnaid about 6.30, where I was delighted to see the woodcarver's van. We adjourned for a beer then drove up the hill to find a camp site.
This was a 19/20 mile day - a bit too long really, but I was pleased that I made it without blisters and too many aches and pains. Sunshine all day - I was really glad that I'd brought the sun cream.
Camping along Loch Lomond is not allowed in summer but there are a few possible spots after Ptarmigan Lodge, just after Rowardennan. Rumour has it there is good camping around Rowchoish bothy but I couldn't be bothered checking these out.
Day 3: Inversnaid to Tyndrum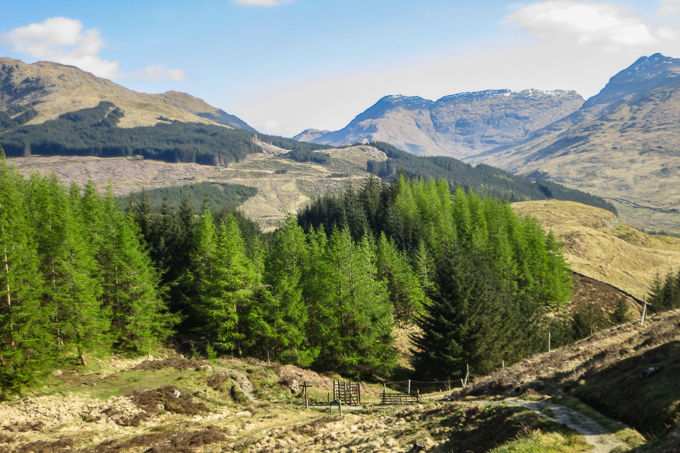 We camped up the hill from Inversnaid and woke to another cold morning. The mist rising from the hills promised another sunny day. Ian drove me back to Inversnaid and I set off on the lochside path.
This was the roughest walking of the Way. Lots of ups and downs over rocks and tree roots with many burn crossings. The dry weather meant that these were no problem but after a spell of rain, there is no way these could be crossed with dry feet. The terrain meant that the going was slow and it took a while to get to the head of the loch. On the way, I passed Doune bothy, which was a nice wee place with sleeping platform and stove.
After the head of the loch, my next stop was Beinn Glas Farm campsite for lunch and I hurried on to get there. The path was a bit rough and I tripped and stumbled on a stone. As I fell, my rucksack came over my head and pushed my face into the ground. I sat up and my first thought was I'm OK; my second was where the hell was all this blood coming from (my nose)  and my third was that there was no way I could get my first aid kit from my rucksack without covering everything in blood.
Then an angel appeared with a pack of tissues. She was very concerned and called her friend for advice on how to stop a nosebleed. There was a lot of blood for absolutely nothing but she waited with me until it stopped bleeding and we walked together to the campsite.  After a shower, pint and a baked tattie I felt absolutely fine and some other WHW'ers gave me some tape to fix my broken glasses. I chatted a bit more with my helper and her friends and then set off on the next leg of the walk.
I didn't much enjoy the first bit up Glen Falloch from Beinn Glas Farm - a bit of a trog on a rough road with noise from the nearby A82 but it considerably improved after Derrydarroch, where the Way became more of a path and less of a road. A few miles, the Way enters a forest just outside Crianlarich and it was pleasant forest walking for a while.
I'd hoped to find a wild camp site just on the edge of the forest but it was too close to the busy A82 - and the site wasn't much good anyway. So on I went to Auchtertyre Farm - which was a great site with an excellent farm shop - between Crianlarich and Tyndrum. I'd definitely go back there.
Day 4: Tyndrum to Forest Lodge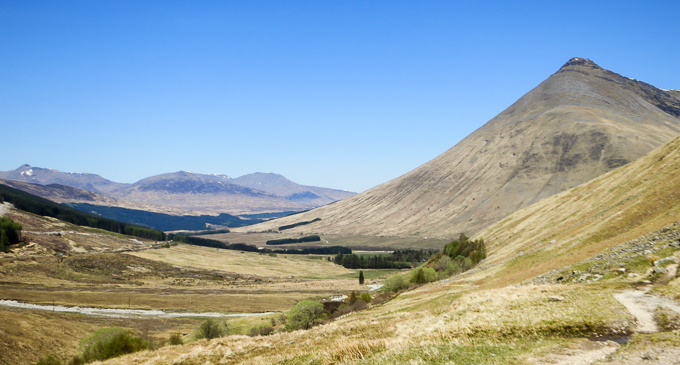 Woke up to cloud and quite a lot of condensation on the tent but it looked as if it would burn off and so it did. This was a relatively short day so no rush to break camp - a leisurely breakfast - sausages and black pud was so much nicer than muesli.
Set off in the sunshine to Tyndrum, my first stop. Great views backwards to Ben Mor and Stobinien and forward to Ben Lui.
Past the old lead mines at Tyndrum, where the land is still contaminated and nothing much grows to the Green Welly Stop where it was time to cool off with an orange juice and some gingerbread.
Tyndrum has a gold mine which has recently reopened and I had heard that people still panned for gold around there. I was puzzled when I left Tyndrum to see someone with a rake make their way down to the river and then I realised that it was a gold panner. Even on a sunny day, not my idea of fun; I hope they found something.
The Way follows an old drove road north to Rannoch Moor and the path is dominated by the conical shape of Beinn Dorain. In the distance were the Black Mount hills - tomorrow's walk.
I arrived at the Bridge of Orchy Hotel for a late lunch - Ploughman's lunch and beer where I met up the with the woodcarver again. We lazed around in the sun for a while but I eventually set off for the relatively short walk over the hill to Inveroran. Good views of Loch Tulla and a great campsite by the river.
As we were enjoying the sun at the campsite, we met Mike from Wales who was undertaking an incredible expedition. All of the Welsh, English and Scottish 3000 foot peaks in 4 months of self-powered, unsupported travel. He was a month into his journey and was going well. This is an incredibly ambitious goal - good luck to him - I hope he makes it.
This was my favourite campsite of the trip - highly recommended.
Day 5: Forest Lodge to Kinlochleven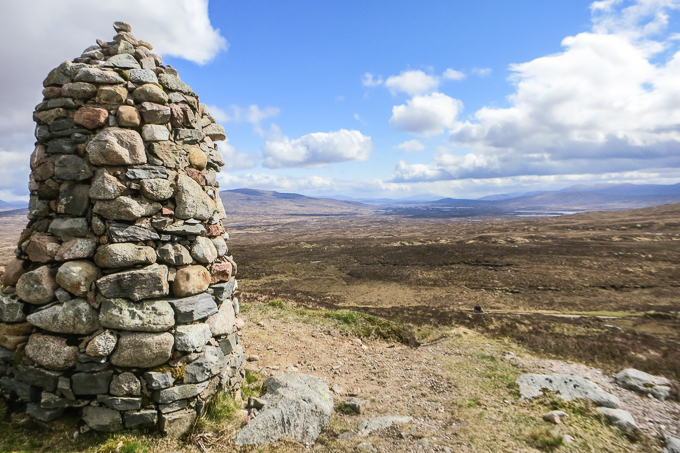 The weather forecast was for colder weather and it was absolutely spot on. Today was more like early March than May with a bitterly cold wind blowing from the east. I set off early as this was a long day - I planned to be at Kingshouse for lunch then Kinlochleven in the evening.
The Way across Rannoch Moor was empty and rather bleak but there were signs of improvement in the weather - dramatic light on the hills. I expected to meet other people but between Inveroran and Kingshouse, the only people I met were a group of mountain bikers crossing the road. I felt very small in the landscape.
The views open out to Buchaille Etive Mor and Glencoe and the Way drops quite quickly to Blackrock Cottage. The sun was shining on the Buchaille - this is the classic view that has appeared on a thousand calendars.
Off to the Kingshouse Hotel bar for lunch - Scottish multiculturalism - a haggis and cheese panini and my usual pint. Bumped into the lady who helped me with her friends - they were also heading for Kinlochleven that day. They were a bit apprehensive about the Devil's Staircase - the path to the top of the pass from Glencoe.
The Devil's Staircase is a bit of a pull up the hill but is nothing like as strenuous as it is portrayed. It was pretty cold again - but good views back to Glencoe. The path from the summit is very stony and rough - going down here was the first time I felt that boots would have been better than my trail shoes, which had been incredibly comfortable all week. Views of Ben Nevis on the descent to Kinlochleven.
Arrived in Kinlochlevel planning to camp at the edge of town. But the place was absolutely packed with bikers - there was a trail biking competition that week end - and there was no room at all at the campsites. Luckily, I met up with Ian again and his van so we first looked for and failed to find a wild camp site so we headed back to Glencoe. We camped at the Red Squirrel site - which meant we were only a short distance from the Clachaig where we adjourned for Friday night pints. The Clachaig was packed - the singer murdered some rock classics but it all added to the great atmosphere.
Day 6: Kinlochleven to Fort William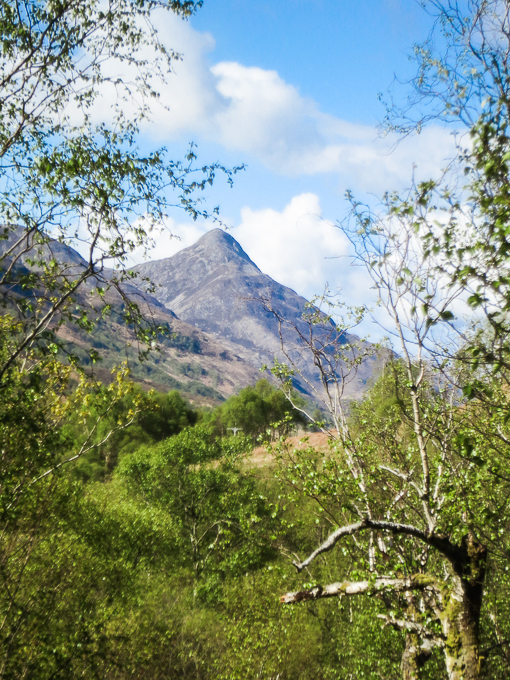 A quick trip back to Kinlochleven and I set off about 9.30 up the hill in the sunshine on the last leg of the way. For once, there were lots of people around - then I realised they were the spectators for the trail biking. I anticipated being buzzed by bikes all day but, in fact, apart from a handful of officials I didn't see any. I think they were mostly near Kinlochleven and by setting off early I had missed them.
I liked the first bit of the walk here with views of Loch Leven and the Pap of Glencoe but I found the walk to Glen Nevis a bit of a drag. I had my second accident of the trip here - I crunched into a piece of cold chocolate and a bit broke off my tooth. Fortunately, not painful so no need for an emergency dentist in Fort William.
I dropped down to Glen Nevis with great views of the Ben. The descent through the forest was on steep forest roads then, after reaching the glen, the last 3 miles were on the road - not fun. The Way ended as it began in a shopping centre.
The original end of the Way was on the outskirts of Fort William but it was extended so that walkers would go through the town - hoping I presume they'd spend in the shops. The end is marked by a statue of a weary walker.
My first plan had been to get the train home after finishing the way but I changed my plans to do it in 6 days rather than 7 so that I could get to a birthday barbecue arranged by friends from University mountaineering club days.
So, I met up with Ian again and after a shower and some shopping we made our way to Glenuig (near Lochailort) in brilliant sunshine. We had a fantastic party, barbecue and bonfire - a great end to a great week. Much better than an anti-climactic train trip.
The West Highland Way - Reflections
I had some doubts about walking the West Highland Way - I didn't know if I was up to walking 15 miles+ per day for 6 days, especially if the weather was bad.  I was concerned that it would be over-developed and far too busy and I had a load of untried kit with me - a new tent and it was the first time that I'd used trail shoes instead of boots.
But it was a great experience - dappled woodland, primroses, cuckoos, mountain views and really not many people at all. The few people that I met were friendly and helpful. My footwear was fantastic - not even a hint of a blister in spite of the heat and my legs held up pretty well.
Obviously, I was incredibly lucky with the weather - not a drop of rain in 6 days and it was too early for midges.  My favourite section was from Balmaha to the head of Loch Lomond  but every day was enjoyable. It was great to meet up with woodcarver Ian again after so many years and to see old friends at the party at Glenuig - I had anticipated a solo week but it turned into a social occasion.
Roll on the TGO Challenge 2013.
Next: My 2019 WHW Walk