After treatment for a serious illness in 2011, I decided to walk the West Highland Way in 2012 (writeup here) to convince myself that I was still up to multi-day backpacking. I thoroughly enjoyed the experience but I never imagined that I'd ever repeat it.
However, 2 or 3 years ago my daughter, Jane, who had never previously shown much interest in outdoors activities, decided that she would like to do the walk and asked if I would do it with her. I said we had to go in spring to avoid midges and crowds but various family events meant that we never actually got round to arranging the walk. This year we decided to 'just do it' and so we did.
We wondered about backpacking and camping but I reckoned that this might be a step too far for a newbie, especially if the weather was bad. So we decided to stay in B & Bs along the way. I'm getting soft in my old age and I quite liked it, especially the sub-5kg rucksacks. Had we known it wasn't going to rain, our sacs could have been even lighter.
Walking with your son or daughter is not an activity for the thin-skinned. They don't have any need to follow social conventions and will tell you exactly what they think of you in no uncertain terms if they don't like something. You also cannot throw off that innate parental protectiveness so you always tend to be a bit more risk-averse and you can't just do your own thing if you have a disagreement.
However, Jane was warned by her sister not to be too hard on me and, apart from the times when my singing was deemed to be unacceptable, we mostly got on fine.
Day 1: Milngavie to Drymen
We set off from Edinburgh in early-morning sunshine on a train to Milngavie. As usual, something was forgotten so we missed our train connection in Glasgow while we looked for hay fever tablets but this had the advantage that we had time for bacon rolls in Greggs, with another coffee stop in Milngavie before we hit the trail.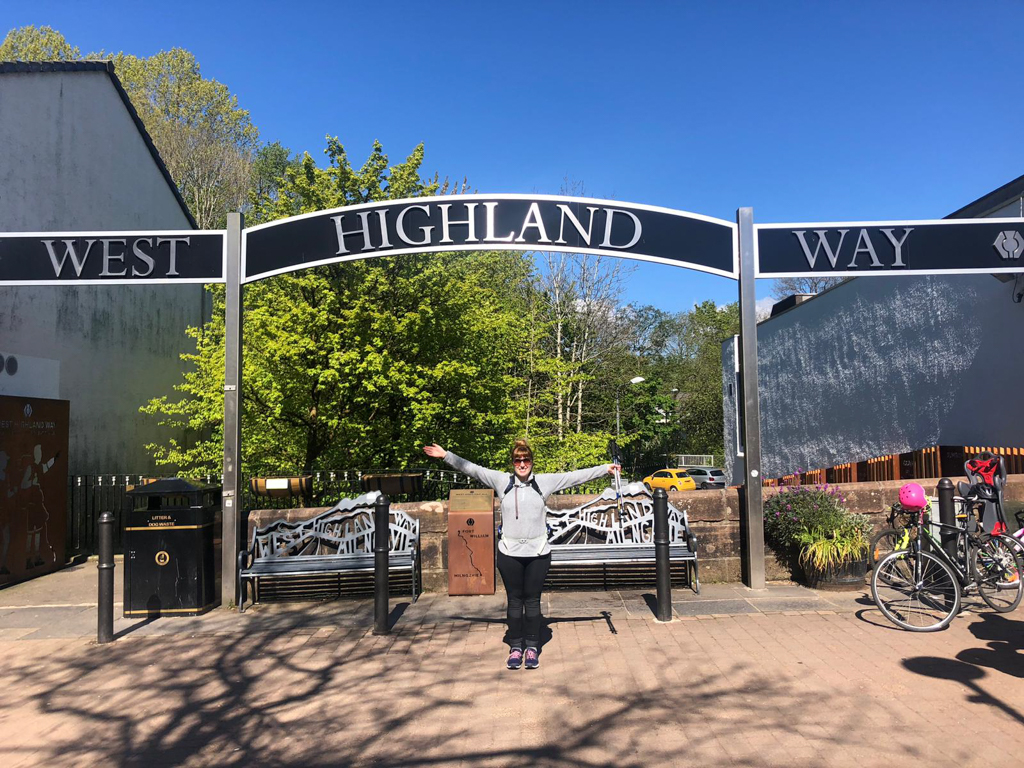 Some people think that the first day of the WHW, which is essentially a lowland walk, is a bit boring but I think it's delightful walking through the woods then on the pipe track to Drymen. Mugdock Country Park looked superb in the sunshine.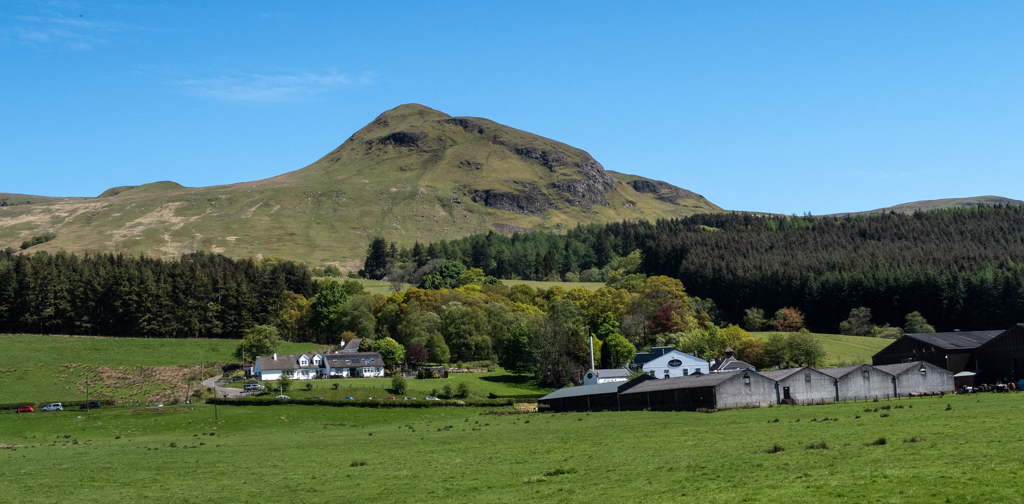 We had lunch at the (very busy) Beech Tree Inn where there was a group of WHW walkers dressed in Superman costumes (I didn't ask why). I was tempted to suggest that it would be easier for them to fly rather than walk but this was deemed to be unacceptable parental behaviour so I shut up.
After lunch, it's quite a short walk to Drymen on the pipe track. We arrived about 4.30, checked into the Hawthorns B&B, had a wander and decided to eat at the Clachan Inn. It was said to be the best, which doesn't say a great deal for eating places in Drymen. Their speciality was pizza but mine was a bit burned. It was OK but this is not somewhere that's worth a detour.
Day 2: Drymen to Rowardennan
An 8.30 start up the hill to Garabhan forest. It was already pretty hot with a few other walkers on the trail. We got to the delightful Conic Hill by late morning with great views over Loch Lomond and the southern Highlands.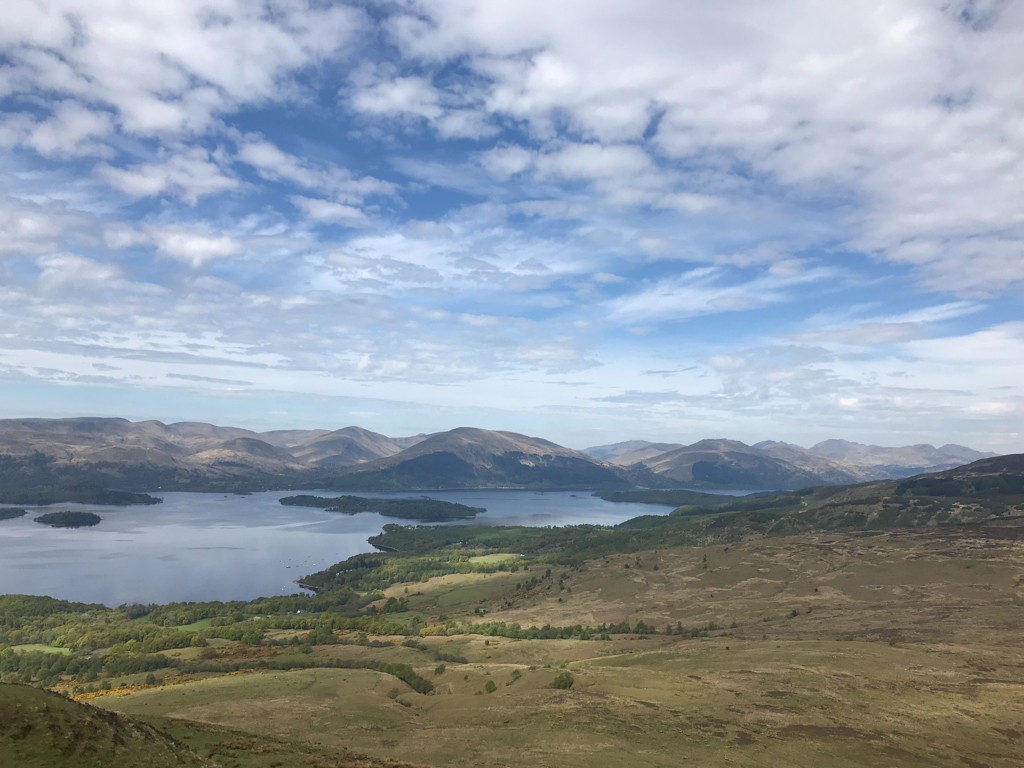 Down to Balmaha for lunch in the Oak Tree Inn then we pushed on to Rowardennan. The path between Balmaha and Rowardennan starts by the statue of Tom Weir who became one of Scotland's best-loved outdoorsmen.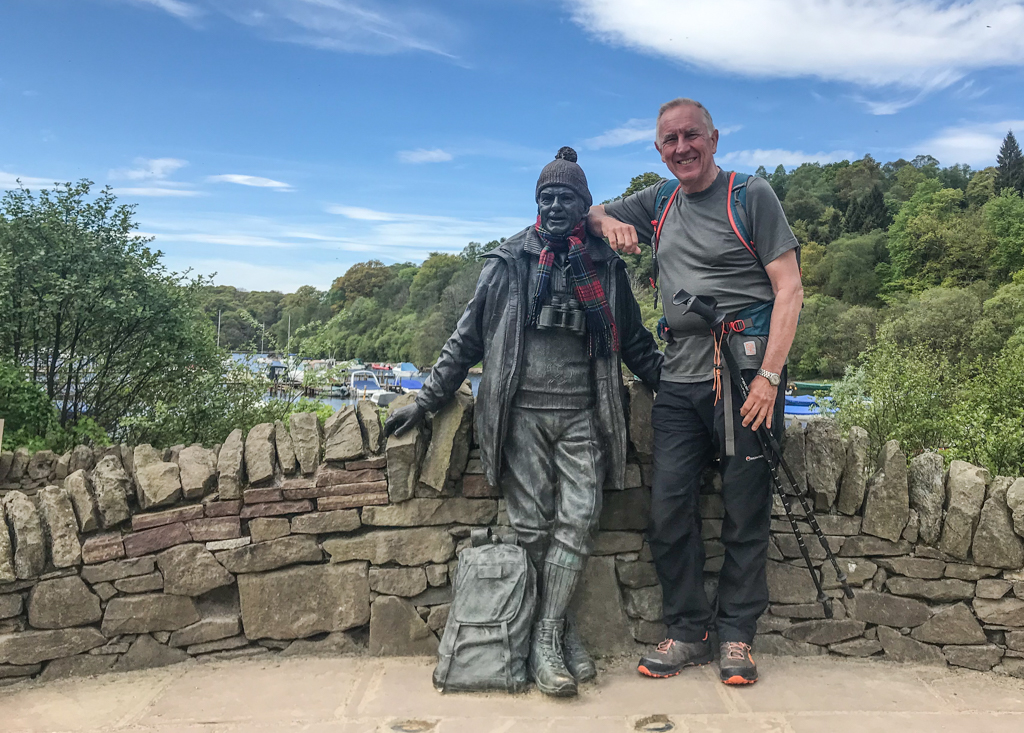 The WHW follows the loch side and much of it is very pleasant walking through woodland with bluebells everywhere. There's lots of ups and downs and the path was a bit more strenuous than I remembered, especially in the heat. We really appreciated our beers in the Rowardennan Hotel.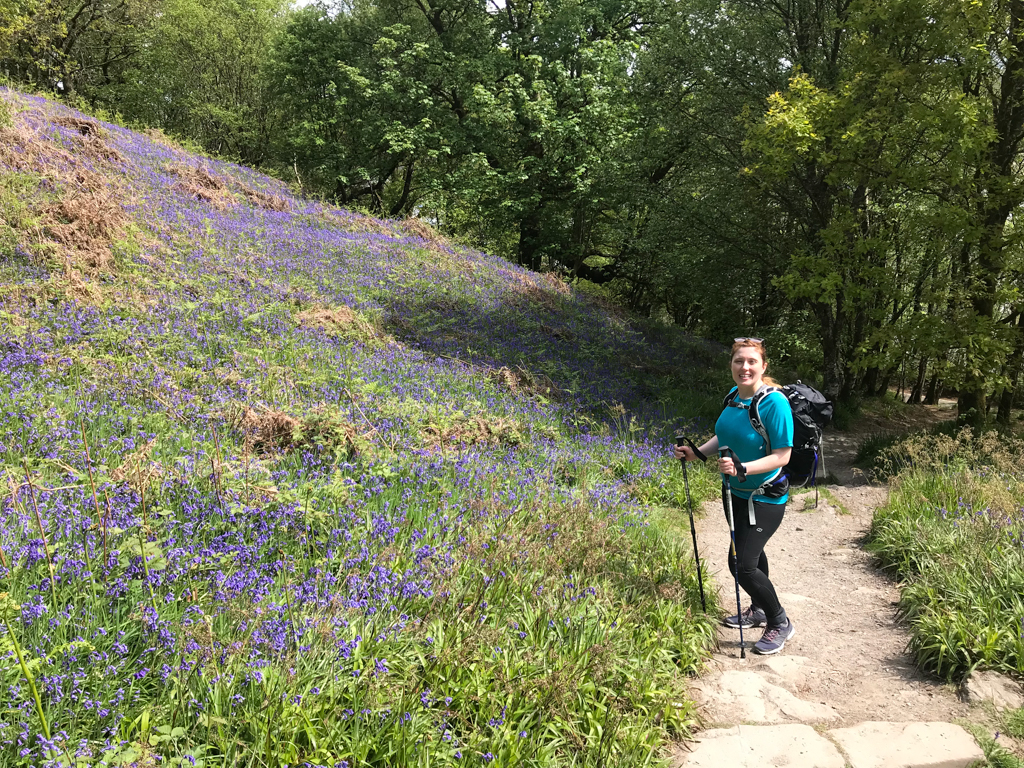 Unfortunately, we couldn't get any accommodation in Rowardennan so we took a taxi back to Balmaha and had another meal in the Oak Tree Inn. Tasty haggis, neeps and tatties. Our accomodation at Balmaha Lodges was classed by Jane as 'cute and quirky' but it was clean and comfortable . Rather like a caravan, the seating converted to beds. We appreciated the self-catering (there's a store in the village) as we wanted an early start the next day.
Day 3: Rowardennan to Crianlarich
This promised to be the hardest day of the walk - 20 miles, much of it on fairly rough terrain. The forecast was for an even hotter day with wall-to-wall sunshine. It came true.
Our taxi picked us up at 7.30 and we started from Rowardennan before 8. I really liked the sculpture on the edge of the loch.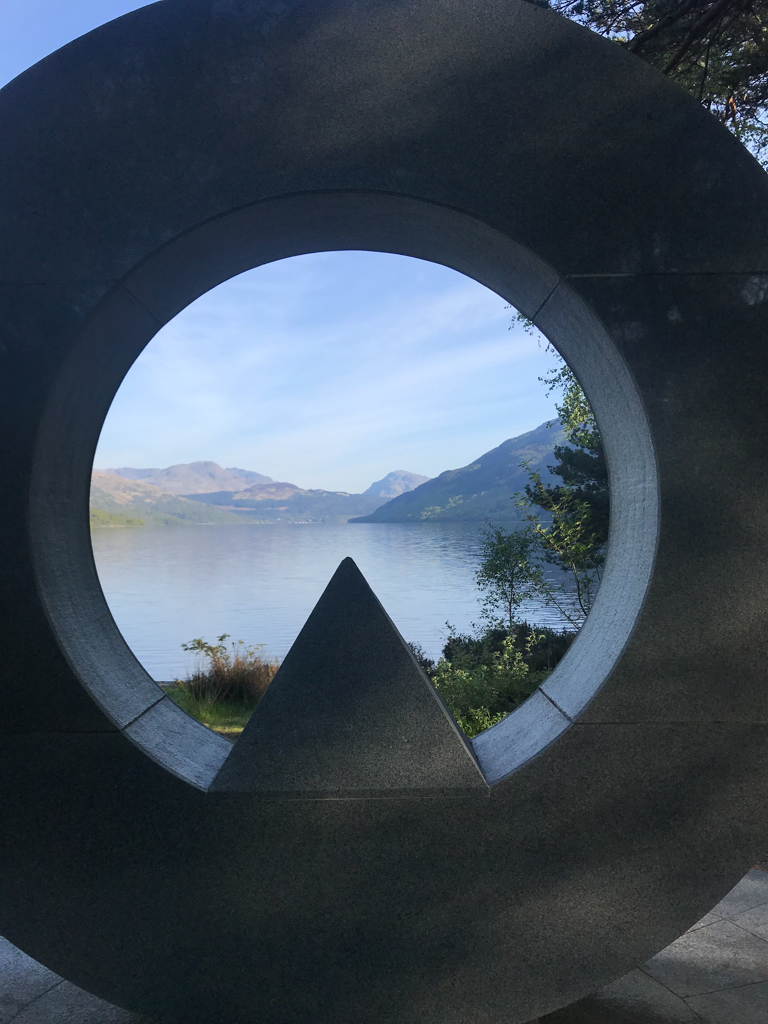 The loch side path was closed the last time I walked to Inversnaid so I was pleased to have a different route this time. It was a superb walk in the sunshine - open woodland with hillsides cloaked in bluebells and loch side views.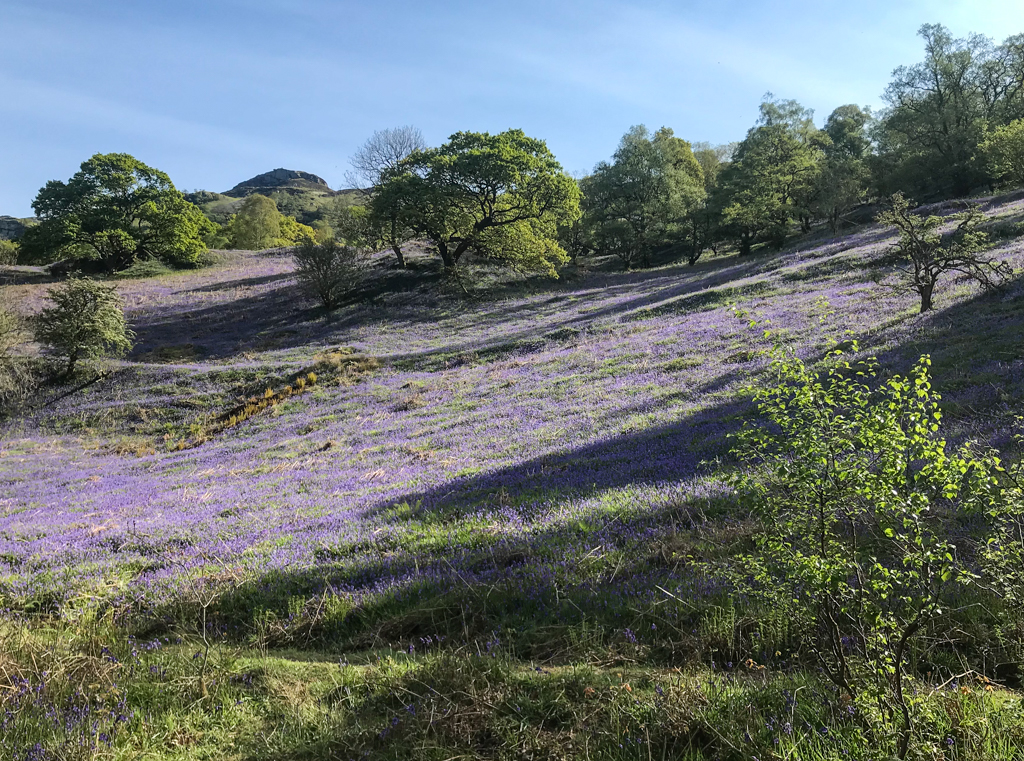 We arrived in Inversnaid about 11 and had coffee and cake in the reasonably priced Inversnaid Hotel. The hotel is owned by a company that runs bus tours but now has a walker's bar. I guess that its reasonable prices come from the fact that it normally has a pretty canny elderly clientele. We sat in the sun, chatted to other WHW walkers and discovered that most of them had more sense than us and planned to stop at Inverarnan rather than go on to Crianlarich.
The next section of the walk to Being Ghlas farm was definitely the hardest going but the best part of the walk. The easy path is replaced with a proper track and there's lots of clambering over rocks and tree roots. This is the only bit of the WHW really where you will get wet feet if it's raining. More bluebells, wild goats then lunch near the head of the loch.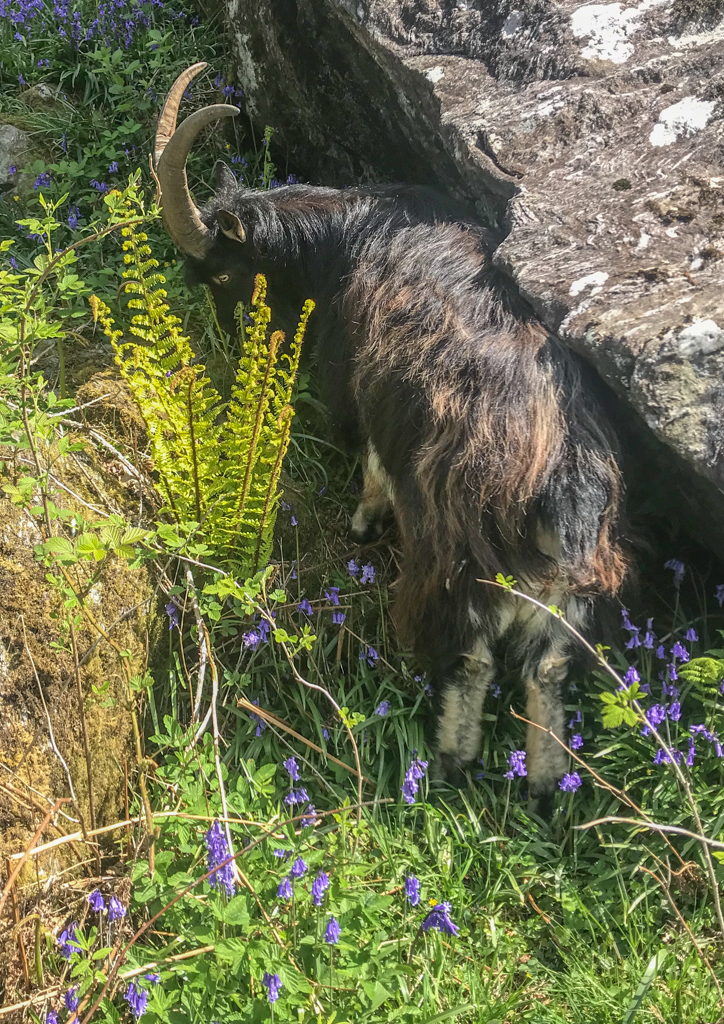 We got to Beinn Ghlas farm about 3.30 for beer and snacks. We were pretty knackered and didn't really look forward to the next 6 miles to Crianlarich. It's mostly uphill and it was very hot. But we struggled on, with only a couple of other groups mad enough to continue.
The heat was relentless but the path was much nicer than I remembered with great views down Glen Falloch. Jane was a star - this was the longest daywalk she'd ever done and, understandably, she found it hard. But she didn't complain and we just kept plodding on till we eventually got to Crianlarich about 7pm.
We stayed in the Crianlarich Hotel which was comfortable and reasonable although the food was a bit eccentric. I don't think pork belly and sweet potato are a great combination. As we were there, a duo was setting up for live music and we feared it would be country and western (after all it was a Best Western hotel). But it was Scottish, reprising the Corries songs on the 1970s. Audience participation was invited and I thoroughly enjoyed it. Jane, however, prefers music that's a wee bit more cutting-edge. While she has mostly grown out of teenage parental embarrassment, she makes an exception for my singing so she went to bed early.
Day 4: Crianlarich to Inveroran
After yesterday's hard day, this was another relatively easy day so no need for a super-early start. The hottest day of the week and, again, wall to wall sunshine.
It's a bit of a pull up the hill from Crianlarich to get back onto the WHW but then it's a fairly easy saunter through Strathfillan to Tyndrum. Thankfully, the Kirkton Farm campsite sells cold drinks which we really appreciated. We picked up some wraps at the Real Food Cafe in Tyndrum for lunch. This is a real asset for the village - I much prefer it to the Green Welly Stop.
We sat in the sunshine outside Tyndrum and enjoyed our lunch then made our way, without too many ups and downs, to Bridge of Orchy. Fabulous views of Beinn Dorain and northwards to the Black Mount hills. We appreciated the excellent craft beer in the Bridge of Orchy hotel - probably the best of the week.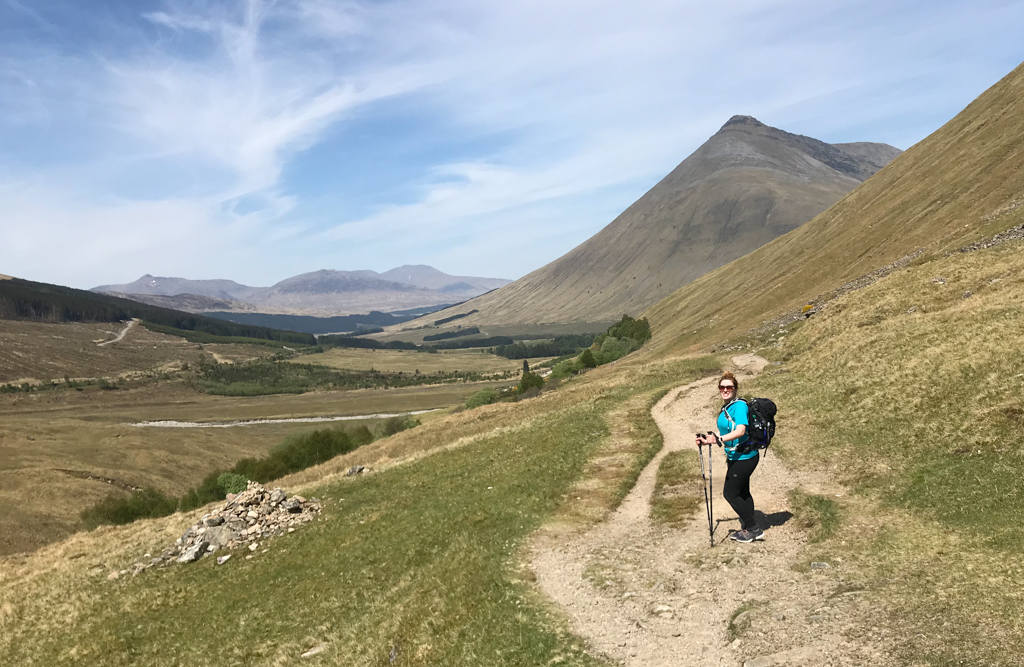 This was another taxi day as Inveroran Hotel is booked months in advance by tour groups. We had booked a taxi for sometime after 6 but met the taxi driver as we left the hotel. He said he could pick us up at 5 if we could get there on time. So, we had a sweaty dash over the hill - great views of Loch Tulla. I lied to Jane about the amount of uphill and suffered the consequences.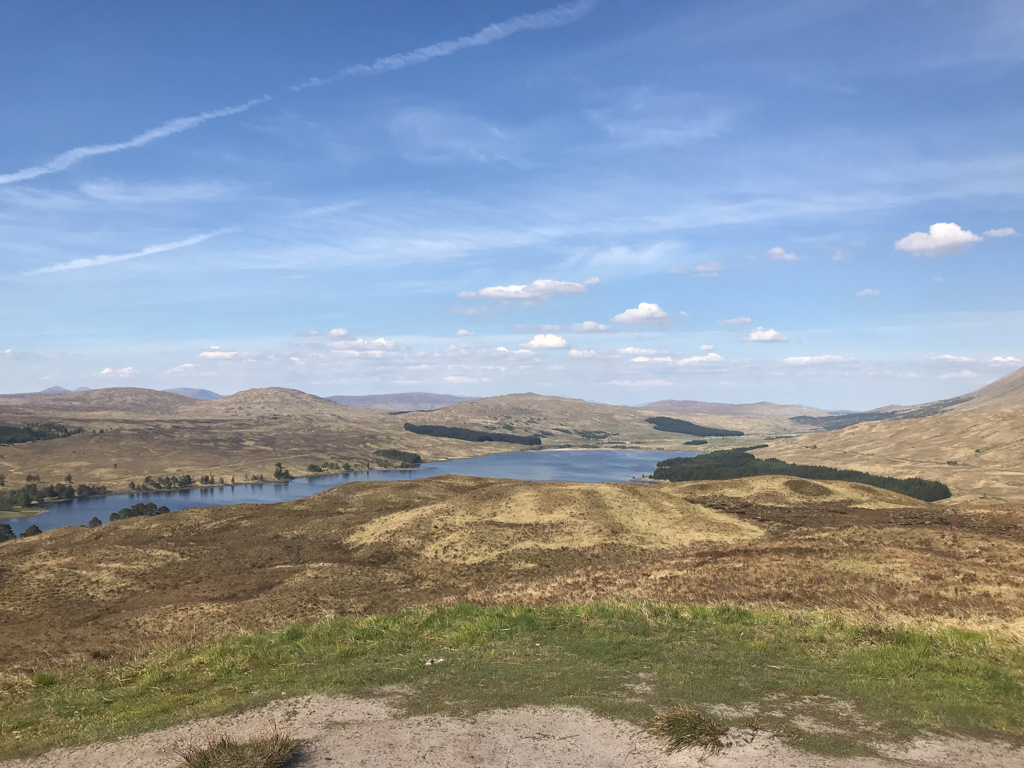 Back to Tyndrum where we checked into the Tyndrum Lodges then smoked salmon salad for dinner in the Real Food Cafe
Day 5: Inveroran to Kinlochleven
We'd hoped for an early start but Crianlarich taxis were busy and couldn't pick us up till 10. However, we were chatting to the owner of the Tyndrum Lodges where we were staying and he offered to drive us to Inveroran. This increased our already positive impression of Tyndrum Lodges - a definite recommendation if you are looking for accommodation in Tyndrum. They have a simple, serve-yourself continental breakfast which is good for early starts and a pleasant change from the usual 'full Scottish' fry-up.
Another brilliant day when we set off on the old Glencoe road across the moor. Rannoch Moor was not its usual self - I always think of it as a misty and gloomy place. Brilliant sunshine never seems quite right. The road was a bit rougher on the feet than I remembered and we were glad to arrive in Glencoe.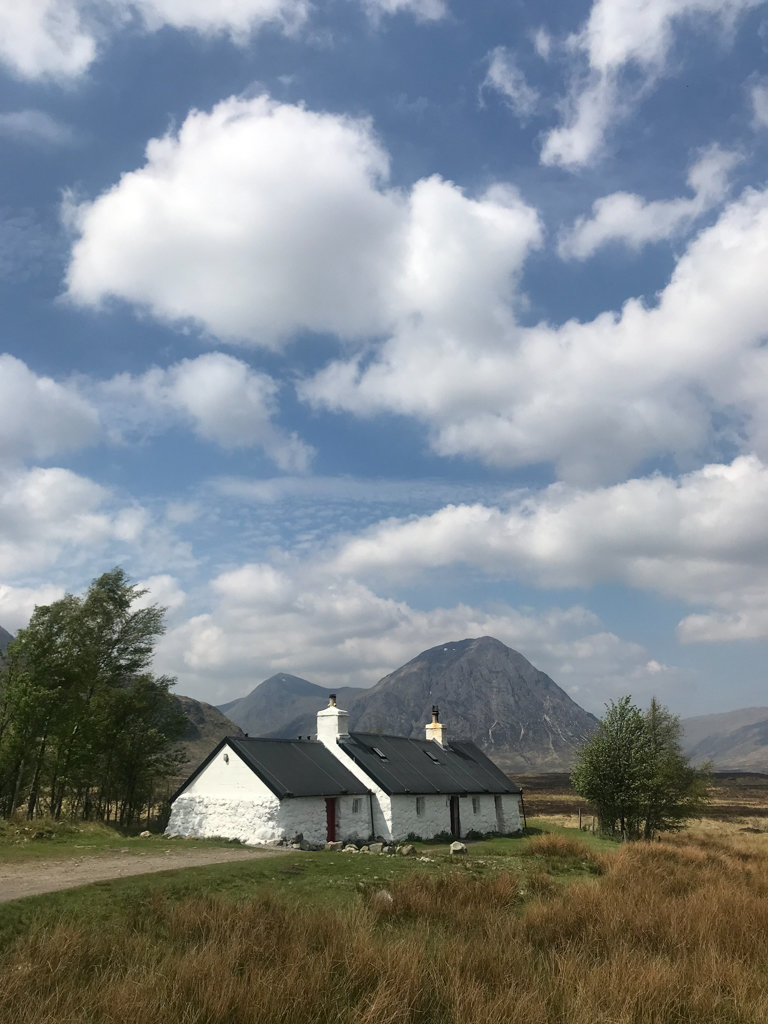 The Kingshouse Hotel was closed for a while but has now reopened as a more upmarket establishment. However, it still has a climbers' bar so we appreciated a lunchtime beer and sandwich. The deer here are incredibly tame and wander around outside the hotel.
Jane had read about the Devil's Staircase and was rather apprehensive about it although I had reassured her that it was absolutely fine. I adopted the general approach of not telling her where it was and only revealed that she was on that part of the walk when she was halfway up it. She wondered what all the fuss was about.
What is truly horrible about this section is not the ascent on the Devil's staircase but the descent into Kinlochleven. It's on a very rough, ungraded forestry road which seems to go on forever. Maybe it's better in boots but in trail shoes it was absolutely foot-wrecking. I thought it was pretty bad in 2012 but, this time, it seemed a lot worse.
Kinlochleven was very busy with WHW walkers and we had booked into the Highland Gateway. This was the most expensive but definitely the worst value accommodation of the week. It was clean but very ordinary and the staff were not particularly helpful. We found it remarkable that in a place that caters almost exclusively for walkers, we couldn't get breakfast before 8am. We won't be back.
However, we had the best pub dinner of the week in the Bothy Bar in the Macdonald Hotel, Kinlochleven. We sat with a view of the loch in the evening sunshine and had a superb venison burger. The beer was pretty good too.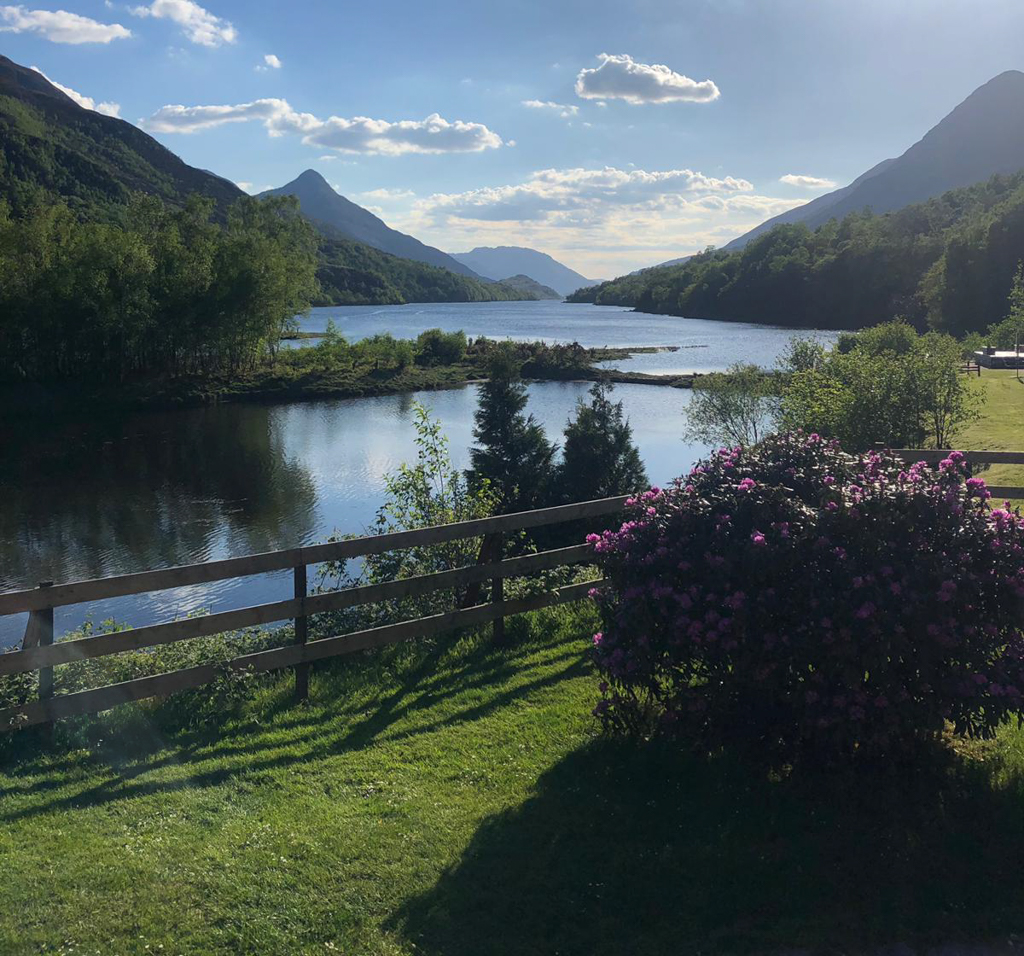 Day 6: Kinlochleven to Fort William
Our last day and we had caught up with all of the Saturday starters so the WHW was very busy. For once, the sun wasn't shining. It was cool and cloudy and I wore a windshirt for the first and only time in the week.
The route up the hill is a bit of a trudge but it was nice not to be sweating in the hot sunshine. By lunchtime, as we reached the top of the pass, the weather had cleared and we ate our pork pies with a view of the Ben.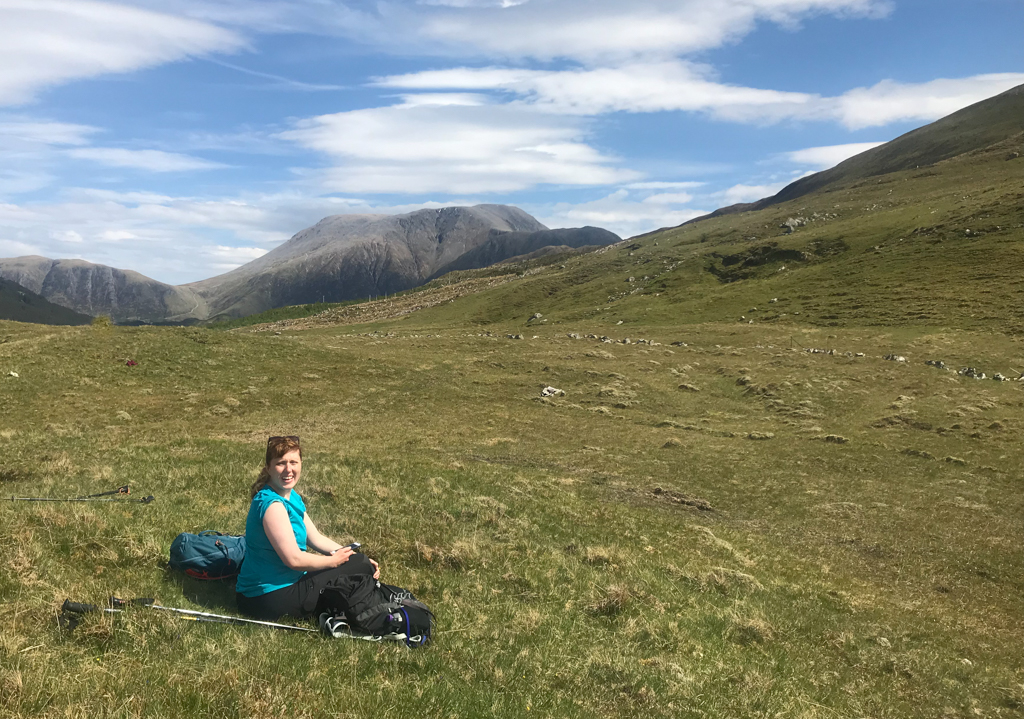 From the top of the pass it's an easy descent on forest roads through the forest to Glen Nevis. Unfortunately, the last couple of miles of the walk along the road is dull and disappointing as is the trudge through the dreary Fort William town centre to the official end of the Way. But is was good to arrive and we had time for beer and some shopping for a train picnic before we caught the evening train to Edinburgh.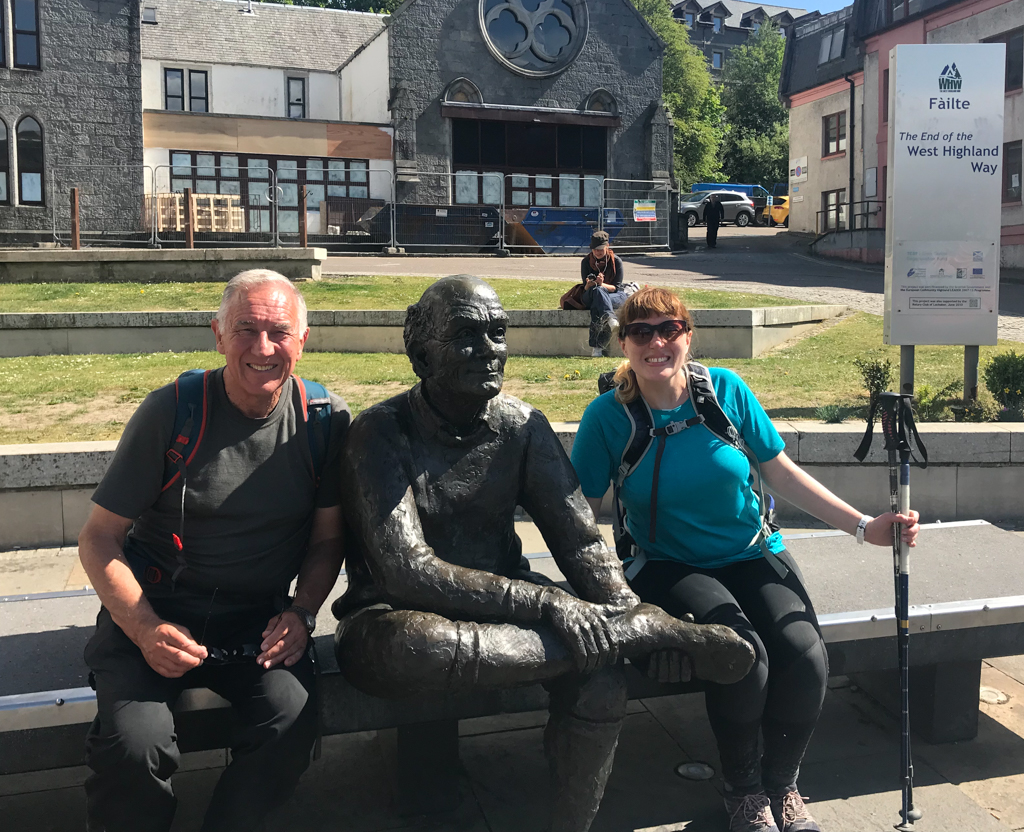 Jane enjoyed the walk and the company (most of the time). Finishing the WHW is a major achievement for somebody who has never done any serious walking and I was very proud of her when we reached Fort William.
I hope she'll not see this as a one-off and will do more multi-day walks. I did suggest the TGO Challenge in 2020 but she thought that this might be a step too far.
Many serious walkers are dismissive of the West Highland Way as an unchallenging tourist trail. It's too easy and too busy. Until I first did the walk in 2012, I guess I thought the same way but now I appreciate that for many less experienced people, it's a major achievement to walk the Way. It provides a great introduction to multi-day walking. It takes you through some of the finest scenery in Scotland including the east side of Loch Lomond which isn't accessible in any other way.
From being a sceptic, I've become a WHW fan. It has helped revive declining Highland communities and it encourages people of all types and ages to get outdoors. Sometimes it is stupidly busy but there's still space for quietness and tranquility.
John Burns, in his book 'The Last Hillwalker' speculates that hillwalkers are now mostly middle aged and elderly and that there's no younger generation coming along. He wonders if, in a few years, the current hillwalking generation will be dead or decrepit and there will be no more walkers on the remote Scottish hills.
I think he's wrong - trails such as the WHW are an accessible introduction to the outdoors and it was striking that there were lots of young people (especially young women) doing the walk. I would reckon that women (of all ages) made up well over 50% of the WHW walkers which contrasts with my generation's view of the hillwalking as a male-dominated activity. If only a small percentage of these WHW walkers develop a permanent love of the outdoors, they will move on to other adventures in more remote areas. Hillwalking is not dead and I'm looking forward to Jane taking me up Ben Lomond on my 80th birthday.
Next: My 2012 WHW Walk